"Let each of you look out not only for his own interests, but also for the interests of others" (Philippians 2:4, NKJV)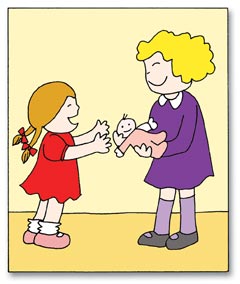 Focus on selflessness for a day and turn it into a game! Read Philippians 2:4 with your children. Talk about what it means. Then brainstorm together. Discuss the many opportunities for serving others in your household. How can they serve and please their younger siblings? Their older siblings? Their father? Their mother?
Write some ideas on a black board, white board, or large piece of paper. Think about needs, but also think about things they can do and give that will simply delight and honor the other person. Then spend the day "looking out for the interests of others." Join in the fun by doing your own special things for each member of the family. You probably serve your family a lot already, but look for special, fun ways to please and serve your husband and children.
The Bible also says that it is more blessed to give than to receive. Can they serve more than they are served?
At bedtime, discuss how the day went. What did the children do for each other? What did they do for their parents? Talk about the blessings of serving each other. Was it a pleasant day? Did they enjoy themselves? Were there many arguments or disagreements? Did they remember to thank each other? Did they learn anything new about themselves? Was God pleased with their actions and their attitudes?
Discuss Hebrews 13:16 together. "But do not forget to do good and to share, for with such sacrifices God is well pleased" (NKJV).
Get up tomorrow and serve each other again. Next day look for ways to serve your neighbors together. Keep emphasizing throughout the week how pleased God is with their service. End the week with a special family party or outing, commending your children for their service. (If a child has held back, and not willingly served others, gently discuss with him Proverbs 11:24, "There is one who scatters, yet increases more; and there is one who withholds more than is right, but it leads to poverty" (NKJV). He is missing out on blessings when he chooses to not give of himself. Perhaps he should take the opportunity to serve by cleaning up after the party and excusing the rest of the family from normal clean up duties. (But then, others may be eager to serve him by helping!)

« «