The winner of our Christmas book giveaway is Gwen (comment #51)! She gets to choose a copy of The Jesus Bible Storybook or Song of the Stars, both by Sally Lloyd-Jones.
Thanks to all who entered! Now we all have a great list of Christmas books to check out!
You might remember, in our previous post, that I said we brought three books home from Powells. Here's one of the others. This is the one my granddaughters keep asking me to read, even while I'm falling asleep with their warm, snuggly bodies on my lap. 😛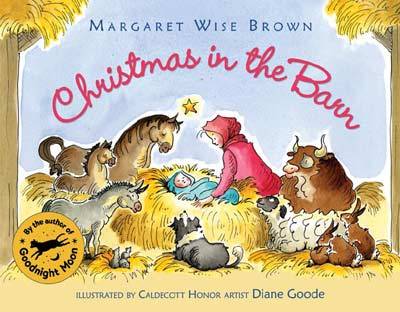 We've always loved Margaret Wise Brown's children's books. There's something magical about her choice of words and their rhythmic combination that win a child's love. This book is apparently a new version of another earlier edition that was illustrated by Barbara Cooney, one of our favorite children's book illustrators. (She illustrated The Year of the Perfect Christmas Tree that I still haven't found in our attic this season.)
I love the simplicity of this little (and inexpensive) book. It is set in rural America of the early 20th century and brings the account of Christ's birth home in a new way, as you watch a young couple walk through snowy farmland, finally settling into a familiar-looking barn to give birth to a baby. Hints of Christmas carols children love (Away in a Manger and What Child Is This?) show up in the text, and the watercolor illustrations by Caldecott Honor illustrator Diane Goode are charming.
It might be too late to pick up any more books at the library, but put this one on your list for next year! It has the Grandchild-Stamp-of-Approval in our family!

« «