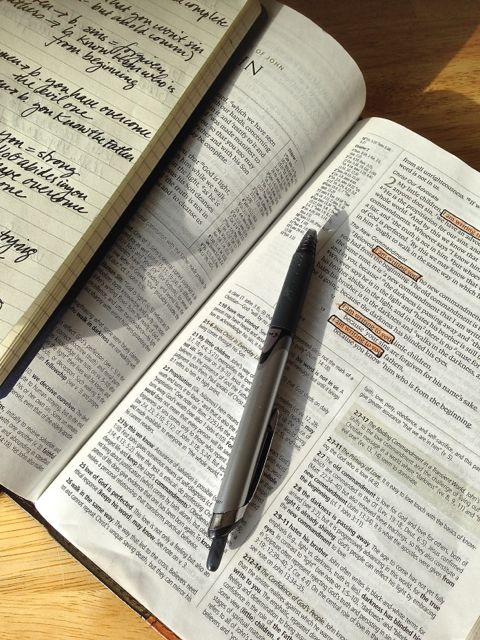 On Day 1 we made some observations. We looked for common themes in the book of 1 John. We also marked the phrase, "I am writing…" to help us find John's statements of why or for what purpose John was writing. You should have found at least nine of those phrases.
Today we will go back to each marked phrase and note what it says. We won't take the time to study each one in detail, since our main goal is to focus on chapter 3. But we do want to get a basic overview of John's reasons for writing this short letter. Those reasons will shed light on what he says to us in chapter 3.
Assignment:
Before you start your study, pray for the Holy Spirit to give you understanding.
Then, in your notebook, divide a page into three columns:
One narrow column on the left for noting verse references
A wider center column for copying each "I am writing…" phrase
Another wide column on the right for recording the reasons John gives for writing.
Now go back to the markings you made in 1 John on Saturday, and
record each phrase in the appropriate columns of the chart you have made.
For example, your first entry would look like this:
1:4       We are writing these things          That our joy may be complete
(Note that some translations will contain the word "your" instead of "our". This has to do with different manuscripts that were used in translating.)
When you have finished, look back over what you have written in the right hand column.
Why has John written this letter? Are there repeated themes? Do his reasons all relate to each other? Write a short summary of his reasons. We will want to keep these in mind as we study our way through chapter 3.
Before we wrap up for today, let's look a little more carefully at 1 John 2:1. What does John mean when he says he's writing to his readers so they "may not sin"?
Context makes all the difference when reading this verse. If we failed to read the rest of the verse, as well as other verses in 1 John, we might wrongly conclude that John is saying it is possible for us to not sin.
Simply reading the rest of verse 1 should help us understand that he is not saying we will never sin. If he were, he wouldn't go on to say, "But if anyone does sin, we have an advocate with the Father, Jesus Christ the righteous."
For those of you who have the time, let's take a few more minutes to read a commentary on this verse. Several Bible study websites include commentaries, which we will be using quite often throughout our study. Looking at what one of them says about verse 1 will be helpful, because the subject of not sinning is going to come up again in chapter 3.
Go to www.Biblestudytools.com.
Hover over "Library" in the gray menu bar at the top of the page, and then click on "Commentaries" in the drop-down menu. This will open a list of all the commentaries available on this site.
Scroll down this list until you reach "John Gill's Exposition of the Bible".
Click on the title, and then scroll down to "1 John" and click on chapter "2". This will open a page with every verse of chapter 2 listed.
Click on "2:1", and scroll down to the phrase "that ye sin not".
Read the comments under this phrase, and summarize them in your notes. What does Gill say the phrase means?
If you have time, read the the commentary for the rest of verse 1, and record any new insights in your notebook.
For your children:
(Note: If you have not already done so, you will need to write a short letter to your children before you start this lesson. Instructions for this letter are given at the end of Saturday's lesson.)
Explain that John states several reasons for writing his letter in 1 John. Knowing what those reasons are will be helpful as you continue to study his letter. The rest of what he wrote will make more sense if you know why he wrote.
Then explain that you have written a letter to them. You had a special reason for writing it, and you want them to listen for that reason, because it will help the rest of your instructions make more sense.
Give the letter to one of your children to read aloud. Have the rest of the children raise their hands when they hear your stated reason for writing. Talk about your reason. Then have them listen carefully to the rest of the letter.
After discussing the upcoming surprise in more detail, take a minute to point out how different your list of instructions would have been without you explaining why you were writing to them. They would have been following directions, but would not have known why you wanted them to do those things.
Have them carry out your instructions. Then, if you still have their attention, finish the lesson. Otherwise, come back to the rest of the lesson later in the day.
Using the notes from your own lesson, read aloud each of the verses that identify John's reasons for writing. (You should also have them marked in your Bible for easy reference.)
If your children are readers, have them help read the verses aloud. (If your children are very young, just pick one or two verses to read.) As you read each verse, ask your children to tell you what reason John gives for writing. Write each reason on a whiteboard, blackboard, or large piece of paper.
Take time to discuss what you have found. You can also explain what you learned about 1 John 2:1 in your own study time. If you run into other questions, use John Gill's Exposition of the Bible (on Biblestudytools.com) to help you find answers.

« «