My daughter had  a "friend". She called him Dean. He recently moved on, and she's glad.
Personally, I think Dean was a girl. He/she acted like a girl. She fretted. A lot.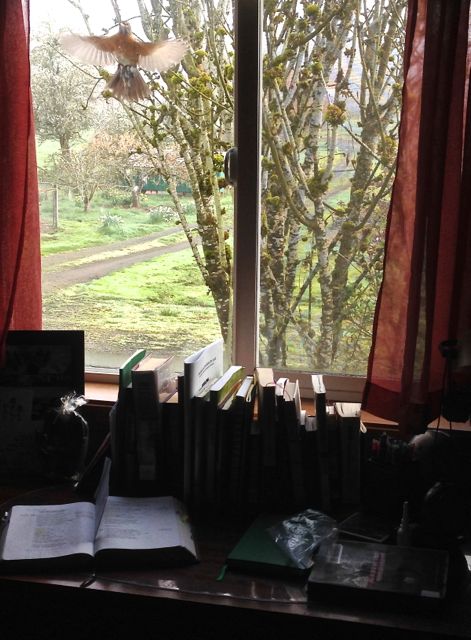 Every morning Dean(a) took up his/her post in the ailing chain-of-gold tree outside Bethany's window, and started her daily ritual — usually before Bethany would like to be awake. Sitting anxiously in the tree, or pacing nervously back and forth in a window box on the deck rail, Dean(a) flew at Bethany's window, pecking at the glass — over and over and over again. All day. And he/she was an early riser.
Bethany's window is still covered with little dirty peck marks from that anxiety-ridden robin. And what has all his/her effort accomplished?
Nothing.
That robin just missed out on a whole lot of our beautiful Oregon spring, and wasted its time banging against its own reflection when it could have been making our days sweeter with its song!
Dean(a) reminds me of me. I may not hang out in a tree, but I do my own version of window-pecking. I see (or usually just imagine) a problem. I fly at it. I step back and fly at it again. And again.
I do my own version of pacing in the window box, watching for the enemy and never realizing that that enemy I keep seeing is me and my over-active imagination, or me and my pride, or me and my desire to be in control.

While I peck away, I make a pest of myself. I disturb the peace, I use up a lot of energy for nothing, and I miss the beauty God has put all around me. I accomplish nothing.
Instead of pecking windows, I just need to relax, trust God, do what He's called me to do, and sing His praises. He's got it under control.
"Look at the birds of the air: they neither sow nor reap nor gather into barns, and yet your heavenly Father feeds them.  Are you not of more value than they?" (Matthew 6:26).
"My heart is fixed, O God, my heart is fixed: I will sing and give praise" (Psalm 57:7).

« «