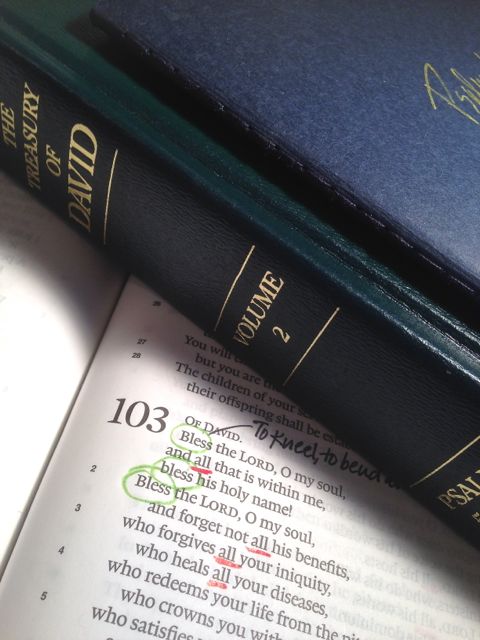 As we start a new study, we usually begin by looking at the context and background of the passage. This helps us better understand the meaning of the passage we're studying. This time I've saved that exercise until today. Let's stop and look at who wrote Psalm 103.
Assignment: Pray for God to continue teaching you from His Word and thank Him for all that He has already shown you. Then read all of Psalm 103. As you read, keep in mind all that you have been learning. Also, see if you can begin to anticipate the next phrase as you read. Is the psalm becoming familiar enough for you to "hear" the next phrase coming in your mind, like you hear — before it starts — the next song coming on a CD you love?
Now go back to the beginning of the psalm. What do you find between the psalm's assigned number (103) and the first verse? Who wrote this psalm?
It's easy to overlook those little words as we start to read a psalm, but it's something we should notice. Not every psalm credits an author, but many do, and the author is not always David. If you take a minute to flip through the pages of the Psalms, you'll see credit given to names like Asaph, the sons of Korah, and Ethan the Ezrahite. We see that this psalm is credited to David.
Let's use a new study tool to learn a little bit more about the psalm's background. I've introduced you briefly to BlueLetterBible. Today we're heading to a different site, BibleStudyTools, because it includes a very helpful commentary for our study.
Go to www.Biblestudytools.com.
Type "Ps 103" in the "Search the Bible" box, and click the orange "Find It!" button. This will bring up the text of the entire psalm for you.
Scroll down to below the verses and look for the menu bar that lists "Study Tools", "Footnotes", etc. If "Study Tools" is not already selected, click on it. This will reveal a list of available commentaries.
Click on "The Treasury of David". The Treasury of David is a detailed commentary on the book of Psalms, written by Charles Spurgeon, a pastor who was greatly used by God in 19th-century England. Clicking on the commentary will produce a list of links for all the verses in Psalm 103.
Click on "Psalm 103:1". This opens Spurgeon's comments on verse 1, which are preceded by an overview of the entire psalm.
Read the first couple sentences of that overview. When does Spurgeon believe David wrote this psalm? Why? Note this in your notebook or directly in your Bible.
(I had to pull out our Webster's 1828 American Dictionary of the English Language to find a definition of fainess as it appears in this commentary. Fainess has to do with gladness and pleasure. David is taking great pleasure in gratefully praising God for His many gracious works.)
Think about David's life for a moment. What circumstances and challenges might have led him to rejoice in God's forgiveness, His healing, His working righteousness for all who are oppressed? David clearly sings praises from a heart that has deeply experienced God's benefits. How about you? I know I have plenty of reasons to rejoice in God's forgiveness and healing!
Tomorrow's optional assignment will offer suggestions for looking more closely at David's life as it relates to this psalm. Let's finish today by looking briefly at verse 3. We'll be spending several days soaking up the richness of this verse. Today we'll take a peek at the word forgives.
Open Blueletterbible.org and search for Psalm 103:3. (Refer to Day 4, if you need a review on how to do this.)

H

over over the "Tools" menu to the left of the verse, and click on "Interlinear". You should now see that wonderful resource full of information that we looked at earlier in the week when we were looking at the word forget. 
Click on the Strong's number (5545) for the phrase who forgiveth. This opens the lexicon for the word forgive. What does this entry say, under the heading "Outline of Biblical Usage", about the word? Record these definitions in your notebook.
We'll stop there for today. As you go through your day, reflect on what you know about pardons. How do they apply to your life?
We'll come back to this word again on Monday. It's an important one!
For your children:
Read the first six verses of Psalm 103 aloud for the children. Read the first phrase in each verse, and wait to see if anyone can recite (or loosely paraphrase) the second phrase.
Then explain to the children that King David wrote Psalm 103. See how many details they can remember about his life — killing Goliath, running from Saul who was trying to kill him, sinning with Bathsheba and murdering her husband, running from his own son Absalom, who was trying to take over his kingdom, etc.
If you are planning on doing the children's lesson tomorrow, build some anticipation by telling them that they will get an opportunity to act out some of the stories from David's life tomorrow. Encourage them to look at some Bible story books for ideas of stories to dramatize, and to start thinking about costumes and props. They could even start practicing on their own if they want! Have the videocamera ready for tomorrow!

« «