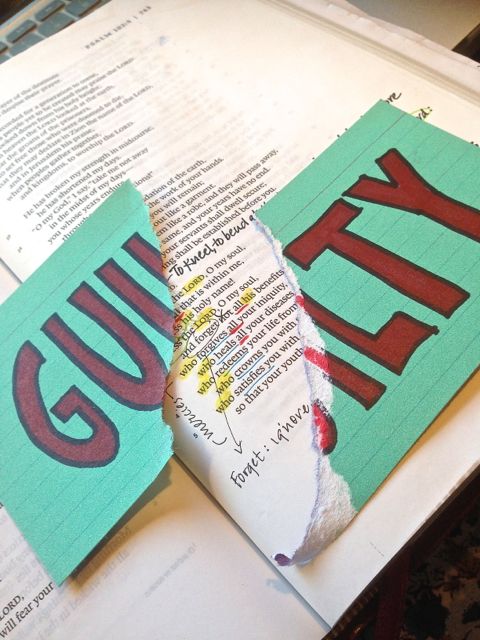 We took a brief look at the word forgive in our last lesson. Today we will take another, more thorough look.
Assignment: Pray for a clear mind and a teachable heart. Then start memorizing Psalm 103. Our goal is to memorize this entire psalm. If we're seeking to "forget not all His benefits", memorizing this psalm will help, because it lists so many of those benefits! You may be surprised to find how easy memorizing the psalm will be when we're studying the way we are.
As you read the psalm today, take out a sheet of paper and use it to cover everything except the first line of the text. Then read the first line and see if you can remember the next line on your own. Keep reciting from memory until you get stuck. Then uncover enough text to get you started again, and see if you can still recite more of the psalm.
You might also want to keep a copy of the psalm in the bathroom or inside a kitchen cabinet door for review while you prepare for the day or make your family's meals.
Returning back to our study and the word forgive in verse 3, we learned last week that the word means to pardon. Let's get a clearer picture of what pardon involves.
Use a standard dictionary or your internet browser to look up a definition for pardon. Look specifically for a definition related to pardoning a crime. Copy what you find into your notebook or Bible.
What did you find? Can you see how this applies to our sin?
Now let's look at another definition, this time in a Bible dictionary.
Open Blueletterbible.org. (I would give you a link, but I want you to learn how to get there on your own so you can use it when you study other passages on your own. 🙂 )
You should see a dark bluish-black menu bar at the top of your screen. Hover over the word "Study" to open the drop-down menu. Here we find several "bookshelves" worth of really useful study tools!
Under the "Bible Reference" heading, click on "Encyclopedias/Dictionaries". Now you should see a light blue box that contains all the letters of the alphabet.
Click on "F" for forgive. If you scroll down a bit on this new page you will see a line of text that reads "Fa-  Fe-  Fi –  Fl-  Fo-  Fr-  Fu-".
Click on "Fo-" for forgive.
Scroll down to the words "Forgiveness of Sin" and click. This will open the definition for the phrase in Easton's Bible Dictionary. 
Read the definition carefully, considering one phrase at a time, and recording each phrase in your notebook. Take the time to really think about what is being said and how it impacts your life. Hover over the verse references to read verses that support the definition.
What, according to this definition, is God doing when He forgives our sin? What is He removing? What is He granting? How much does it cost us? What did it cost Him? How long does this last? Can anyone besides God do this for us?
Record new insights in your notebook.
Now stop and think about what you've read today. Pray about it. Ask God to help you see areas in your life that show that you do not truly believe you have been fully forgiven — pardoned — set free.
In what ways do you drag yourself back into the courtroom and declare yourself guilty, even though God has declared you pardoned in Christ?
In what ways do you think and behave as though you were still enslaved to sin, even though God has freed you from its bondage?
Do you still fear God's punishment, even though He says the debt has been paid?
In what ways do you still try to earn your own salvation, or deserve God's approval, or pay the debt that Jesus has already paid instead of resting and rejoicing in Him?
"Bless the Lord, O my soul, and forget not all his benefits." Are you forgetting that He forgives all your iniquities?
We're still not finished studying verse 3, but this should give us plenty to think about until tomorrow. 🙂
For your children:
See how much of Psalm 103:1-3 your children can recite. After you have reviewed it, try to memorize another verse together.
Then explain what a pardon is. Someone who has been judged to be guilty of a crime is officially allowed to go free and not be punished for his crime.
Pretend you are all in a courtroom. Ask for a volunteer to be the "bad guy" who has been judged guilty. Someone else can be the judge.
Have the guilty child stand before the judge, and let the judge declare him pardoned. He's free. He doesn't have to go to jail. (If you have very many children, you may have to do this several times to give everyone a turn!)
When you have finished, point out how no one paid the penalty for the crime when the judge pardoned the bad guy. But because God is perfect, He cannot let sin go unpunished. Someone who hadn't sinned had to pay the penalty for sin, or everyone who sinned would have to pay it.
So Jesus paid the penalty for us. He lived a perfect life and then took the punishment for our sins, even though He didn't deserve to be punished at all.
When we believe that we deserve to be punished, and then put our faith in Jesus dying in our place, God pardons us. He says the debt for sin is paid. He will never try to collect on that debt again. Instead of punishing us, He makes us His children, and gives us a new desire and ability to love and obey Him.
Watch for an opportunity to grant a pardon today. When a child has sinned and is judged guilty, explain what the consequences are going to be. Is he going to lose the privilege of playing or of having dessert? Is he going to have extra work to do or an earlier bedtime? Make the consequences clear to him.
Then explain that you are going to pardon him. You are going to take his punishment for him (going to bed early wouldn't be such a bad punishment for you, would it? 🙂 ) He's free. You're not going to bring up the problem again. The debt has been paid.
Does he understand how Jesus did this same sort of thing for him, but in a much bigger, life-changing way?

« «