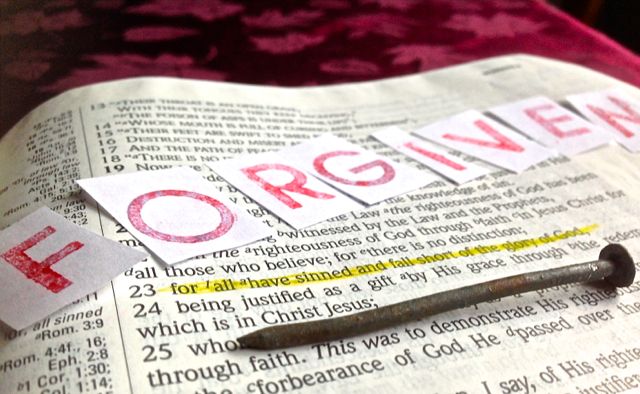 We're going to spend one more day on the first phrase of verse 3. God forgiving our sins is the foundation for any other blessing God grants in our lives!
Assignment: Pray! The only way you will understand what you are reading in the Bible is with the Holy Spirit's help. Then read Psalm 103 again! Think about God forgiving all your sins as you read. How much can you recite by now? Test yourself!
As you study this psalm, are you appreciating anew the enormity of what God is doing when He forgives your sins?
Open BibleStudyTools.com, search on Psalm 103:3, and open Spurgeon's Treasury of David again. (Refer to Day 8 if you need help.)
(For those of you using the app for BibleStudyTools, you will need to do some exploring to find the commentaries. It's not as handy as it is in the online version. I should have mentioned this when we were using Treasury of David on Day 8. Look for the word "Resources" to click, then click on the "Commentaries" tab, and then on Treasury of David.)
Skim quickly over Spurgeon's comments (if you have time).
Then scroll down to the heading "Explanatory Notes and Quaint Sayings". (In case you're wondering, like I was, why they are quaint sayings, quaint in earlier English, meant wise or skilled.)
What I would like to focus on today is the second entry under this heading, the one that begins with, "All thine iniquities". Slow down and really take in what the writer of this quote is saying. Record helpful insights directly into your Bible or in your notebook.
The writer is reminding us that God forgives all our sins. If He overlooked just one, we would still be lost. But He forgives them all.
God is forgiving the sins that we commit by doing what He has told us not to do, as well as the sins we commit by not doing what He has told us to do.
He's forgiving the sins we committed before we came to faith in Christ, and the sins we continue to commit as our new nature wrestles with our old. We won't get into all the grammatical details, but that verb for forgive in verse 3 represents a continuous action. God is forgiving our sins, continuously.
He's forgiving all of our sins, not just some of them, and not just the ones we're aware of. He's forgiving the ones that we have a hard time forgiving ourselves for.
God is the one granting the pardon, and He's the judge. We aren't our judge. Satan isn't our judge. Other people aren't our judge. God is. And if we have put our faith in Jesus, God says we're forgiven. So it's true.
Let's remember that. Let's keep telling our souls that. Remembering — believing — that we are forgiven is what will radically change our hearts and transform outward, dutiful, "am-I-doing-enough" kind of obedience into joyful, grateful freedom to obey, as well as joyful, grateful freedom to repent, knowing we are forgiven when we fail.
For your children:
Read Psalm 103:1-14 aloud. If your children are readers, take turns reading the verses.
Then pull out your puzzle strips from Day 7 again! Today lay the pieces face up on the floor or table. Have a child pick up one piece. Read it and ask the children to find the other half of the phrase amongst your puzzle pieces. (If they can't read, have them recite the other phrase, and then help them find it.) Put the puzzle together, and continue until you have put all the puzzles together.
Look for opportunities throughout the day to remind your children that, in Christ, their sins are forgiven and continue to be forgiven. When the need for discipline arises, as you instruct and correct the child, ask him, "Is this sin forgiven?" Yes! Our sins are covered by Jesus's blood, if we have put our faith in Him and not in ourselves! This sin is forgiven because it was dealt with on the cross. (This is a perfect opportunity to explain the gospel to your child.)
Help the child confess his sin in prayer and thank God for the forgiveness He freely gives. Encourage him to ask God (and thank Him) for the strength to obey Him more fully. (And make sure you have forgiven him, too!)

« «