What does David mean when he says that God heals our diseases? Let's find out!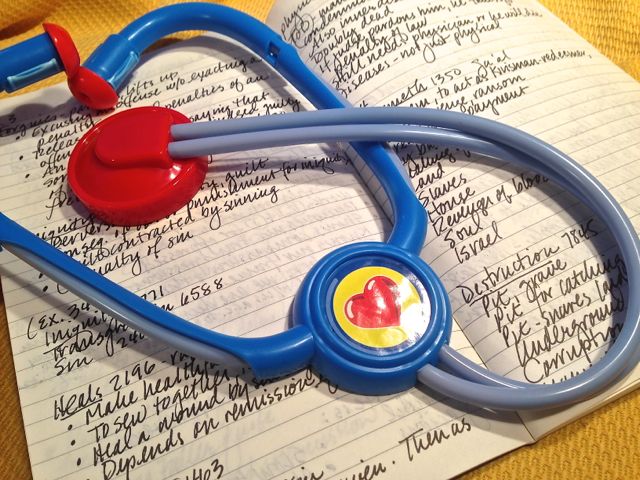 Assignment: Pray for the grace to understand how helpless and lost you would be without God's forgiveness and healing, and pray for a growing thankfulness for all the great things He has done for you.
This lesson may take a bit longer than others. Try to carve out some extra time for your study. We're taking the time to look at three different commentaries. But this lesson is important. Without careful study and a consideration of the rest of Scripture, the last half of Psalm 103:3, "who heals all your diseases", could lead us to believe what many people do claim — that God will heal all our physical illnesses and diseases. 
It is true. Someday He will heal all the diseases of our physical bodies. And He often does heal people of their illnesses now — sometimes supernaturally, and often through skilled and knowledgable physicians and caregivers.
But God in His sovereign wisdom does allow sickness and death, and He doesn't always see fit to heal those who suffer from disease. He has His reasons for this that He has not chosen to reveal to us.
So we can't just lift that little phrase out of the Bible and claim that God will heal all our diseases now while we live on this earth. Let's see if some study will help us better understand this verse. There's so much in this little verse to be thankful for!
Open Blueletterbible and search for Psalm 103:3.
Click on the Interlinear tool and then on who healeth. Read the definitions in section A.
This is one of those times when the lexicon's definitions aren't all that helpful. 🙁
Scroll down to the section labeled Gesenius' Hebrew-Chaldee Lexicon, and you'll find a little more information. (This lexicon was first written in German in the early 1800's.)
What does Gesenius say the original Hebrew word means? Note the very first words he uses to define healing.
Not all of what he says will make sense to us, but it will be especially helpful to read the section where he speaks of the word heals being used metaphorically ("metaph." in the text). Here he cites other places in Scripture where the word means something different than literal physical healing from illness and disease.
Count 9 lines down in the text of that section, and you will see that Psalm 103:3 is mentioned! Go back a few words to see what Gesenius says about the word as it is used in Psalm 103. What does it mean in this context? This should sound familiar!
Record any helpful insights from Gesenius in your notebook, and let's move on to diseases.
Use the back arrow to return to the Interlinear tool, and then click on all thy diseases.
Again, the definition under "Outline of Biblical Usage" is not helpful (at all). Gesenius gives us few clues as well, although we do see Psalm 103:3 listed in his entry.
It's time to get some help from a commentary!
Open BibleStudyTools and search on Psalm 103:3.
Scroll down to the list of commentaries and click on John Gill's Exposition of the Bible. This is a nice go-to commentary, because it comments on each verse separately, and is also fairly easy to understand. (Gill preached in the same church as Charles Spurgeon over one hundred years earlier.)
Click on "Psalm 103:3" and read Gill's comments on the verse. Summarize what he says in your notes. (I love his description of sin as "nauseous"!)
Use the back arrow to return to the commentary list, and click Matthew Henry Commentary on the Whole Bible (Complete).
Then click "Psalm 103".
The text of the Matthew Henry Commentary is pretty dense, but worth the work. If you scan the section for verses 1-5, eventually you'll find a blue link for verse 3 in parentheses (

v.3

). Start reading there to learn more about the entire verse, or look for the number "2" a few lines down, where he begins to address "He has cured thy sickness".
Read and take notes on Henry's comments. I copied this sentence into my Bible because I love what it says,
If God takes away the guilt of sin by pardoning mercy, he will break the power of it by renewing grace.
Use the back arrow one more time, and read about the last half of verse 3 in The Treasury of David. If you're short on time, focus on the second-to-last paragraph in Spurgeon's comments — the one about the surgeon. Don't you love the picture of God as a doctor taking care of us, visiting us, healing us of each sinful illness of the soul as it arises, always knowing the best way to treat the disease, and continuing with His care until we are completely healed? I want this image etched in my mind, so I can remember it as God does His sometimes-painful healing work in my life.
Record new insights in your notes.
God doesn't just pardon us; He makes us well. This surely is a blessing that should inspire us to kneel down and give thanks! It's a blessing we mustn't forget.
How will remembering this great blessing of God affect your thoughts and actions?
For your children:
Read Psalm 103:3. Then it's time to play doctor!
Let one child be the doctor, and all the rest can be his or her patients.
The patients can tell the doctor what hurts and what their symptoms are.
Then the doctor should diagnose their illness and carefully decide how to administer treatment. How is he going to help them get well? (This could get interesting, couldn't it? 🙂 )
Everyone can jump up and be well after the doctor takes care of them!
Let the children take turns being the doctor.
Then explain that this is a little bit like what God does for us. Besides forgiving our sins, He heals the sicknesses in our soul. We are constantly under His personal care. He knows exactly what is wrong with us, even when we don't. When we're taking other people's toys, He knows the best way to treat our selfish "disease" and the best way to help us become selfless and kind. When we get mad at someone, He knows how to help us become patient and self-controlled. Sometimes He gives us "medicine" that might not "taste" good — but He's doing it for our good.
He's going to heal us from our sins for the rest of our lives! That's something to praise God for!
Remember this as challenges arise during the day. He is healing us.

« «