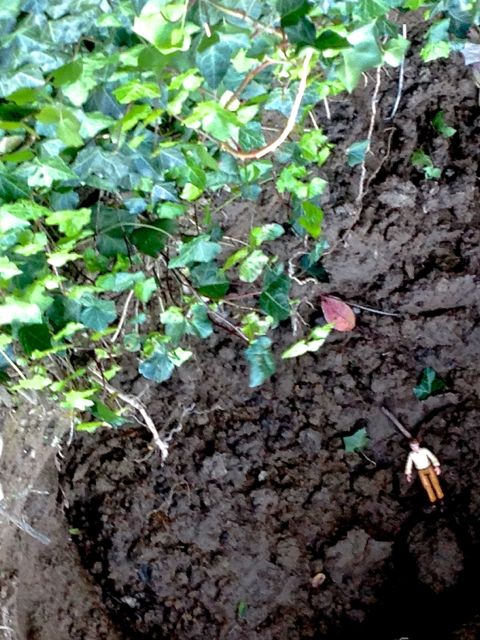 We've only looked at two of God's many great works in our lives — two of the benefits David urges his soul to not forget — and I'm already newly in awe of the extravagant love God has shown us. I'm shamed by my ability to forget these gifts, to cease to care about them, to neglect them so that their power is diluted and weakened in my life.
But there's more! Are you ready for verse 4? 🙂
Assignment: Pray! Thank God for what He is showing you about Himself. Ask Him to help you take in even more, and to let the beauty of these verses change the way you think about Him and about yourself.
Then read Psalm 103 to your soul. Read out loud again, if you can, and listen to what you are telling yourself. Do the words of this psalm mean even more to you, now that you have slowed down to really meditate on their meaning?
Now let's focus on verse 4. Let's look first at what God redeems us from. Then we'll go back to look at redeem.
Open Blueletterbible and search on Psalm 103:4. (We're going to be doing quite a bit of word study, because the psalm is so full of rich, loaded-with-meaning words!)
Use the Interlinear tool to click on from destruction and note how the word is used.
Then scroll down until you see the heading "Concordance Results Using KJV". We haven't used this handy study help yet! In this section every other verse in the Bible that contains the Hebrew word we're looking at (shacath) is quoted in full! This is a tremendous tool for word study!
Skim these verses, and take notes on those that stand out to you. They will give you a better idea of how the word is used all through Scripture. Notice how many verses are from the book of Job! Notice too, how the psalmists use the word. Note the verse in Isaiah 38 and how similar its meaning is to the words of Psalm 103.
Summarize your findings on shacath — destruction. How does this word apply to your life?
Now use the back arrow to return to the Interlinear for verse 4, click on the Strong's number for who redeemeth and copy the very first definition of the word into your notebook. This word could turn into a whole 30-Days study on its own!
If you're looking for something to work on when we finish our study of Psalm 103, a study of the term kinsman-redeemer would be a fascinating study! In our limited time, we won't be able to stop and study it. I'll simply give you its definition from Baker's Evangelical Dictionary of Biblical Theology.
A male relative who, according to various laws found in the Pentateuch, had the privilege or responsibility to act for a relative who was in trouble, danger, or in need of vindication.
The kinsman-redeemer was a picture of what Christ would eventually do for us.
Going back to the lexicon listing for who redeemeth, the word ransom is especially helpful. We know about ransoms. They involve paying a price to get someone back from captivity or kidnapping.
Now let's look at a Bible dictionary to further clarify what redeem means. Go to the top of your screen and hover over the word "Study" in the menu bar. Click on "Encyclopedias/Dictionaries" under the "Bible Reference" heading. We did this same sort of thing on Day 10 when we looked up "Forgiveness of Sin".
Click your way through to "Redemption (E, N, T)".  (Click on "R", then "Re-", then "Redemption (E, N, T)").
The dictionary list actually offers several different articles related to redeemer and redemption. I chose "Redemption (E,N,T)" because each of those initials in the parentheses represents a different resource (Easton's, Nave's, and Torrey's), so looking at this entry lets us see several different articles all at once.)
First look at the article from Easton's Bible Dictionary. If you're short on time, focus on the first half of the second paragraph. Read the text, then take the time to hover over each verse reference and read the verses.
Then skip down to the article from Torrey's New Topical Textbook. This article's organization makes it easy to consider the different facets of redemption, and hovering over the verse references will again bring up the verses for you to read. Keep taking notes!
Look back over your notes. 

Reorganize them into different categories if that would help you process what you've learned.

 What is redemption? What are we redeemed from? Why was Jesus qualified to redeem us?
One thing I really appreciated as I read the verses about redemption is the reminder that we are not our own. Jesus paid the ransom to free us. He bought us with His own blood — out of the pit of our own sinfulness, out of the grave of hell that our sin deserves, out of the destruction and misery that come from being enslaved to sin.
We are bought with a price — the blood of God's own Son. Now our job (and privilege) is to glorify Him (1 Cor. 6:19-20). We glorify Him when we remember His benefits and bend our knees in praise, adoration, and gratitude for who He is and for what He has done for us!
For your children:
Review what you have learned together so far:
Who else is praising the Lord along with us?
How many of our sins has God forgiven?
What does it mean that He has pardoned our sins?
Who paid the penalty for our sins?
What kind of diseases do our hearts and souls have?
How does God heal our diseases?
How much of Psalm 103 can you all recite for memory?
Spend a few minutes working on memorizing. Then read Psalm 103:4 aloud and explain what you have learned about the first half of the verse. Tomorrow be ready with paper and drawing materials!

« «