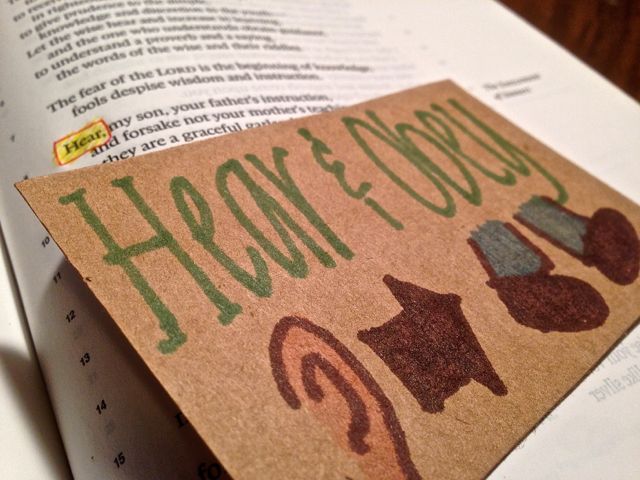 Obeying requires hearing. Let's look at some verses today about hearing and obeying.
Assignment: Let's look at some verses about hearing and obeying.
Start by praying for the Holy Spirit to guide you in your study time.
Open Blue Letter Bible and search on the word hear. (App users, do you remember how to do this? Use the BLB magnifying glass icon at the bottom of your home screen.) This will open a long list of verses that all include the word hear in them. We're going to narrow our reading of verses to just those from the book of Proverbs.
So scroll down to the bottom of the first page of verses that are displayed.and click on the box labeled "5. Psa 130:2 – Isa 41:17". (App users, all the verses are given in one long list. Just keep scrolling down until you reach verses from Proverbs.)
Scroll down to the verses from Proverbs and read the first one, recording what it says about hearing.
Then open the Interlinear tool for the verse and click on the Strong's number for the phrase man will hear. (App users, you will need to do this in several steps. I am giving my instructions based on using the phone app. This may vary if you are using a tablet. 1. Click on the first verse from Proverbs [Prov.1:5]. 2. Select "Read Pro 1:5 in Bible view. 3.Then click on the verse to open the list of tool options. 4. Click on "Interlinear/Concordance." 5. Then click on the Strong's number for "man will hear.") 
Notice that this word means much more than simply hearing sounds and words that reach the ears. It has to do with hearing and obeying, much like the Greek word for obey in Eph. 6:1 and Col. 3:20.
Click your browser back arrow two times to return to the list of verses, (App users, this will take several steps again to return to the list of verses. 1. Click the back arrow in the upper right hand corner two times. 2. Then click "Proverbs 1" in the upper left-hand corner. 3. Then return to the magnifying glass at the bottom of the screen to search on "hear" again, and scroll back down to the next verse from Proverbs.)
Read the rest of the verses from the book of Proverbs.
Then summarize what you have found. Who and what should we hear? What are the results of this kind of hearing? What kind of instruction should we quit hearing?
What can you learn from these verses that will encourage you in your efforts to teach your children to obey you?
For your children:
Read Proverbs 1:8 aloud for your children.
Discuss how important it is for them to hear what you say to them and to obey. 
Then tell your children that you are going to help them practice hearing and obeying. They will need to listen carefully.
Give each child a specific, silly task to do. For example, have one child walk around the house two times singing Mary Had a Little Lamb, another jump up and down until you tell him to stop, etc. They should be careful to hear and obey.
Give another set of instructions, but give each child two or three tasks to remember and do. This will require their full attention.
After several rounds of this, give instructions that will help prepare for a special family time (but don't tell them what you are doing). For example, send individual children to gather bowls, spoons, an ice cream scoop, and ice cream, or have one child make microwave popcorn, another load a Bible story video into the player, and another spread blankets on the floor for a family movie time.

« «