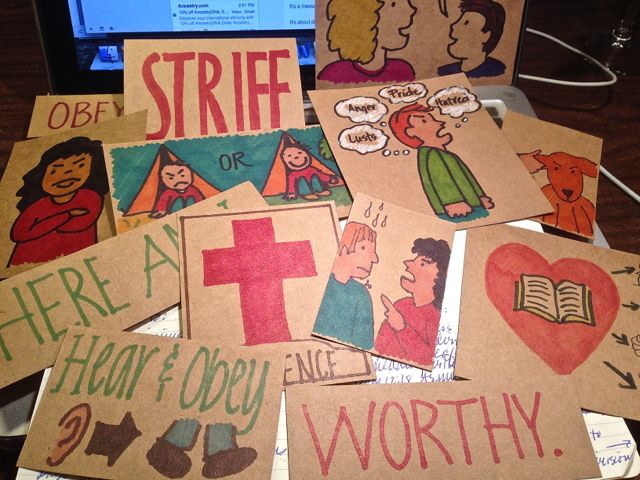 Our month-long study is almost over already! Unlike all our other Busy Mamas studies where we focus on one chapter of the Bible for an entire month, we have moved from topic to topic in this study.
Now it's time to look back over the lessons, tie them all together, and prayerfully decide what changes God is calling us to make in our thinking and what we're going to do with what we've been learning.
We've considered our own commitment to loving and obeying God. We studied the tongue and the heart that nourishes its sinful habits. We've looked at whining and complaining, quarreling and strife, and the forgiveness we need to extend to those who sin against us. These are sins we all struggle with — both as parents and as children.
Let's spend the next two days reviewing, praying, and meditating on what we've been studying. What has God taught us? What does He want to teach our children?
Assignment: Pray that God will help you recall the lessons He's been teaching you all month, and that He will give you the grace to grow and change in the areas where He's calling to you to change.
Then do each of the following steps as you review each lesson we've worked on all month:
Choose at least three verses to memorize as a means of arming yourself for the wonderful-but-challenging job you have as a mother. Which verses will encourage and equip you in the areas you feel most weak? Which will help you most in discipling your children? Make a list of these verses in your notebook as you work your way back through the lessons.
Choose at least three verses that you will memorize with your children to help them grow in their love for and obedience to God. List these in your notebook.
Print out and post around the house any other verses that you would like to have up where they can remind and encourage you throughout the day. Make a list of these so that you can print them out at the end of the study.
Do each of the following for every lesson:
1. Summarize it in one or two sentences. What was the main point of that lesson?
2. Pray about the lesson. What is the main thing you learned that will help you grow as a woman who follows Jesus?
3. What is the main point you can take away from this lesson that will help you teach and train your children?
4. Repent of any sins that God is helping you see as you've studied the lesson.
5. Write down at least one specific action you can take in obedience to what God has taught you. (For example, "I will pray each morning for the grace to build up and encourage my children with my words," or "I will look for and commend each of my children for some good work I have seen them do each day.") You won't be able to do something about every single lesson all at once. But writing these goals down will allow you to come back, review what you've noted, and put them into action over a period of time.
Take your time. This will actually take more than two days, so don't feel like you need to hurry. This is an important part of the study! We'll still have one more final wrap-up day after this. If you haven't finished your review by then, keep working on it. The wrap-up lesson will still be on the blog, waiting for you when you're ready!
Here are links for all the lessons to help you out. (Be sure to keep scrolling down below the links for the children's assignment.)
For your children:
Ask your children what they have learned over the past month. (You may need to help them remember the different topics we have been studying.)
What area do they think is most important for your family?
In what specific ways is God calling them to change?
Spend some time discussing this together, and then pray together, asking God to help each of you to respond in obedience to His Word.
On Thursday we'll have a Boot Camp Treasure Hunt for the kids, so start thinking now about what you would like to have as a prize at the end of the hunt — a special meal or outing, a new Bible storybook or video, some special toy for the whole family? Have it ready for Thursday!

« «