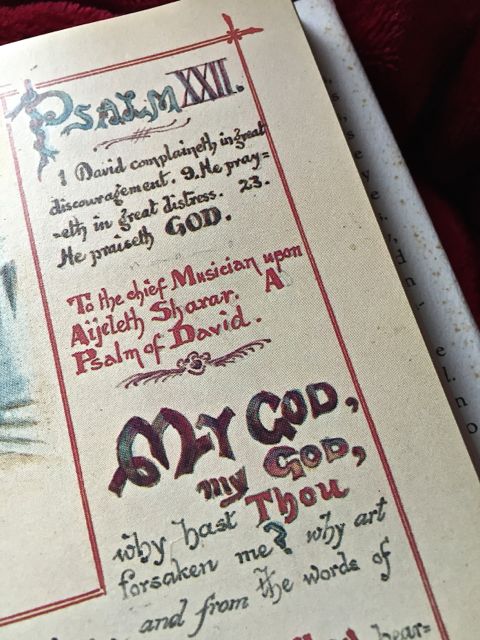 Psalm 22 has much to teach us about Jesus's suffering, and much to teach us about responding to our own suffering.
We'll be looking at those lessons in more detail over the next four weeks, but today we're going to look again at this psalm's big picture. Tomorrow you'll need some colored pencils as we start finding and marking specific words in the text.
Assignment: Pray, asking God to teach you from His Word.
Then read all of Psalm 22 again. (We will be reading this psalm many, many times.) If you want, you can follow the text in your Bible while you listen once again to the dramatic reading of the chapter from yesterday's lesson. As you read, note four things:
1. What are the first words of this psalm?
2. What are the last words of the psalm?
3. What happens in the rest of the psalm that leads to such a dramatic change?
4. What verse is the turning point of the psalm?
We'll look at Jesus's example in much more detail, but even now, after just a couple readings, what can we learn from what we see Him doing in this psalm?
For your children:
Explain to your children that Psalm 22 is about Jesus as He is dying on the cross.
Read Psalm 22:1 to them and explain that Jesus is crying out to His Father for help, but His Father has turned His face away from Him while He takes on the sins of the whole world. In His love for us, He is allowing His Son to suffer the punishment that we deserve for our sins.
Then read the last four words of Psalm 22:31. "He has done it!" God accomplished His plan! He provided a way for man to be reconciled to Him!
If you own The Jesus Storybook Bible (if you don't, you should :-)), read the chapter entitled "The Sun Stops Shining" aloud to your children. The author explains in a simple, clear way what God was doing through Jesus's crucifixion. (If you don't own the book, you can download a short video of this one chapter at a minimal cost, or you can purchase a digital copy of the book for immediate use.)
Jesus suffered terribly on the cross (as we will see in more detail as we continue our study). But through His sacrifice, God "did it!" He made a way for man to be saved!

« «