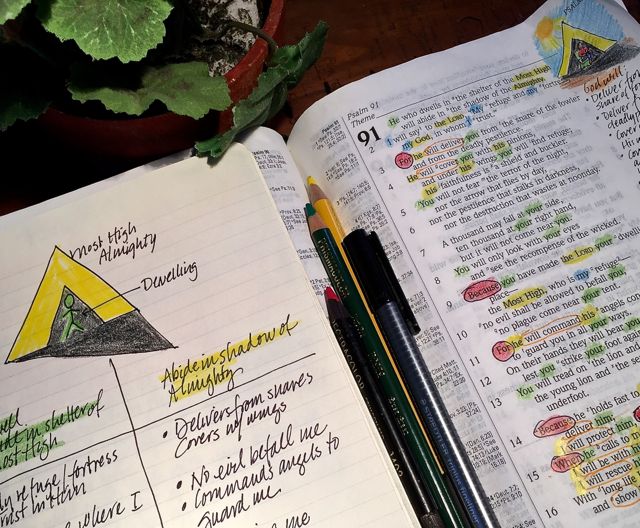 Isn't this an amazing psalm? It's going to be next-to-impossible to limit this study to just thirty days! There's so much to study and meditate on in these few verses! Today we're going to mark some other important words that will help us better understand what we read. (This lesson is a bit longer than some, but it's not difficult. It just requires a few more instructions on my part.)
Assignment: Pray! Thank God for what He's already been doing in your heart over the past week. Thank Him for what He is going to continue to teach you, and pray for the grace to believe these promises He has given and to rest in Him.
Read Psalm 91:14-16. We have a few more pronouns to mark in verses 14-16. God becomes the speaker in verse 14, and he uses the pronouns he and him as He confirms what the psalmist has already said. We're going to mark both he and him with green, because they refer to the person who dwells in the shelter of the Most High, just as the word you did in verses 3-13.
To finish up our pronoun-marking, go back to verse 1 and highlight that he as well. Now we can easily see all that is being said about the one who dwells in the shelter of the Almighty.
Look for the following words — for and because (and also if, if you're studying in NIV). Circle these words with a black pen, and then use a red pencil to fill in the circle with red.
When you have finished reading and marking, draw a simple two-column chart in your notebook. (See photos.)
Over the left-hand column write, "Dwell in the shelter of the Most High" and highlight those words with your green pencil. This is going to be for our notes on what we do, what dwelling in God's shelter looks like.
Over the right-hand column write, "Abide in the shadow of the Almighty," and highlight those words in yellow. This is for notes on what God does while we're resting in His shadow.
Let's look at verse 3. You've marked the word for (unless you are using the KJV or NKJV, where the word is surely). What is said before this word? The psalmist has just stated that God is His refuge and fortress, His God, because he trusts in Him.
Summarize this in the left-hand column of your chart — i.e., "Make God our refuge and fortress. Trust Him."
Now read what comes after the word for — all of verses 3 and 4. What does God do? He delivers us from snares and pestilence. He holds us close and covers us with His wings. Note these activities in the right-hand column of your chart. This is what our faithful God does so that we can rest in His shadow.
We take refuge in Him and trust Him; He delivers us and covers us.
(Note: The word surely in KJV/NKJV is simply underscoring how certain the psalmist is that God will deliver and cover us. If you're using KJV or NKJV, you can still write the same things in your chart.)
Now look at verse 9. What follows the word because? What does this verse say we do?
We make the Lord our dwelling place. We believe what He says, trust Him, and dwell with Him — moving our furniture in, unpacking the boxes, and living — in His shelter. Summarize this in your chart's left-hand column.
What does God do in response? He doesn't allow evil to touch us. No plagues come near our tent. Write this in the right-hand column of the chart.
Verse 11 tells us why no evil will befall us. God commands His angels to guard us. We can add this to the right-hand column of our chart. This another reason we can rest in God's shelter.
Next is verse 14. What does the first half of the verse say? What do we do? What does God say He will do? Note these in the correct columns of your chart.
The second phrase of verse 14 also belongs in our chart. God protects us (right-hand column). What do we do? We know His name (left-hand column).
Even though verse 15 contains no because or for, it still belongs in our chart because it tells us what we do in order for God to answer us. Read the verse. When does God answer us? Note this in the chart's left-hand column, and "He answers us," in the right-hand column.
Look at your chart now. In the left-hand column we're looking at a description of what it looks like to "dwell in the shelter of the Most High." In the right-hand column we see why we can and should dwell in that shelter. While we rest in the shade of the Almighty, He is faithfully taking care of us.
We don't earn these blessings. We believe Him and rest in Him, and then we watch Him do what He said He would do.
For your children:
Read Psalm 91:1-2 to your children, or have them recite what they know of the verses.
Then help them better understand "dwelling in the shelter of the Most High" by discussing how they dwell in the shelter of your home.
Talk about the different things you and your spouse do for your children. You feed them, protect them from harm, take care of them when they're sick, help them get the sleep they need, answer their questions, wash their clothes, and many, many other things. They are living in the "shadow" of your care.
They don't need to worry about where their next meal is coming from, because you're taking care of it. They won't get burned by the hot stove if they listen to you when you teach them about its dangers. When they're sick, they know you will hold their hand while they wretch over the toilet or bring them cold juice or take them to the doctor when they need medical attention.
Sometimes you know they need to do something difficult or scary to help them grow. But you are with them in those hard and scary things (just like God is with us when He takes us through trials) and if they have learned to trust you, they will jump off the side of the pool, knowing that you are there and will catch them.
You aren't doing all these things because of anything your children have done to deserve such treatment. You're doing it because you love them, and when they believe that you love them and will faithfully care for them, they trust you and are at peace.
The same is true of God, except that He is perfect and never fails us. He has told us who He is, He has made us His children (if our faith is in Jesus), and He does what He says He will do. We can believe that and rest in His shadow.

« «