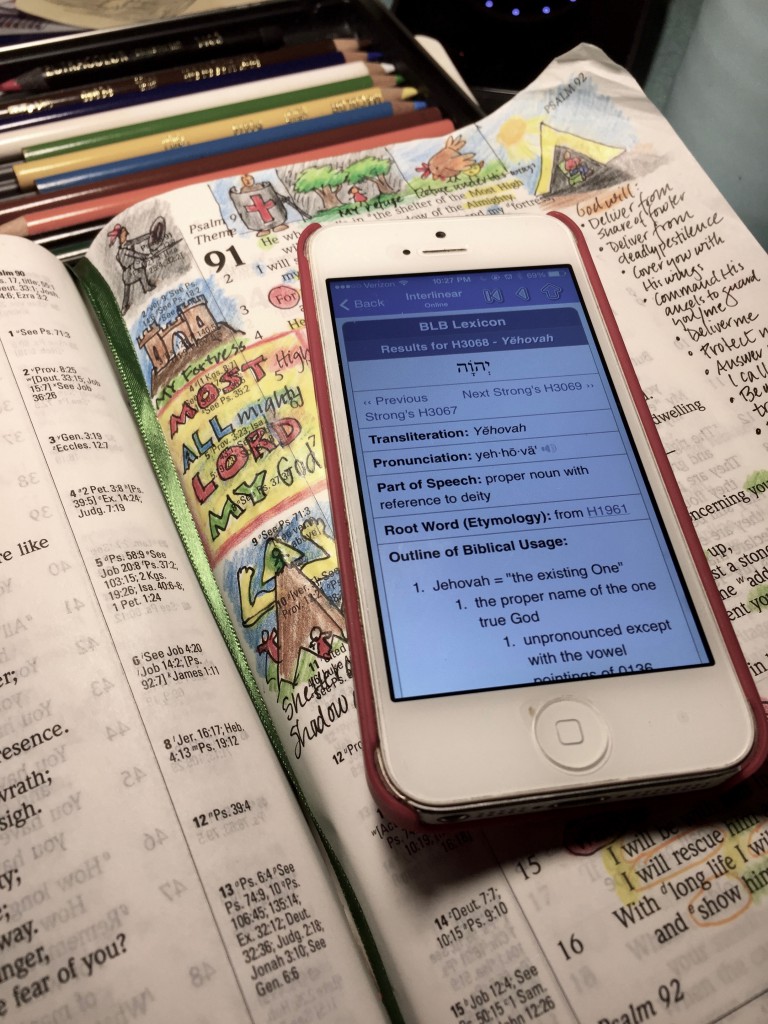 (Note: The lesson for Day 9 has been revised. If you have not completed that lesson, or if you had difficulty understanding the original lesson, you can now go to Day 9 and use the new revised lesson. Thanks for your patience and understanding.)
Yesterday was primarily an introduction to Blue Letter Bible, for those who have never used it. If you found it difficult to navigate for the first time, don't get discouraged. Like anything new, it will take some time to become familiar with it. Be patient with yourself while you learn your way around. I guarantee you'll be glad you did!
I know that for some of us, using the computer or phone for study presents special challenges. Do some proactive planning if you are likely to become distracted by everything else that is at your fingertips when you're online. (I'll post some suggestions from other ladies later this week.) Using online study tools will require self-discipline, but when you see all the exciting things you can do in your Bible study, using the online helps, I think you'll be less tempted to stray other directions!  
Assignment: Pray, remembering that we will only understand God's Word with the Holy Spirit's help.
Hover over the blue "Tools" button

(App users, click on the verse)

and then click on "Interlinear"

("Interlinear/Concordance," for app users)

.
Click the Strong's number for the phrase, of the Lord.
Read and take notes on the information given under "Outline of Biblical Usage" and "Strong's Definitions." Do you recognize the name? This is the name — Jehovah — that (the Israelites used for God.
Now look up Exodus 3:13. (You can use the search in Blue Letter Bible to look it up!)
Read verses 13-15 of Exodus 3. In this chapter we hear Moses's conversation with God when he is called to lead Israel out of Egypt. He's asking questions. "If I go tell the Israelites that I have been sent to lead them out of Egypt, who shall I say sent me?"
God says to tell them that "I AM" has sent him. (He's eternal. He is and always has been.) And then in verse 15 He uses the same word, Lord, that we find in Psalm 91. Of whom does God say He is Lord, according to this verse?
He's the LORD God of Abraham and his descendants. This name for God — Yahweh or Jehovah — is the personal name of the loving, covenant-keeping God who claimed Abraham and his descendants as His own. He heard their cries and led them out of Egypt, parted the Red Sea to let them pass, guided them with a pillar of cloud (There's a shadow of the Almighty!) by day, and a pillar of fire by night. He fed them, gave them water, disciplined them when they needed it, fought battles for them, and ushered them into the Promised Land. He kept loving them, pursuing them, drawing them back to Himself, remembering their weakness and showing them compassion, even in the midst of chastening them.
He continued to keep His promises, and still does to us, who were adopted into His family through the death of the promised Messiah, His Son Jesus, on the cross.
God isn't just Most High — above all. He isn't just All Mighty — of infinite power. He's personal. He's committed to us. He keeps His promises. He calls us to be His children and loves us like a father loves his children. This is who the writer of Psalm 91 claims as "My God, in whom I trust."
Is He your God? If He is, do you trust Him? Do you dwell in the shelter of His "Most-Highness," and in the shadow of His limitless might and power? That is where we will find peace and rest. He is worthy of our trust.
For your children:
Recite Psalm 91:1-2 together and continue working on memorizing the psalm.
Review what you discussed yesterday about God being Most High and Almighty.
Then explain how the name Lord  in verse 2 is the name God used for Himself with His chosen people, Israel. It spoke of His commitment to them and His faithfulness to keep the promises He had made to Abraham and all His descendants.
The psalmist says he will call that faithful, promise-keeping Lord his God, and that he will trust Him. He trusts God because He keeps His word! We can trust Him, too, because He still keeps His word!
Now read Psalm 105:7-15 to your children in a version they will be able to understand. If your children are older, read further in the psalm, taking turns reading verses.
Discuss God's faithful promise-keeping as it is described in this psalm. In what ways did God keep the promise He made to Abraham and to his descendants?
Discuss ways that God continues to keep His promises to us who have been made His children through faith in Jesus. Talk about specific ways that God has protected and provided for your family
If you have time and interest, let the children illustrate or act out some of the events described in your reading of Psalm 105.

« «