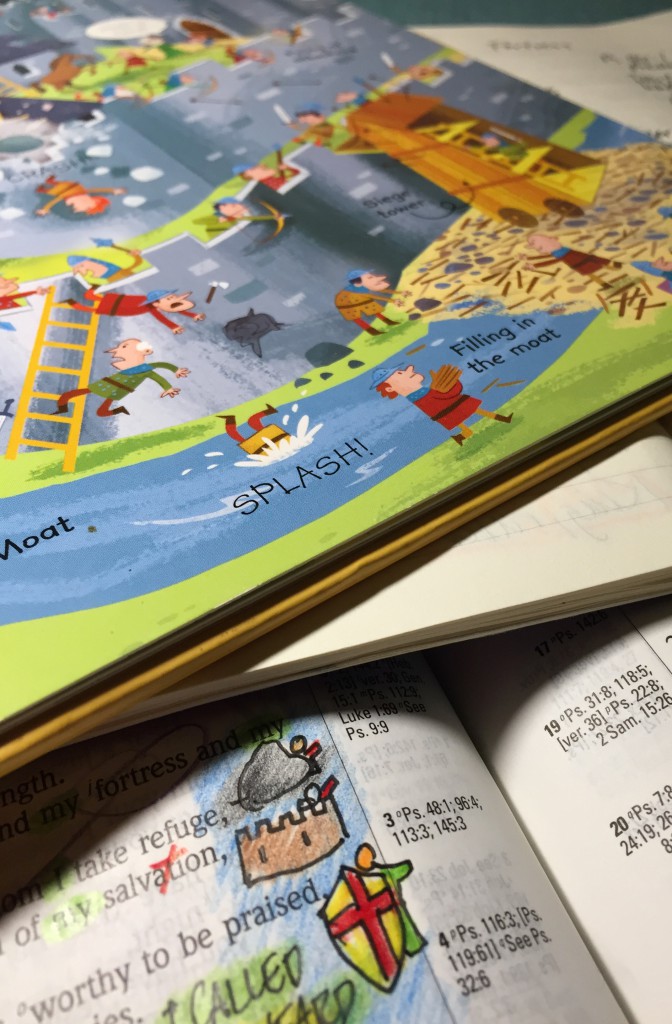 Today we get to look at the word fortress! I've been looking forward to this! What a picture of God's strength and protection!
Assignment: Pray for the Holy Spirit to do His changing work in your heart as you study today.
Start by reading all of Psalm 91, testing yourself as you go. How much of the chapter can you recite by now? Remember, the goal is to memorize this entire psalm. You'll be so glad you did!
Then open Blue Letter Bible, search on Psalm 91, scroll to verse 2, and open the interlinear tool for the verse. (Remember? Hover over the blue "Tools" button and click on "Interlinear, unless you're using the app. App users simply click the verse, and then the "Interlinear/Concordance" option.)
Click the Strong's number for and my fortress. 
Note first, "under KJV Translation Count," the ways this Hebrew word has been translated into English. We find an interesting mixture of words — most pertaining to strongholds and fortresses, but then the words snare and net, too.
Look next at the words listed under "Outline of Biblical Usage." Again we see the word used in two seemingly different ways.
The word in verse 2 obviously means a fortress or stronghold. Scroll down to "Concordance Results Using KJV," and read only the verses from Psalms. As you read these verses, record new insights you gain. What other words do the psalmists use to describe God at the same time they speak of Him as a fortress? What is one of His primary roles as our fortress?
Meditate on what you have read in these verses, combined with what you know about castles. What is a castle's purpose? Where is it typically located? What keeps the enemy from entering the castle? What happens when a castle is attacked? Will a castle, no matter how strong it is, save people if they remain outside its walls? How do the answers to these questions relate to God being our fortress?
Reflect on this as you go through your day. Pray for wisdom and the ability to honestly see yourself. Is He your fortress? Is your trust in Him, or in yourself and others?
First, have you run to Him for your salvation, helpless in your own strength, stepping over the drawbridge and into the secure fortress of Christ's work on the cross? Satan can never take you captive if you have. Your God's child now, and He'll never let you go.
Then, do you flee to Him for safety in times of trouble and danger, secure inside the protective walls of His power and love? Can you say with the psalmist, "My refuge, my fortress, my God, in whom I trust?" That is what it means to dwell in the shelter of the Most High — to "hold fast to Him in love." It means seeking refuge in Him when we face troubles, enemies, and terrors, knowing that He will defend us. Nothing can reach us without God's permission while we're safe, high on the hill above our enemies, in the fortress of the Most High.
For your children:
Memorize one new verse from Psalm 91 today and review verses you've already memorized. Have the children take turns saying the next word in the verse to keep everyone involved.
Talk about fortresses and castles. What is a castle's purpose? (Are they just for princesses to live in?) How do castles keep enemies out? How do the people inside the castle defend themselves?
If you have a book about castles, read it together. Or watch one of the videos listed below. Then discuss how God is our fortress or castle. How are we safe in Him? (We'll do more with fortresses tomorrow.)
Castles of War, 40 minutes, older children
The Parts of a Medieval Castle, information and pictures, plus a 14-minute video
Names and Terms of a Medieval Castle, 27 minutes

« «