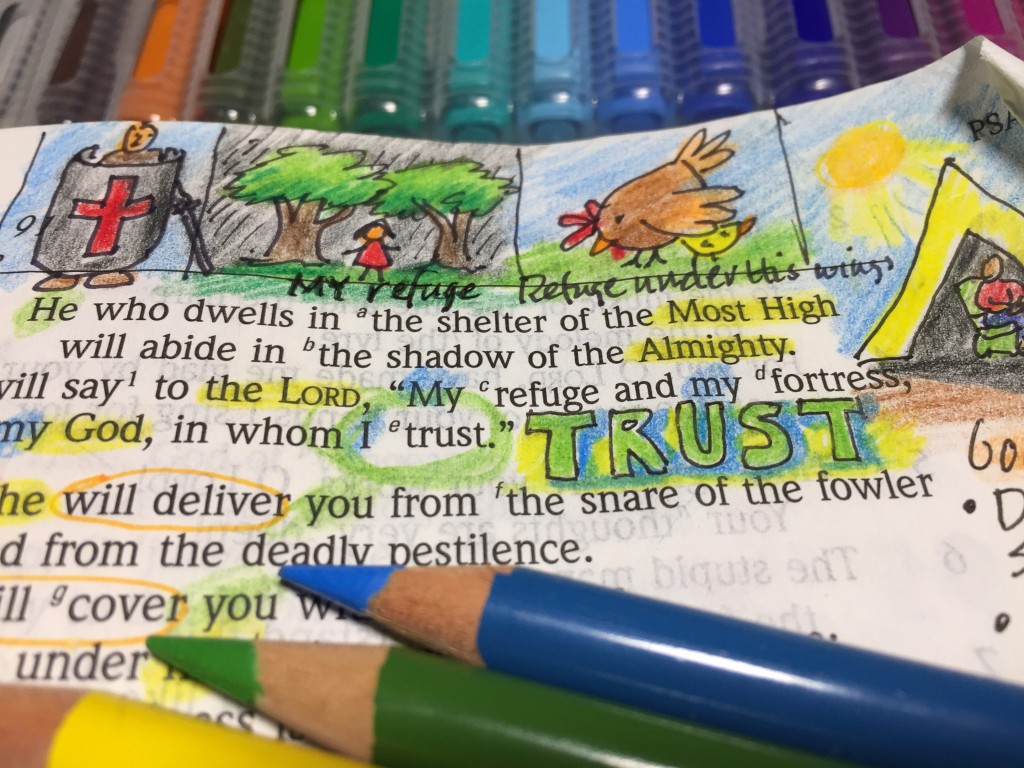 God isn't just a refuge, and He's not just a fortress. The psalmist says he's "my refuge, my fortress, my God in whom I trust." He is the Most High, a high fortress on a high hill, invincible, and ready to protect us. 
We can trust Him.
Assignment: Pray that God will reveal Himself to you and use His Word to build your trust in Him as you study.
Then return to Blue Letter Bible and open Psalm 91. We're going to take a closer look at one more word in verse 2 — the word trust.
Open the interlinear for verse 2 and click on the phrase, in him will I trust.
First, copy the definitions under Section A in the "Outline of Biblical Usage." Just these words alone give us plenty to ponder as we consider whether we truly trust God. Do we have confidence in Him? What would that look like? How would we act if we were bold in Him? What sort of things would we not think and do if we were secure in Him?
Now scroll down to "Concordance Results Using KJV." The word trust appears many times in the Bible, and especially in the Psalms! Spend the rest of your study time today reading only the verses from the Psalms that are listed in this section.
It's a long list, so skim the verses, slowing down to take notes on the ones that stand out to you. Notice that at the end of the first list of verses, you will need to click  "2. (Psa 22:5 – Psa 78:22)" and again, "3. Psa 84:12 –  Pro 31:12" in order to read all the verses from the Psalms.
Don't try to read  or takes notes on every verse that is listed from the psalms. Simply skim to get a general acquaintance with the word's usage, and stop to take notes on ones that seem particularly relevant to our study. What other actions are associated with trust? In what people and objects should we not place our trust?
When you have finished skimming the verses, review your notes. Do you better understand the meaning of the word trust now? In what or in whom do you trust? In what ways might a deeper understanding of God's character lead you to be more bold, more secure, more confident?
Pray, thanking God for His faithfulness and asking Him to help you set aside the idols that you tend to trust and to trust Him more fully.
For your children:
Continue your discussion of Psalm 91:2 with your children today, after working on memorizing the psalm.
Why are people secure in a fortress or castle? How is God like a fortress, and why can we be completely secure in Him, even more secure than we would be in a castle or fortress?
Make some fortresses today! This can happen with Legos, with boxes and blankets, snow (if you still have it!) or as an art project with cardboard, toilet paper tubes, and paints. Check out Doorposts' growing "Psalm 91" board on Pinterest for ideas! (Be sure to scroll through the whole board. Some ideas are near the bottom.)

« «