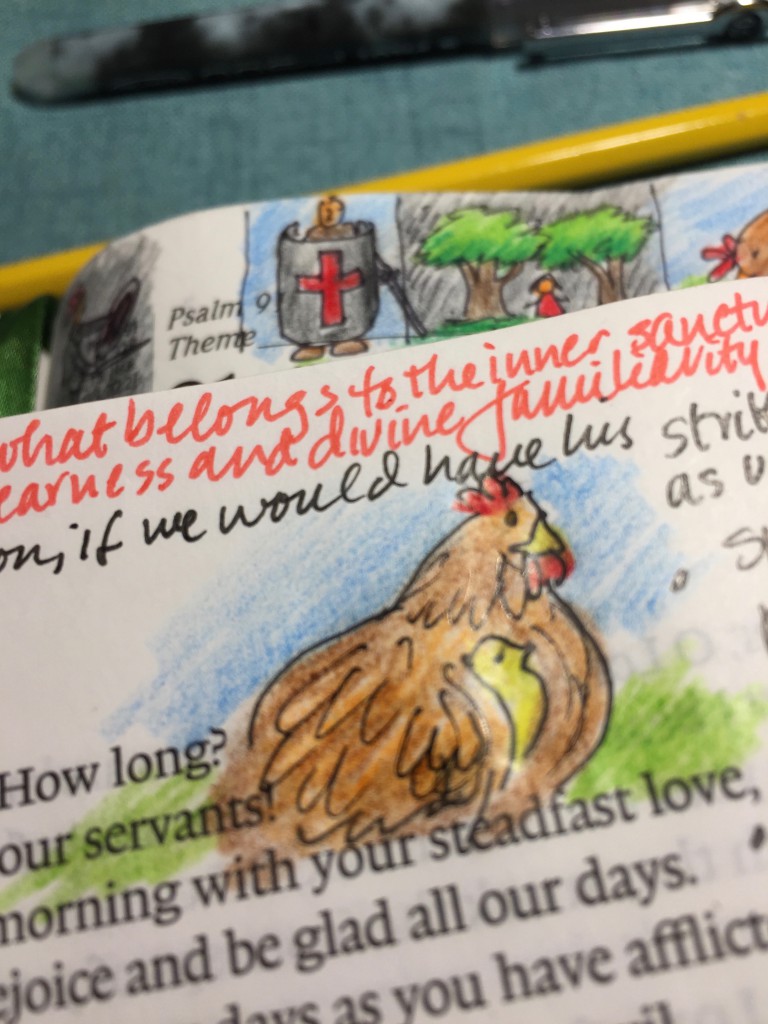 (Note: The links in the children's lesson of the first post today were not working. This version has corrected links. Please discard the previous email/lesson for today.)
We're over half way through our study of Psalm 91, and we still have so much more to explore! Did you think it would be possible to spend thirty days studying just one chapter of the Bible and not get tired of it? The hard part is actually deciding what to not study in that amount of time!
We've spent the first half of this study observing — looking for words, making lists, thinking about imagery, and drawing pictures to help us slow down and think about what we're reading.
Then we moved into word studies, which requires a bit more work, but is so worth the effort! Blue Letter Bible makes word study so much easier than it is with a stack of big books full of tiny words! It also puts cross-references and commentaries in our pocket instead of filling a couple feet worth of bookshelf space.
Today we're going to look at cross-references. Cross-references are notes that direct us to other related verses in Scripture. Cross-references allow the Bible to speak as its own commentary — shedding more light on the meaning of verses and passages. If we don't understand what a verse means, we can look at other verses that address the same themes, people, or events to learn more.
Assignment: Pray. Thank God for the great gift of His Word. He's chosen to reveal Himself to us! Pray that you will know and love Him better as a result of your study.
Then head to Blue Letter Bible. Search for Psalm 91:4. (We're going to move on to verse 4 today, and save verse 3 for an optional lesson tomorrow.)
This time when you hover over the blue "Tools" button , click the purple "Cross-Refs" button in the menu.

(App users should click on the verse and then on "Cross-References [TSK]" in their menu.)
You will see the text for Psalm 91:4 at the top of the screen with two words/phrases in red type. These red words indicate that verses related to that portion of verse 4 are listed below.
Scrolling down the screen, you will see those same words, followed by verse references that are related to the ideas in Psalm 91:4.
Below that you will find the full text of each of those related verses. These will help us better understand the concept of God covering us with His wings.
Read these verses, taking notes as you read. Most of these verses will be more meaningful if you read them in their context — with the verses that come before and after them.
Let's look at the first reference that is given — Psalm 17:8. Click on the reference. This will open the entire seventeenth chapter of Proverbs. (App users: Click on the verse, then on "Read Psa 17:8 in Quick View." Be sure you choose Quick View, not Bible view.)
Now you can read verse 8 in its context. We can better appreciate what David is requesting when he asks God to hide him under the shadow of His wings. He's asking God to protect him from his enemies.
To return to the list of cross-references, click your browser's back arrow and scroll down to the next verse. 

(App users: To return to the list, click "Back to TSK" in the top left-hand corner of your screen.)
Read the remaining five verses in this list of cross-references, noting new insights as you read. (Stop when you reach the heading, "his truth." We're just focusing today on the idea of God covering us with His wings.) Read the verses in context, opening the chapter and reading verses before and after them.
When you reach Psalm 61:4, read all of Psalm 61. (It's short.) I think you will enjoy seeing the many similarities to Psalm 91, details you may not have noticed before studying Psalm 91 like you have.
When you have finished reading, review your notes. What two birds do we see spreading their wings for their young? How do they differ? What did Jesus say about covering with wings? It's easy to think of a sweet, peaceful bird or hen with babies cozily nestled under its wings. But why are those chicks there? What is the mother bird willing and prepared to do for them?
Do the insights you gain from reading cross-references help you better understand Psalm 91:4?
For your children:
Recite as many verses from Psalm 91 as you can for memory, and work on memorizing a new one.
Then read Psalm 91:1-4 aloud.
Then discuss how a hen protects her chicks by covering them with her wings. Watch one or all of the videos below to show what this looks like. Notice how the chicks choose to stay by their mother, and how they run under her when in danger.
Then discuss what it means to find refuge under God's wings.
Videos:

« «