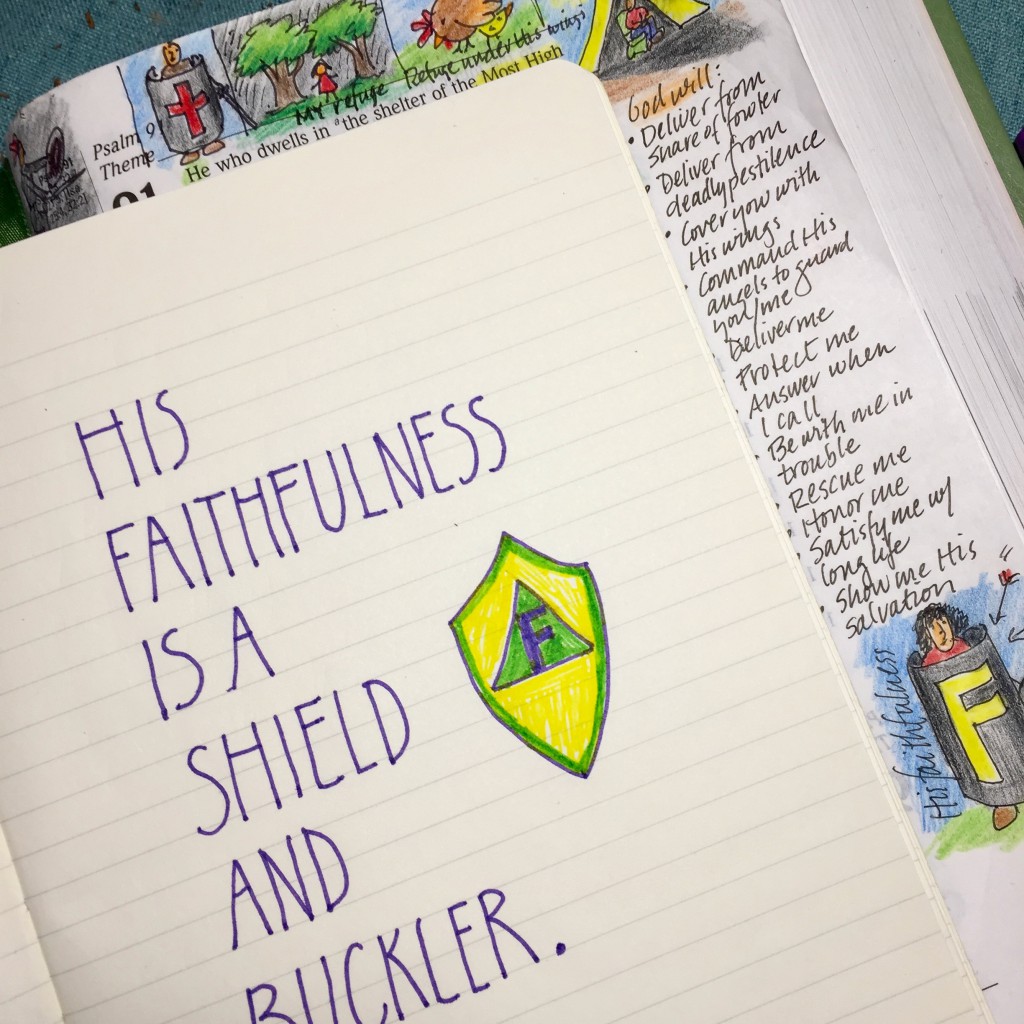 Think about the two main metaphors for God that we've seen in Psalm 91. He is a fortress, high on a hill, strong, impenetrable, a refuge to run to when threatened. But He's also a bird, covering its young with its feathers, tender and protective.
Timothy Keller, in Songs of Jesus, observes, "It is on the cross where we see the absolute righteous power and the tender, sacrificial love of God combine and shine forth brilliantly, both equally fulfilled."
Assignment: Pray for understanding and a deepening love for God as you grow to know Him better while you study.
Go to Blue Letter Bible and search on Psalm 91. Read the entire psalm, reciting as much as you can for memory. Think of God covering you with His wings as you read the rest of the psalm. Does this change your understanding of it at all?
Now we're going to start our study with the last word of verse 4. What is a buckler?
The interlinear doesn't really help us understand this particular word. So we're going to look at different translations of verse 4 to help us zero in on a proper understanding of the word.
Go to the "Tools" menu and click the orange "Bibles" button. This will show us verse 4 in more than a dozen different translations.

(App users, click on the verse and then on "Translation Comparison.")
Read and compare the translation of verse 4 in KJV, NKJV, NLT, NIV, ESV, NASB, and NET. Pay special attention to that last word, buckler, and how it is translated. Record the different translations in your notebook.
You may need to look up bulwark and rampart in an English dictionary next. (I did.) Record the definition of these words in your notebook or in the margin of your Bible.
Now scroll to the top of this list of translated verses and click on the blue "Interlinear" button again.

(App users, click the middle arrow in the top right corner, and then click "Interlinear/Concordance.")
This time, click on the phrase, shall be thy shield.
Look specifically at the information under Gesenius' Hebrew-Chaldee Lexicon. Which definition does Gesenius link to Psalm 91:4? How does he describe this shield? This is speaking of a large shield, something like a large, curved door that protects most of the soldier's body from harm.If soldiers stood side-by-side with these large shields, they could create a wall of protection around them as they advanced in battle.
The ramparts or bulwark also surround him, keeping the enemy from gaining entrance into the fortress. So the soldier is doubly protected, first with thick walls thwarting the enemy's entrance into the fortress, and then, with a large shield that protects almost all of his body.
What is it that acts as a shield and bulwark in our lives as believers? Let's return to the interlinear for verse 4 and click on the phrase, his truth.
Read and take notes on the first section of "Outline of Biblical Usage."
Then take notes on the "Strong's Definitions" section.
This word isn't just speaking of truth. It is speaking of the truth of what God has said. It speaks of His faithfulness to what He has promised. God has made many promises to us. He made promises to Abraham and to his descendants. Believing God is faithful can give us great courage and strength. He's always going to be with us in trouble and work all things out for our ultimate good. His faithfulness is wrapped around us like a shield and hedges us in like the thick, high walls of a fortress, but we can still sit in the middle of that fortress reacting in fear if we don't open our eyes and acknowledge that we are indeed protected.
Believing God is faithful and resting in that truth is part of dwelling in the shelter of the Most High and abiding in His shadow. If we step out from that shelter and trust ourselves or something else more than we do God, we are subject to our own weak and foolish thoughts and emotions. We leave ourselves exposed to fears and worries, panic and discouragement.
Mediate on His faithfulness today and on your response to that faithfulness. How can His unfailing faithfulness to His word and promises be a protecting shield and wall around you today and in the days to come? Do you have your shield in your hand, ready to do combat with the enemies of your soul?
For your children:
Recite and read all of Psalm 91.
Discuss the verse. How is God's faithfulness like a shield and a tall wall around us? We've seen that God will protect us from the "snare of the fowler," from deadly pestilence. He hides us under His feathers, like a bird hides its young.
He is faithful to do what He has said He will do. The fact that He keeps His promises is a wall of protection around us. It's a shield that wraps around us, protecting us from temptation, discouragement, and danger.
Discuss the purpose of a shield. Also describe the large door-like shield that covered the front of the soldier's body and curved around to protect his sides as well.
Pull out any toy shields you own, or make a project of creating a shield with cardboard. If you want to make this a more major project, create a sturdier shield with wood and a drawer handle. (Check out our Pinterest board for ideas, and for more Psalm 91-related ideas! There's lots more to add, but we've got a start!)
Then act out some of the battles of the Old Testament with shields and swords (shortened pool noodles, blunt end sticks, light sabers, etc.). How do their shields protect them as they play?

« «