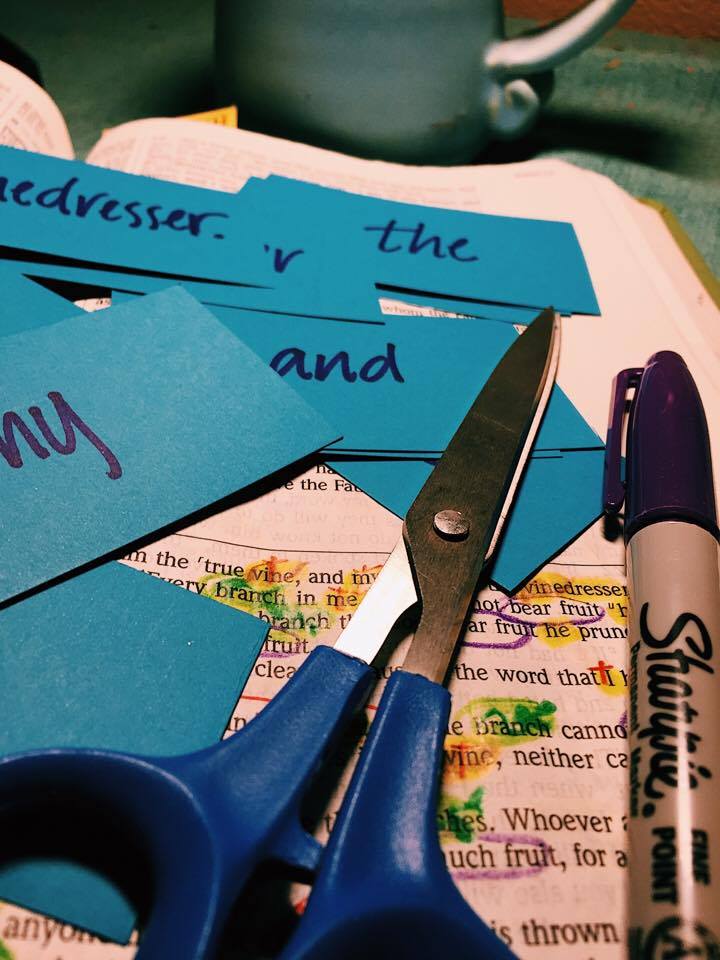 We're spent a great deal of time on the first few verses of John 15. That's because these words of Jesus are so important for the way we live as His disciples. Really taking hold of what He is saying and living it can transform our lives! We are one with Him. He is in us. We are in Him. We need to rest in that truth, knowing that He, the vinedresser, will keep us under His care, watering, feeding, protecting, and most importantly, pruning, in order to bring fruit to maturity.
But our rest is not a passive rest. It is a firm belief, and a life that is lived with passion, eager to bear the fruit the Vinedresser desires to produce in us, but knowing that He is the one growing the fruit, not us.
We've come to verse 7, "If you abide in me, and my words abide in you…" What better way for Christ's words to abide in me than to memorize and meditate on His Word.
Assignment: Pray, asking God to help you actually memorize a portion of this chapter in John, and that He would deepen your understanding of abiding in Him and Him in you.
We need to memorize these words Jesus spoke to His disciples! They need to be in us and such a part of us that their truths come to mind whenever we are busily trying to live life apart from the Vine. They need to be in our hearts where we are forever changed by the knowledge of all that Jesus is and does. They need to be where we instinctively grab and take hold of them when God takes the pruning knife to our lives.
Memorizing a passage changes the way we see it. We interact with its words and message in a much deeper way. I've found that memorizing a passage is one of the best ways to study it. I become very familiar with it, seeing its patterns, its themes, and its applications in ways I would have missed had I not been memorizing it.
Memorizing puts the passage in our minds where it is available for meditation, even when we can't read our Bibles. This can be a real life saver for busy mothers!
Memorizing Scripture strengthens our prayer life and leads us to pray according to God's will.
Memorizing renews our minds, and renewed minds mean a renewed way of living. As we memorize, Scripture changes us, little by little, in ways we may not even be able to see.
Assignment: Pray, asking God to give you the grace and desire to memorize His Word, and the faith to believe that He will change you as you commit His Words to memory.
Then read all of John 15, noting how much of it you are already beginning to memorize, simply by reading it so many times.
Decide how much you are willing to commit to memory. Don't undersell yourself. With God's help, you can do this!
I would encourage you to memorize at least the first seventeen verses of the chapter. We have at least fifteen days left of our study. You only have to memorize one verse a day, doubling up on a couple days, to memorize those seventeen verses.
Here are some ideas to try:
Is it hard for you to memorize with a house full of children? Memorize with them! They'll help hold you accountable and give you a bit of competition for added motivation!
Copy the entire passage you intend to memorize. Then copy it again, or sit down and type it on the computer a few times. Then test yourself by writing the verses out again as you get them memorized.
Read the passage out loud several times, and then start reciting it out loud as you memorize.
Listen to the passage over and over, using the audio readings on Bible Gateway, or other audio Bible resources. Listen while you get dressed in the morning, while you make dinner, while you fall asleep at night.
Using a printout of the passage, assign a key word to each verse and write it in the left-hand margin next to the verse. As you memorize, start covering the text and using the key words as cues.
Assign a mental picture to each verse, or draw actual little pictures to represent each verse. Draw these in the margin of your printout, or on cards that you can flip through as you recite the verses.
Look for links between verses. For example, verse 4 begins and ends with the phrase, "Abide in me." Verse 5 then goes on to speak of "whoever abides in me," and verse 6 opens with, "If anyone does not abide in me. Verse 7 says, "If you abide in me…" Memorizing these linked phrases can help us successfully recite verses in the correct order.
Try out some of the helpful Bible memory software and apps that are available. My personal favorite is the Scripture Typer app, which allows me to easily load the verses I want, test myself in different ways, and even record myself reading the verses, so I can listen to them over and over as I memorize.
For your children:
Continue memorizing a selected portion of John 15. 
For your verse today, write it on a whiteboard, and erase words as you memorize, until you have no words left.
You can also write each word of a verse on a separate card, and work together to get them all in the correct order.
Remember, we're memorizing so we can do. Talk about the verses as you memorize. If you need help understanding a verse, click "Commentaries" in the Tools menu for that verse, and then click "Matthew Henry." This will take you to comments on the entire chapter, and you can scroll through until you locate remarks on the specific verse.

« «