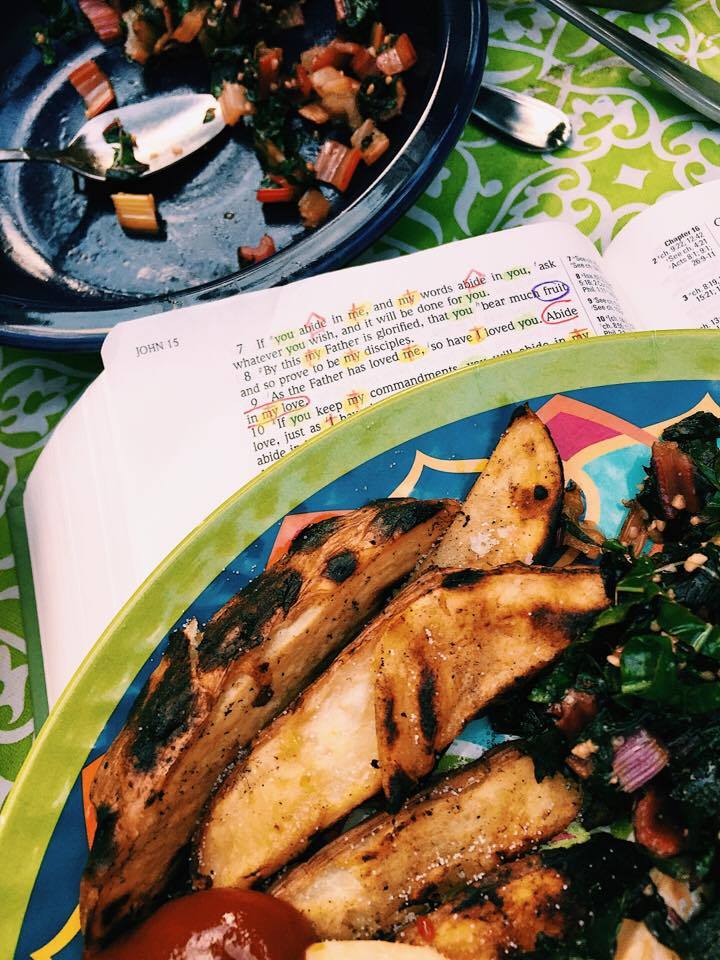 We've been called by our Savior, our vine, to abide in Him, to draw all that we need from Him. We remain in Him, and He remains in us. Together we produce fruit that brings glory to the Father.
While Jesus abides in us, so do His Words. "If you abide in me, and my words abide in you…" Does this just mean we need to memorize (or study 🙂 ) all the Scripture we can? Or is there more to this word?
Assignment: Pray for understanding as the Holy Spirit teaches you today from His Word.
Then search on John 15:7 in Blue Letter Bible. Let's study this verse in more detail.
Open the interlinear for verse 7 and look at the Strong's number and Greek word for abide in the first phrase of the verse, "If you abide in me…" Record the word in your notebook.
Now look at the Strong's number and Greek word for the word abide as it is used in "and my words abide in you…" What do you find?
The same word is used for us abiding in Jesus, and His words abiding in us.
Based on our study so far, what does it mean to abide in Jesus?
Abiding involves trusting, obeying, finding all we need in the Vine, not detaching ourselves when things get difficult, and becoming more and more in our experience what we already are declared to be in Christ. We're believing the truths of Scripture and allowing the Holy Spirit to bring about the fruit of those truths in our lives.
Now what does it mean for Jesus' words to abide in us?
Look carefully at verses 4 and 5 of John 15. In both verses Jesus says we need to abide in Him and He in us. These together lead to fruit-bearing.
Now look again at verse 7. How does the last part of the "Abide in me" phrase change? What abides in us?
Christ abides in us when His Word abides in us! The Word — the words that Jesus spoke and all the rest of God's Word — is essential to our abiding in Christ. We remain and rest in Him because we believe what God has said, and what He has said through His Son, the "Word made flesh."
God's Word must take root in our hearts, if Christ is going to abide in us. The Word must abide in us if it is going to bear the fruit of trust and obedience, and the character of Christ — the fruit of the Spirit — in our lives.
So we're not just memorizing. We're allowing the Holy Spirit to stamp those words on our hearts and to transform us through the life-giving, life-changing power of God's Word. The Word becomes a part of us.
Looking back at Blue Letter Bible, go to the top of the interlinear box and click the purple "Cross-Refs" tab. Let's look at other verses related to God's Word abiding in us.
Read and meditate on each of the verses listed under the heading, "My," in the cross-references for verse 7. There is much to think about in these verses.
Look at the first verse, John 8:37, in context. Who is Jesus talking to? How well did these men know the Scriptures? What did Jesus say about them? His Word had no place in them. It found no home, no room in their proud hearts, and as a result, they sought to kill the very Messiah their Scriptures foretold.
What about Job 23:12? Do we value the words of God's mouth more than our "necessary food?" What a statement to be able to make!
Pray over each of these verses, asking the Holy Spirit to speak to you through them.
Is God's Word abiding in you? Do you treasure it? Do you trust it? Do you obey it? Do you see its transforming power at work in your life?
For your children:
Read Matthew 4:1-11 aloud with your children, or listen to this dramatized reading of the passage.
Ask them to listen for the point where Satan quotes Scripture while tempting Jesus.
Talk about this. Satan knows God's Word. But he was trying to use the words of Scripture against Jesus!
Read Psalm 91:11-12. What part of these verses did Satan leave out as he tried to tempt Jesus to sin? Do you think this was an accident? Satan used his knowledge of Scripture in an attempt to deceive and destroy!
Knowing what God's Word says isn't enough. Jesus needs to abide in us, and His Word needs to abide in us. We need to make room for it to reside in our hearts. We need to believe it, trust it, act on it, and be changed by it, through the power of the Holy Spirit.

« «