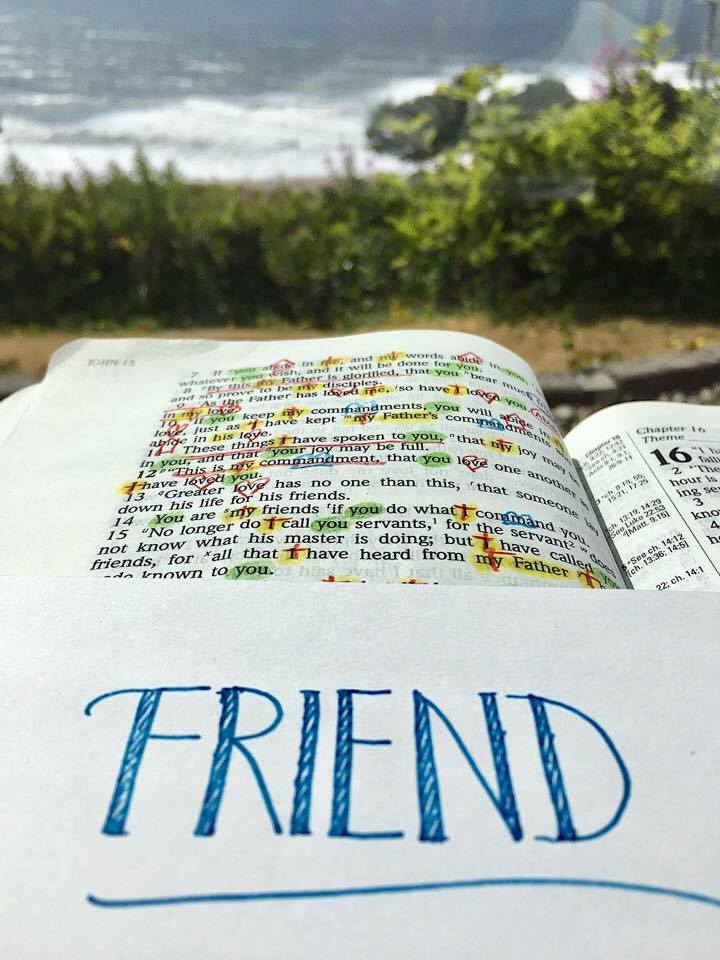 Jesus speaks to His disciples. He's about to go to the cross, and He says, "Greater love has no one than this, that someone lay down his life for his friends. You are my friends if you do what I command you."
Do we earn Christ's friendship by obeying Him? If we don't obey, do we lose that friendship? Or does this verse mean something different?
Let's dig deeper.
Assignment: Pray, thanking Jesus for laying down His life for you and for making you His friend.
Then read John 15:1-17. As you read, prayerfully reflect on your relationship to Jesus, as it is described in this chapter:
As a branch intimately connected to and receiving life from Jesus, the Vine
As a branch of the Vine whose purpose is to glorify the Vinedresser by bearing fruit
As an undeserving recipient of Jesus' love, called by Him to abide — to remain — in that love
As one who is loved and then commanded to love your brothers and sisters with the same kind of love
As one who has become a friend of Jesus, because He laid down His life for you.
And now, in verse 14, as one who, being Christ's friend, does what He tells you to do.
"You are my friends if you do what I command you." Let's look at some commentaries to help us understand this verse.
Open Blue Letter Bible and go to John 15:14.
Click "Commentaries" in the Tools menu. (App users, select "Commentaries" after clicking on the verse text.)
Then look for the heading, "Matthew Henry" in the list of available commentaries. This verse-by-verse commentary was written in the early 18th century and is solid practical and devotional reading.
Click "Commentary on John 15." This will open all of Matthew Henry's remarks on chapter 15 of John. We will need to skim the text until we find the comments on verse 14.
Scroll down until you see the heading "Jhn 15:9-17."
Then continue scrolling until you see, "II. Concerning his own love to his disciples." If you have extra time, this section would be good to read. Otherwise, scroll down just a bit farther until you see "(2) Christ loved his disciples."
Read this section, taking notes as you read, and stopping when you reach point 4, which begins the discussion of verse 16.
How do the disciples prove themselves to be Jesus' followers?
In what ways does Jesus treat us as friends?
Now let's look at one more commentary. This time we're going to use another Bible study site, Bible Study Tools. This site also has an app, for those who prefer to use it, but it has some bugs that make it a bit unpredictable. I recommend the website.
Open www.biblestudytools.com and search on John 15:14.
Scroll down below the verse text to the list of commentaries, and click John Gill's Exposition of the Bible. This is another easy-to-use verse-by-verse commentary, written during the 18th century.
Click the link for John 15:14. Read and take notes.
Summarize what Gill says about the disciples' obedience and its connection to their being Jesus' friends.
Summarize what you have learned about our friendship with Jesus.
As followers of Jesus, we are choosing to turn away from our own will and submit to His. Our obedience goes hand-in-hand with our faith. It doesn't earn our salvation or our status as friends of Jesus, but our obedience is evidence of our faith. It is the result of truly understanding and believing that Jesus willingly laid down His life for us to make us His friends. 
Death had no claim on Jesus. Unlike us, He didn't ever have to die. He chose to suffer and die for us. When we take hold of this truth and realize what He has done, we will love and trust Him, and want to please Him.
For your children:
Review memory work.
Then read John 15:12-14 together and look for two different characteristics of those Jesus calls His friends. (Verse 12, they love one another) (Verse 14, they do what Jesus commands)
Make clear that Jesus doesn't call them friends because they love each other and do what He commands. They don't earn His friendship. They love each other and do what He commands because they are His friends. He died for them while they were enemies, and made them His friends.
Talk about what it will look like to love each other, and what sorts of commands Jesus has given that we will obey.
Have the younger children draw pictures to illustrate these two characteristics of friendship with Jesus.

« «