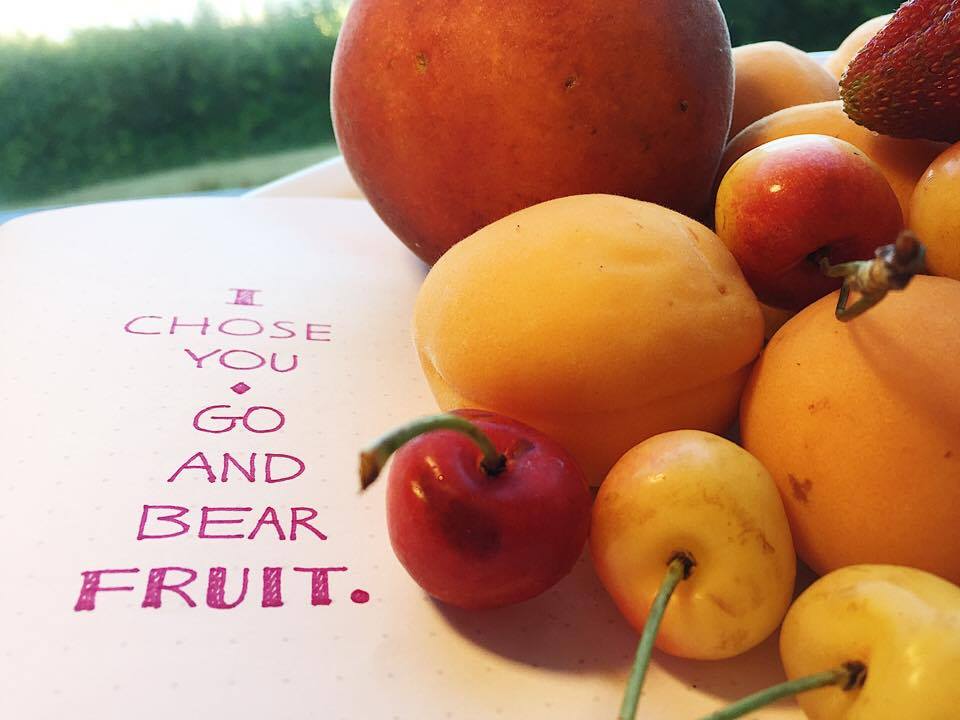 We obey Jesus because we're His friends. We're friends because Jesus died for us and chose us to be His friends.
Assignment: Pray as you begin your study today. Pray for understanding and a humble, teachable heart.
Then take our your marking copy of John 15 and your colored pencils or pens. We're going to look for some words today.
But first, test yourself on what you've been memorizing. Recite that portion of the chapter, uncovering each line of text after you have recited it. Can you memorize one more verse today?
Then read verses 12-27. Draw a blue "zig-zaggy" circle around the words chose and chosen. (See photo. :-)) Draw a red circle around the word but. 
When you have finished reading and marking, return to verse 16. That will be our focus today. We're going to break this verse apart

into phrases to follow the progression of thought and action.

In your notebook, at the top of a page, write the first phrase of the verse, "You did not choose me." (The wording in this exercise will vary, depending on which translation of the Bible you are using.)
Jesus makes Himself very clear, doesn't He? The disciples not choose Him.
Under "You did not choose me,"  write the word but, and circle it in red. Now Jesus is going to give us the contrast. If they didn't choose Him, what did happen?
Under the but, write the next phrase, "I chose you." Remember? He called each of His disciples away from what they were doing, and bid them follow Him.
Below that phrase draw an open arrow pointing down. (See photo.) Why did He choose them?
Below the arrow, write the next phrase, "and appointed you." (This does not appear in the photo.) Jesus had a purpose in mind when He chose them.
Draw another open arrow below that and write the word go inside the arrow. The disciples were chosen for the purpose of going. Why were they to go?
Below the arrow, write the next phrase. We're back to the theme of this chapter — to bear fruit.
Then draw another arrow, and the next phrase below that. The fruit was to remain, to last.
Draw another open arrow and write the words so that inside it. Jesus is about to give them another purpose for their going.
Write the words, Ask the Father below the arrow,.
Draw another arrow, and write the word in my name inside the arrow.
And last of all, write the phrase, he may give it to you.
Simply taking this verse apart and arranging it in this visual way, can help us better see what is being said. Jesus chose His disciples (and now makes them His friends) so that they would go and bear fruit (in this case new converts to the faith) and so that fruit would remain or last, and that their mission of fruitfulness would be accomplished through prayer in Jesus' name. 
When we read what happens in the Gospels after Christ's resurrection, and when we read the book of Acts, and then all the letters of the New Testament, we see the disciples fulfilling their God-appointed mission. They go, they brings others to Christ, they teach and nurture those young churches, and they do it in the power of the Holy Spirit, the Helper given to them when Jesus ascended into heaven.
Read back through your notes again, this time putting yourself in the place of the disciples. The you refers to you now. You are His disciple, chosen by Him, if you profess faith in Christ.
While you are a branch, abiding in the Vine, bearing the fruit of Christ-like character and abiding in His love so that you are able to take that love and love others in the same, while you are laying down your life for others and obeying Jesus' commands as His chosen friend, what is your mission?
We didn't choose Jesus. He chose us. And He chose us to bear fruit for His kingdom, to share the good news of His life, death, resurrection, and ascension to a lost world — to others He has chosen out of the world.
We aren't just called to love each other, safe and secure in our own comfortable fellowship of believers. We're called to go.
Take time to pray as you finish today's lesson. Ask God what He wants you to do with what He has said to you through His Word today.
For your children:
Read and discuss John 15:14 with your children.
Then read the passages listed below that describe Jesus choosing Peter, Andrew, James, John, and Matthew as disciples. Notice how Jesus did choose them.
Mark 3:13-19 (Note how and why they were called.)
Matthew 4:18-22
Luke 6:13 (Notice the use of the word chose.)
Matthew 9:9
Describe what you can of these men's activities after Jesus returned to heaven. (Searching on their names in Blue Letter Bible may help you find out more.) Did they obey Jesus, going out and bearing fruit? Did they help bring others to a saving faith in Jesus?
Draw attention to the fact that John, who wrote the chapter we're studying, was one of the twelve men chosen by Jesus.
Notice, too, that Jesus chose Judas Iscariot, even though He would have known that Judas would ultimately betray Him.
Have younger children act out the scenes of Jesus choosing His disciples, especially the account of Simon Peter fishing without catching anything until Jesus came.

« «