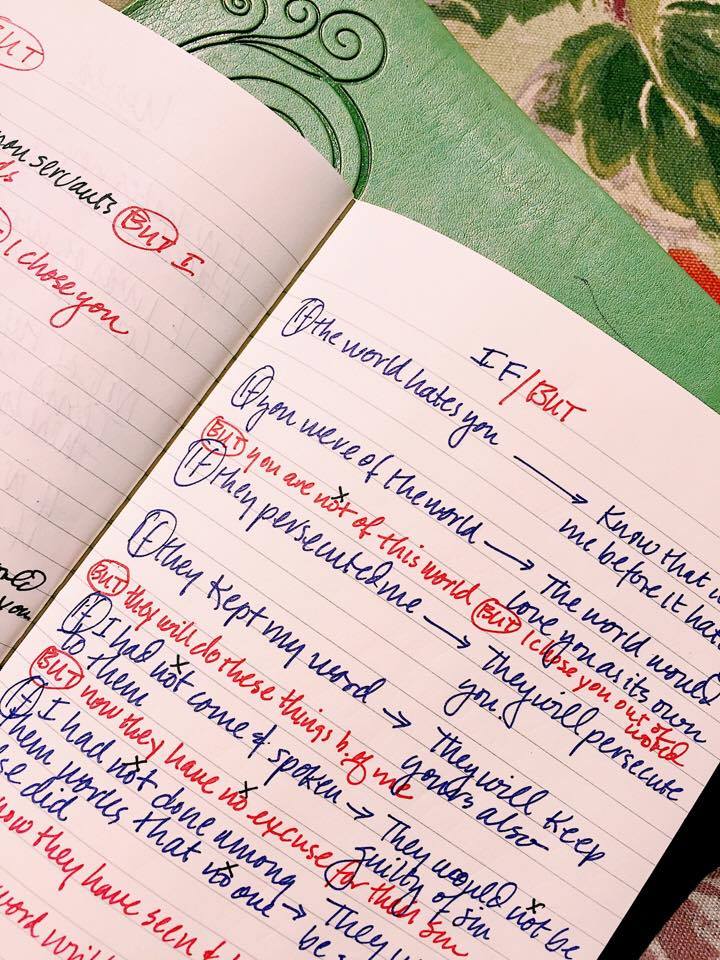 The disciples of Jesus are chosen, both for the incredible privilege of abiding in Him, but also for the privilege of suffering with Him.
As we saw in our study yesterday, the world will hate Jesus' followers because it hates Him. It will hate His disciples because they have been called out of the world, and it will hate His disciples because it doesn't know the Father who sent Jesus into the world.
We're going to mark three more words today.
Assignment: Pray before you start studying, always remembering that it is the Holy Spirit who helps us understand and apply what we read.
Take out your marking copy of John 15 and your colored pencils. We're going to be reading verses 15-27 several times.
Work on trying to memorize some of these verses as you read. Marking words will actually help, because we start to see repeated themes and patterns. I've found verses 22 and 24 much easier to memorize after noticing the similarities between them while marking the passage.
First look for the word if as you read verses 15-27. Read for understanding, not just to find the word. Draw a purple circle around the word each time you see it. if is a little word, but an important one to pay attention to.
Then read the same verses again, watching for the word but. Circle it in red. The word but shows us contrasts.
Read verses 15-27 one more time and draw a black X above every negative word, such as no, none, not. Negative words are ones we don't want to miss.
Now let's look more carefully at what we've marked. Writing can help us process what we've read in a different way — with our hands, not just our eyes. (This is also a good reason to listen to the text occasionally, or to read it aloud. The more senses we get involved, the better we will remember and process what we're reading.)
After marking a passage, it can be helpful to go back and organize what we've marked into a chart or other visual format. Columns and arrows and diagrams can help us see things we wouldn't have otherwise noticed. But God has made us all different. Writing and copying may be a burden or distraction to you. If you really dislike writing, you might want to type some of your notes, or even cut and paste portions of verses (use Blue Letter Bible!) into a chart form.
Or you may figure out your own way of more fully digesting a passage that doesn't require so much writing. Find a method that works for you. We're making marks in the text to help us see, so make sure you take a second look after you've marked a passage.
Open your notebook to two blank pages facing each other.
On the right hand page, if you have colored pens, write the word IF in purple followed by a slash, and then the word BUT in red.
Then read the verses again. Using a purple pen, copy the first if phrase, "if the world hates you," onto your page.
Then draw an arrow pointing to the right. The word if generally introduces a conditional statement. For example, if this happens, then this will happen. If this is true, then this is true, too. If that hadn't happen, then that wouldn't have happened either. 
The word then is usually just implied in these conditional statements. It's not actually in the sentence.
What is the then part of the if phrase, "If the world hates you"? It's "know that it has hated me before it hated you." (Remember, the word then will generally not be physically present, just implied.) Write or summarize this statement to the right of your arrow.
You should now have a rough sort of chart, with the if phrase on the left side of the page, an arrow in the center, and the "then phrase" on the right side of the page. (See photo.)
Skip two lines on your page. Then copy the next if and then phrases, separated again by an arrow.
Continue doing this through the rest of the passage, always leaving two blank lines between each entry.
I found six if phrases.
Now switch to a red pen. We're going to add the but phrases to our chart. Skip verses 15-17 for now. We'll come back to them later.
Starting at verse 18, read and copy the but phrases into the appropriate blank lines.
Starting at verse 18, we see that the if-then phrases have no but phrase directly after them, so leave the blank lines empty under the phrase.
Moving onto verse 19, we've written down the if and then phrases. These are followed, in verse 19, by two but phrases, "but because you are not of this world," and "but I have chosen you out of the world." Copy both of these phrases into the blank lines below "If you were of the world." (Use a red pen for this.)
Continue doing this through the end of the chapter, copying the but phrases into your chart where they fit with the order of the text. (Some if-then phrases will have no but phrases following them. Leave those blank lines empty.)
When you reach verse 25, you won't have any more if-then phrases in your chart. Simply continue copying the but phrases in red at the bottom of your chart.
When you have finished through verse 27, take out your black pen. We're going to mark the negative words on our chart just as we did in the text.
Start back at verse 15. We'll need to do a bit more copying for verses 15-17. On the left hand page of your notebook, copy "No longer do I call you servants," and mark the word no with a black X.
Now we can record the but phrase from this verse. With your red pen, write, "but I have called you friends."
Move on to verse 16. We have one more negative and one more but phrase at the beginning of this verse. Copy, "You did not choose me," in black and put the black X over not. 
Then write the but phrase in red, "But I chose you."
Look over all that you have written. This took some time. Was it helpful? Do you see new things after paying attention to details and writing down portions of the text?
We'll return to this chart on Monday.
For your children:
Read some or all of these accounts of those who were persecuted for following Jesus.
Perhaps the children would like to make a book of illustrations picturing the lives of these different believers who were hated by the world. This could be done individually or as a group, combining drawings to make one volume of pictures.
John the Baptist, Matthew 14:3-12
James death and Peter's deliverance, Acts 12:1-19
Lazarus, John 12:9-11
Stephen, Acts 6:8-15, Acts 7:54-60 (Older children might want to study Stephen's sermon in Acts 7:1-53.)
The early church, Acts 8:1-4
Paul and Silas, Acts 16:16-34
If you want to continue with Old Testament believers who were persecuted, click here for names and references. (Go to the heading, Nave's Topical Bible, and scroll down to "Persecution: Instances of.")
.

« «