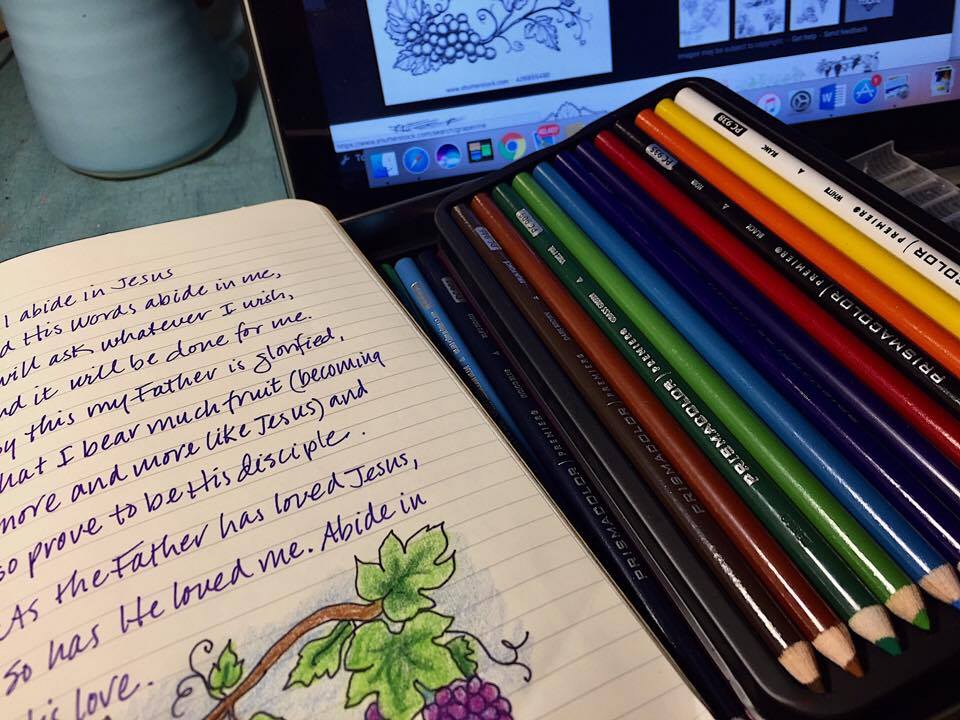 We could study so much more in this fifteenth chapter of John, but our study is coming to a close. It's time to look back at what we've learned, and to look forward to how we will let these words of Scripture change us.
Assignment: Pray, thanking God for what He has taught you through His Word. Ask Him to help you remember and be changed by Jesus' words.
Then take out your marking copy of John 15 and your notebook. Back on Day 20, we spent some time praying through the first eight verses of the chapter from a first-person viewpoint. Today, as a means of review and reflection, and as a way to bring the meaning of these verses straight into our day-to-day lives where they belong, we're going to personalize the entire chapter.
If you have the time and fortitude, I would encourage you to write down (or type) this personalized version of the chapter, so that you can go back to it and pray through it over and over.
Jesus is the one who is speaking throughout John 15. Our goal in this lesson is to paraphrase or reword the chapter so it reads as though you are the speaker or narrator. The you's in the text get changed into I's and me's. The me's get changed to Jesus.
For instance, verse 2 might read like this:
"If I am in Jesus, but do not bear fruit, the vinedresser will take me away (or 'lift me up and encourage me to draw close to Him,' depending on which interpretation of this verse you embrace). If I am bearing fruit, He will prune me so that I will bear more fruit."
Do you see how rewording this brings its truths home in a different sort of way?
If we go on to verse 3, we could write, "But now I am clean because of the word Jesus has spoken to me." Think on that for a while! Pray these words back to God and thank Him for the fact that Jesus' words make us clean!
Rewrite the entire chapter in this way. This will take more than one study session. Take your time. We're seeking to recall all that we have been learning for the past month, and we're internalizing this passage, making it ours, listening to what God has said to us, and then speaking His Words back to Him in prayer.
Tomorrow we'll take one more look at the chapter, with the purpose of taking what we've learned and living it.
Note: The children's lesson for tomorrow will involve a lot of fruit! So if you plan on using that lesson, stock up on some fresh fruit at the store! Try to get a variety — eight or nine different types if you can. You don't need a lot of any one kind; you just need some variety! This will be our final review with the children. We want it to be fun!
For your children:
If your children have been memorizing verses from John 15, take time to review.
Then see who can recite all the verses for memory by themselves! Praise them for their hard work!

« «