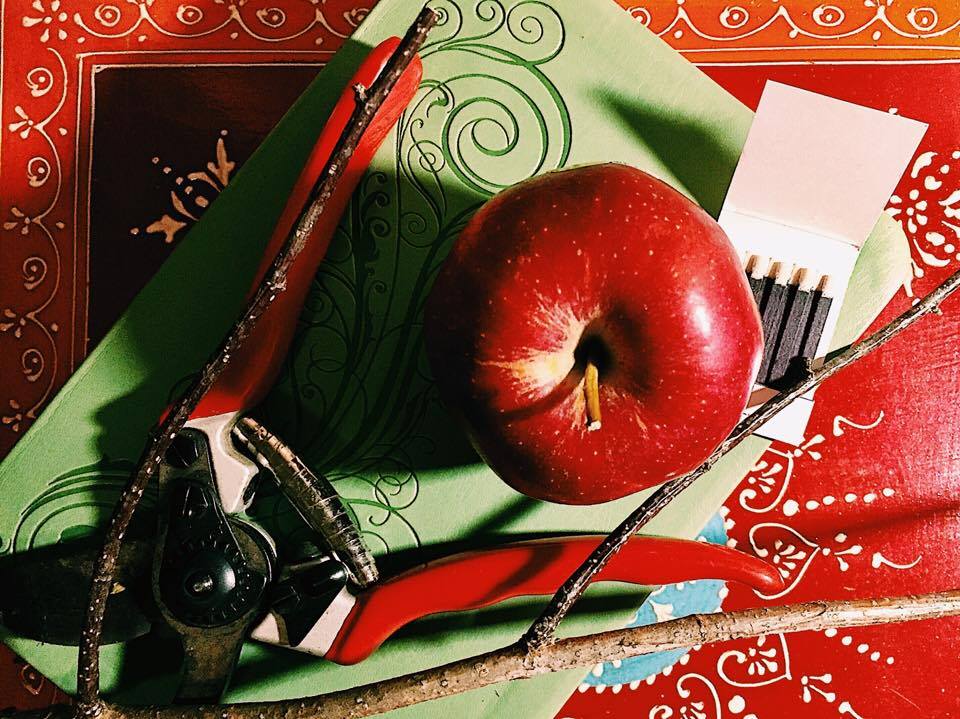 For the last day of our study of John 15, we're going to spend some time meditating on the passage and praying over it. We want to make sure we are "doers of the Word and not hearers [or students] only." No matter how many hours we manage to spend in God's Word each week, if we study with no intention of doing what the Word says, we've missed the whole point of studying.
Assignment: Pray, thanking God for this account of Jesus' words to His disciples, and for the encouragement it offers us as His disciples today.
Then take out your marking copy of John 15. If you wrote out your personalized version of the chapter, have that out for reference, too.
Read verse 1. Note any marks you have made in the verse. Read your personalized version of the verse. Chew on the words a bit. Do you really believe Jesus is the true vine, or do you look for meaning and life from other "vines?" Pray, thanking God for sending us the true vine, and for His love expressed as the vinedresser.
Then move on to verse 2 and do the same thing. Read it. Ask yourself if you truly believe what this verse says. Are you a fruit-bearing branch or a branch that fails to bear fruit? Does God's pruning for more fruit-bearing change the way you view the difficulties and trials that come into your life? Pray again, expressing your desire to be fruitful, and confessing anything that might be preventing fruitfulness.
Approach each verse of the chapter in the same way. This will take time. Don't rush. You might even want to take the next month to just contemplate one verse each day. Forgive the analogy, but this is going to be a bit like the cows sitting out in the pasture, who have belched up the morning's grazing to chew and digest it more properly. We've taken in a lot over the last month. Now we're revisiting it all, chewing, drawing more from each verse, and looking at each one again within the context of our entire study.
As you work your way through the chapter, you may want to add some more drawings to aid in your reflection. You may also want to add notes or personal goals, reminders, or specific applications in the margin of the text.
Soak yourself in this chapter, one verse at a time. This is God revealing Himself and His will for you in His Word. Let the Holy Spirit speak to you while you respond back in prayer and thanksgiving.
I've loved studying with you. <3 Tomorrow I'll post a list of ideas for further study on your own. Then on Saturday, we'll open our end-of-the-study giveaway. Even if you don't want to enter the giveaway, I really value your feedback so I can do whatever possible to make these studies as accessible and useful as possible for you.
For your children:
It's time for an end-of-the-study scavenger hunt!
You will need 8 different packets or small bags of fruit to give to the children as they find the objects on their list. The plan is to enjoy eating all this fruit at the end of the hunt. So you will want to decide how many pieces of the various fruits you want to package, depending on how many children are in your family.
Place an apple or two in a small bag, a couple oranges in another, some grapes in one, etc. Keep all these bags in a central place where the children will be coming to you with their found objects.
Give the children this list of things to look for. (Print out this sheet of answers to the hunt, if you need it.) The children can work together as a group, or you can divide them into two teams if you have several children.
Have them look for each item on the list. When they find an item they should bring it to you. When they do, give them one bag of fruit and set it aside for the end of the hunt. They should receive one bag of fruit for each item they find.
When they have found all the items, have everyone gather together and read John 15:5, "I am the vine; you are the branches. Whoever abides in me and I in him, he it is that bears much fruit, for apart from me you can do nothing." You could also have the children recite this verse, if they have memorized it.
Talk about the effect of all Christ's followers bearing fruit together in the midst of a world of people who hate Jesus (and us.)
Then sit down and let the children open all the bags and have a picnic of fruit. Add ice cream if you want!

« «