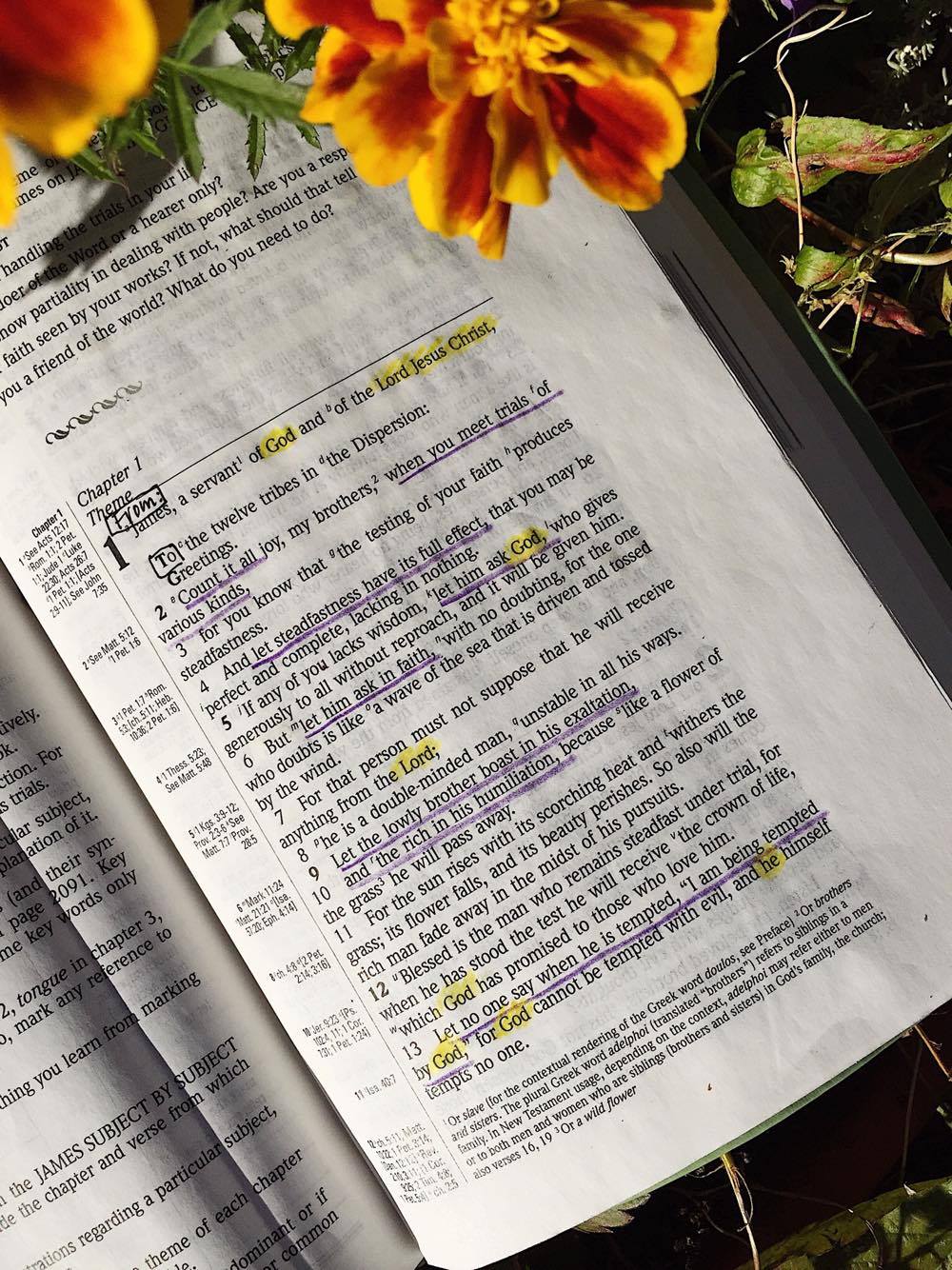 What did you see about God in your reading yesterday? It helps, doesn't it, to mark, take notes on what we've marked, and then look at those notes and summarize what you've found. Simple steps like these can help us slow down and really look at and think about what is in the text.
God is a gracious and generous Father, eager to give. While James draws our attention to God's grace, he also spends a great deal of his letter telling us what we should do. In the 108 verses of his letter, he gives over fifty imperatives or commands. More than ten of those commands are in our first chapter. That's what we're going to look at today.
Assignment: Start with prayer, giving thanks for God's gracious and generous nature, and thanking Him for the good and perfect gift of His Word. Pray for wisdom as you seek to understand it and Him better, and as you seek to understand how He wants you to live.
Then take out your marking copy of James 1 (your Bible or your printout).
The Bible contains many commands. These are also called imperatives. One definition states that an imperative is "something that demands attention or action." They require us to do, not just hear. 
But in the midst of Scripture's imperatives are hundreds of truths called indicatives. Indicatives are statements of fact. The indicatives or facts of Scripture lay the foundation for the imperatives. In yesterday's lesson, we found indicatives — statements about God.
He gives wisdom. That is a fact.
He's promised a crown of life to those who love Him and persevere. That is a fact.
He doesn't tempt anyone. That is a fact.
In light of these and many other facts, we are called to act, to do, to obey.
With a purple colored pencil or pen in hand, read all of James 1, looking for every command James gives. Underline in purple each one as you find it.
These commands are often introduced with the word let in James 1. For example, verse 4 tells us to "let steadfastness have its full effect." Do you see how this is telling us what we should do?
The words must or should can also signal that we are looking at a command. (See verse 7 in some translations as an example of this.)
You should be able to find at least ten different imperatives in the chapter. Don't stress over this. When you reach verse 9, for instance, don't worry about whether you should count it as two separate commands or join the phrases together to form one command. Our goal is simply to find the commands and underline them.
Glance back over what you have underlined for new insights and record them in your notebook. We'll do more with these commands in our next lesson.
(Don't forget about joining the Busy Mamas Facebook group if you would like to interact with others who are doing this study with you. It's encouraging to read what God is teaching others as we study, and it's also a place where you can ask questions.)
For your children:
Older children should be able to underline commands in the text, just as you have done in your assignment. Print the chapter in your preferred translation, and let them look for and underline commands.
To help your young children understand the difference between a command and a statement of fact, play a modified version of "Simon Says" with them.
Tell them to touch their noses, jump up and down, walk backwards, go pick up a toy and put it away (take advantage of this opportunity to clean up the house!), etc.
But also throw in a simple statement once in awhile. "It's raining outside." "We're having hot dogs for dinner." "Danny is wearing a red shirt."
Help them see the difference. Commands (imperatives) are calls to action. Statements (indicatives) are simply facts.
Now read James 1:2-6 aloud for your children. If your children are young, you might want to read from the New Living Translation, which will be easier for them to understand. Ask them to listen for commands. These will be a bit harder to recognize than your commands during "Simon Says" because they aren't calls to actions that they can easily jump up and go do. They are more concerned with attitudes and the way we think. You may need to help them hear the commands. Stop and explain

 each command(as much as you can at this point) as you read.

« «