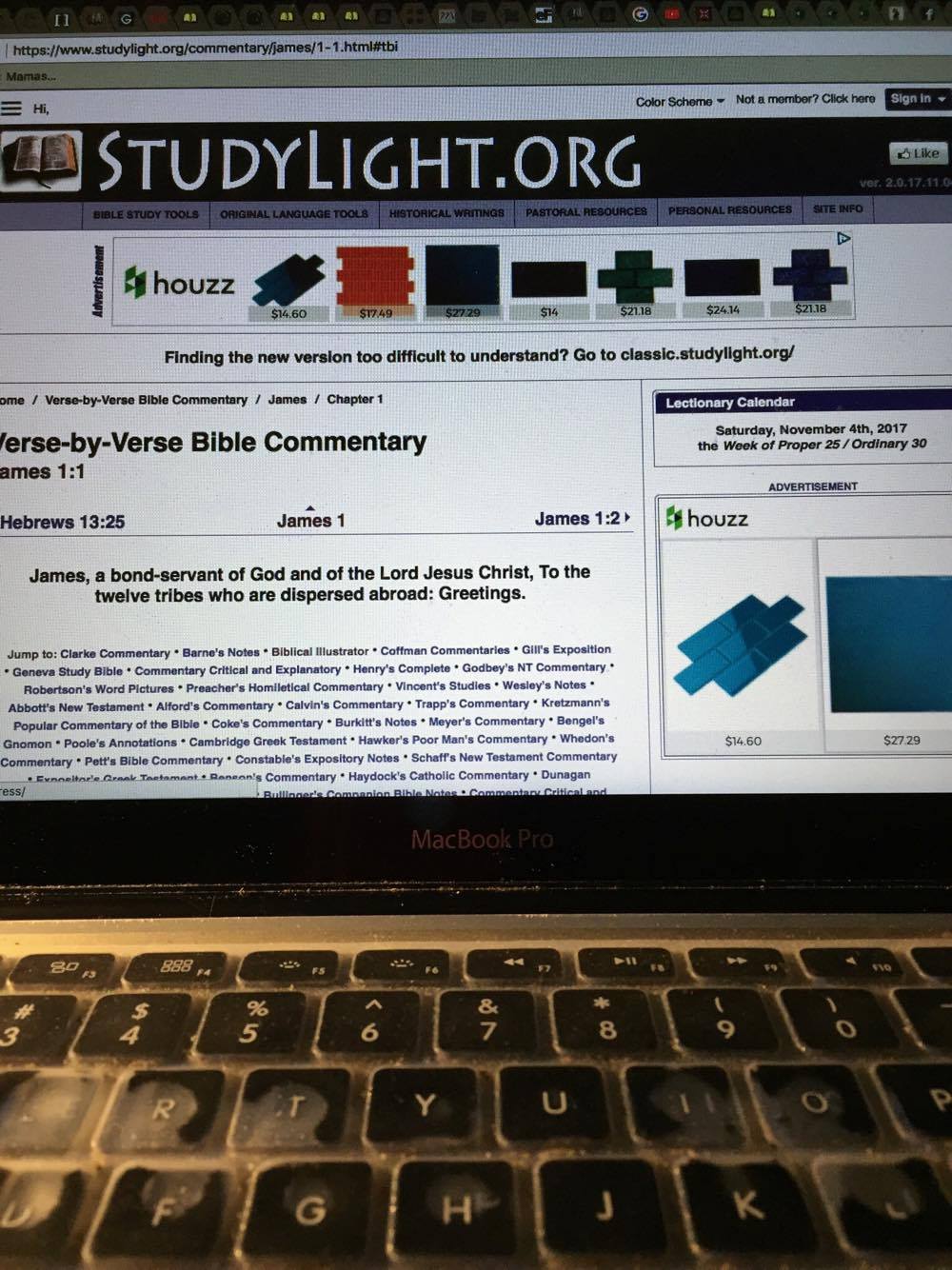 It's Sunday! That means it's Catch-Up Day! This is your chance to finish up any lessons you may not have completed over the past week.
I will also post an optional assignment each Sunday, for those of you who would like the additional work. These are optional. Don't feel guilty about not doing them if you're struggling to just keep up with the daily assignments.
Optional assignment:
The website Studylight.org offers dozens of commentaries for our use, and lets us search on just one verse and then compare what each of those commentaries says about it. In general, we will wait to read commentaries after we have done our own study of a passage. However, reading about James 1:1 now can give us more background about the James who wrote this letter and the Christian Jews who received it.
Click this link and then find the listing of commentaries (in purple text) that appears directly under the verse text. Click the third commentary in this list, Biblical Illustrator.
If you have time, skim the opening material in this listing that discusses James and his audience. If you are limited on time, though, skip down to the section labeled, "Servants of God and Christ."
Read this section, taking notes and reflecting on your status as "a servant of God and of the Lord Jesus Christ."  How will recognizing our role as servants of God affect the way we behave, the way we speak, the way we treat those around us?
For your children:
Read James 1:1 again with your children. Discuss James' description of himself as a "servant of God and of the Lord Jesus Christ." Share some of what you learned in your reading. What is expected of a servant? What does he do? What should her attitude be? Who is his or her authority?
Then appoint one child to be your husband's (or someone else's) servant for an hour. Appoint another child for the next hour, and another for the third hour until everyone has had a turn. (You may want to assign a shorter period of time for very young children.)
When everyone has finished serving, discuss their experience. Could they do anything they wanted while they were servants? Did the wishes of the one they served take priority over their own wishes? What do they think being a servant of God and of Jesus should involve?
Finish by reading John 6:38 and discussing Jesus' attitude toward His Father's will.

« «