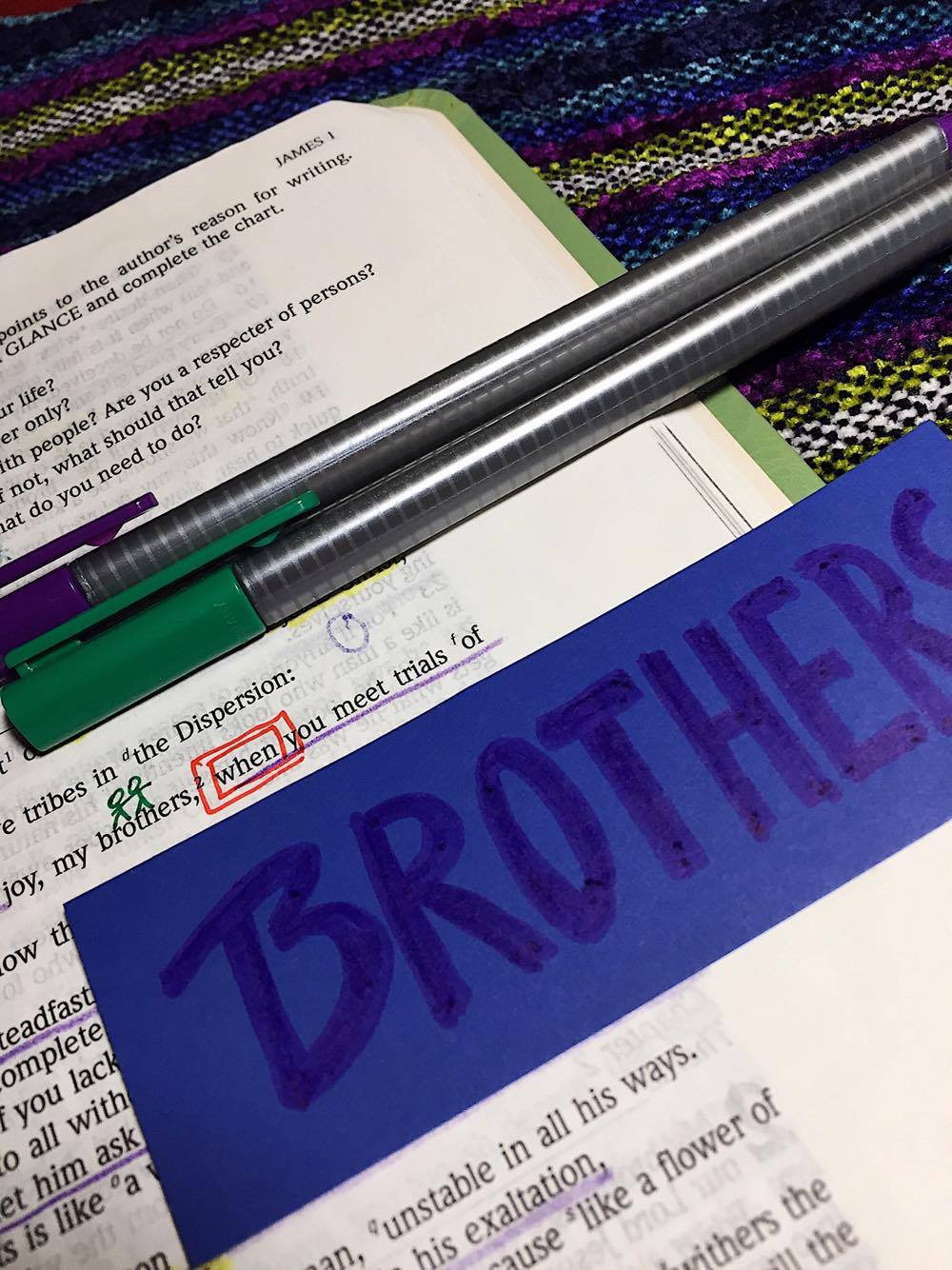 We've looked briefly at the setting for James' letter. We've marked direct references to God and underlined the commands in this first chapter. We're ready to take a closer look at verse 2, where James wastes no time in addressing the issue of trials and our attitude in the midst of them.
We're going to pay special attention to just two words in verses 1 and 2 today — two words that aren't in the text.
Assignment: Pray as you begin your study. Thank God for this powerful letter from James and for the teaching ministry of the Holy Spirit as you study its opening chapter.
Then take out your marking copy of James 1 (your Bible or your printout).
Read all of James 1. While you read, watch for the word if. This is an important word! Use a purple pen to circle the word every time you find it. I found three ifs in the ESV.
We'll spend more time with these ifs in future lessons. Today I just want us to notice where the word if isn't.
Read verse 2 carefully. Do you see an if is this verse about trials and joy?
It's not there, is it? What word is there?
Draw a bright red box around the word when. (The NIV has translated this as whenever, which weakens its meaning a bit, but draw the red box around whenever, or cross out the ever if you want.)
James isn't telling us to count it all joy if we encounter all kinds of trials. We're to count it all joy when we encounter trials. Troubles are going to find us. As Job's friend reminded him, "Man is born to trouble as the sparks fly upward." 
We'll look more at the joy we're supposed to have, and more at why we should have that joy, but for today, let's just acknowledge that we are going to face trials. There's no question about it. We should expect trials, and not be surprised when they come.
Now let's look for the word brother (or brothers). Every time you encounter this word in the text (as you read the chapter one more time), use a green pen to draw two stick figures holding hands (see photo). Resist the urge to skim the text, looking for specific words. Read the whole passage each time. Every time you read it, you will become more familiar with it, and will notice new things.
I marked four occurrences of the words. Three of those times, James is addressing his readers as "beloved brothers," humbly acknowledging their bond as brothers in Christ.
What word do we conspicuously not see in verse 1, when James, the half-brother of Jesus, presents his "credentials" as the author of this letter? James chooses not to identify himself as Jesus' brother, but instead describes himself as a servant of the Lord Jesus Christ — a servant of his brother-turned-Lord-and-Savior.
James' readers would have known that he was the half-brother of Jesus. While James only referred to himself as Jesus' servant, he reserved the word brothers to use in reference to his readers, beloved brothers, privileged to become brothers of Jesus along with James, because of their faith in Him. We are just as much brothers (and sisters) of Jesus as James was, because of the salvation that Jesus won for us on the cross.
The words that aren't in this text are significant:
There is no if when we speak of trials, only when. The trials will surely come.
There is no brother of Jesus when James speaks of himself, only a servant of the Lord. The word brother is reserved for all those who put their trust in Jesus.
How will these truths affect the way you read and respond to James' message?
For your children:
Review what you memorized together yesterday.
Then read James 1:1 aloud. Explain to the children that James was Jesus' half-brother, even though he only refers to himself as Jesus' servant. He and Jesus had the same mother, Mary, but they did not have the same father. James' father was Joseph. Jesus' father was God. James and Jesus would have grown up together in the same household.
Discuss what that might have been like for James, growing up with a brother who never sinned, who never needed to be disciplined, who always did what was right. What did Jesus not do that they, your children, do as children who are born sinners? What would it be like to live with someone like that? Would they like it?
Explain that James did not believe in Jesus as God's promised Messiah until after His death and resurrection. Why would it have been difficult for James and his other siblings to believe that their brother was the Son of God? Why would they have changed their minds after the resurrection?
Explain to your children that they are brothers (and sisters) of Jesus if they believe that He died in their place and then rose from the dead, Because of Christ's death and resurrection, they can become children of God,

« «