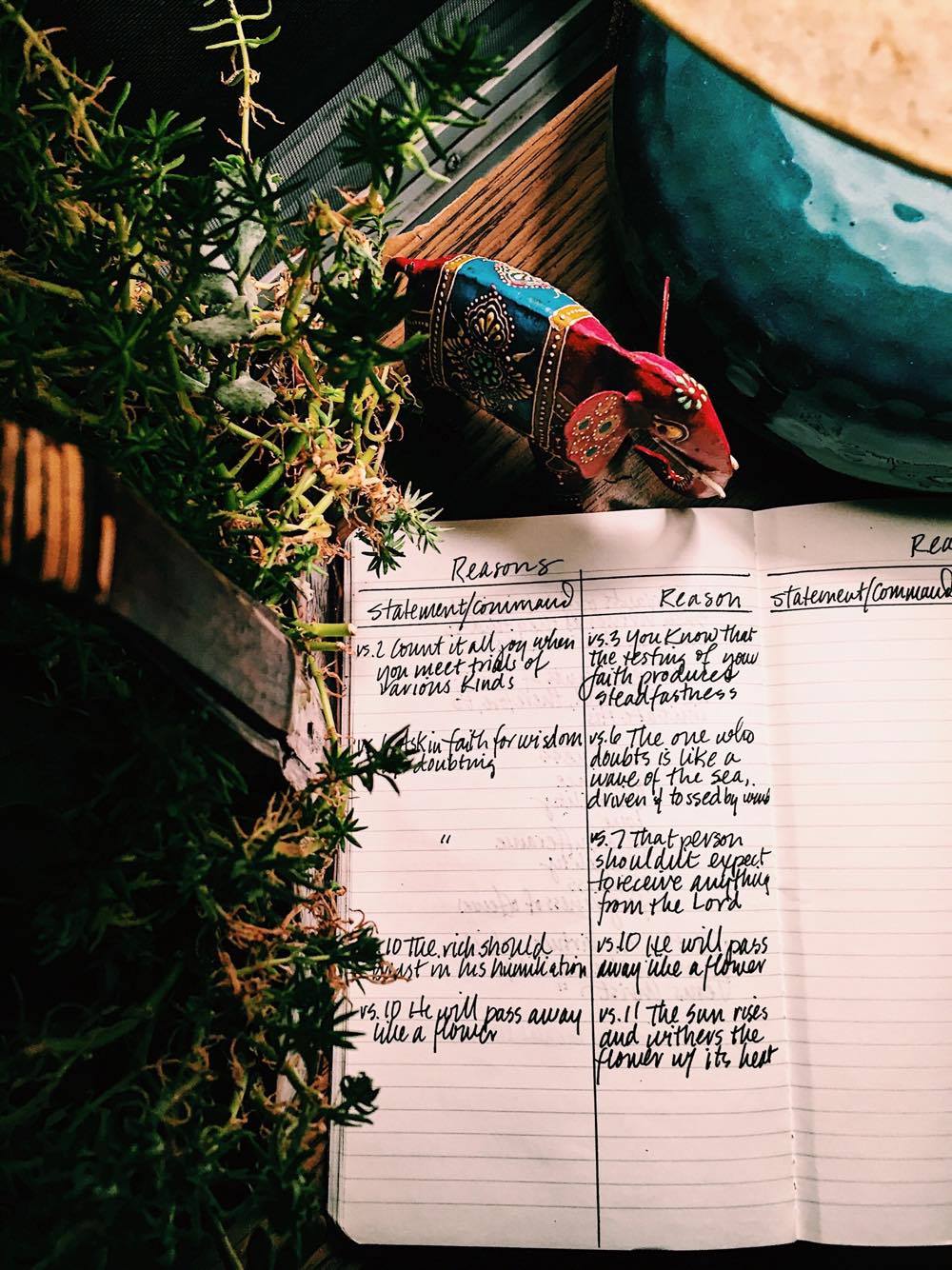 We're going to face trials. James gently comes alongside his readers, addressing them as his beloved brothers (and by implication, as Jesus' brothers) and tells them how they should respond when they fall into trials of all kinds.
We're about to start looking more carefully at many of the words James uses in this passage. To do that, we'll be using a free online Bible study resource called Blue Letter Bible. If you have never used this tool, you're in for an exciting discovery! Blue Letter Bible dramatically changed my study of God's Word, and I believe you'll find the same to be true for you. Without leaving your house, spending any money, or making any space on your bookshelves for bulky reference volumes, you can easily study original words, read commentaries, look at cross-references, compare translations, and refer to Bible dictionaries and encyclopedias.
Blue Letter Bible is not difficult to use, but it will take a lesson or two to become familiar with it. Tomorrow, as we look at some specific words in verses 1 and 2, you will learn how to study original Greek and Hebrew words, using BLB. Today we're going to get ready for that, and we're going to mark two more important words in James 1.
Assignment: Pray, thanking God for the gift of His Word and asking for a heart that is ready to hear and do. 
Then turn to your marking copy of James 1.
Today we're going to look for the words for and because. These two words introduce reasons. A statement or command is first given in the text, and then a reason is offered.
For example, 1 Peter 2:13-14 commands us to submit to the governing authorities that God has put over us. Then verse 15 tells us why we should submit, "For so is the will of God, that with well doing ye may put to silence the ignorance of foolish men."  The word for introduces the reason for submitting. We submit because it is God's will. Our well-doing or obedience will silence foolish men.
Read all of James 1, and circle with a black pen the words for and because every time you find them. I came up with ten occurrences of for and because in the ESV.

(Note: If you are using the NIV, you will find less.)

When you have finished circling these words, open your notebook and divide a page into two columns. Label the left hand column "Statement/Command" and the right hand column "Reason."
Then look in the text at what precedes the first for or because that you marked. Record this command in the "Statement/Command" column of your notes. If you're studying in the ESV, you'll write, "Count it all joy when you meet trials of various kinds." (ESV) Record the verse reference with your note.
Then, in the "Reason" column, record what is said after the for (or because) in verse 3, "You know that the testing of your faith produces steadfastness." (ESV)
Do this with each of the words you have circled. We will be looking at most of this chart and the verses on it in more detail in future lessons.
For today, meditate on the reason we've been given for considering it joy when we encounter trials. The testing of our faith produces perseverance, endurance, steadfastness. Notice, too, that James says we know this. "You know that the testing of your faith produces steadfastness." This is something we can see. Trials teach us to persevere, if we respond to them in the right way.
If you are new to Busy Mamas Bible studies, try to take a few minutes to do some exploring in Blue Letter Bible today. You can go to their website at www.blueletterbible.org or, if you are using a tablet or smartphone, you can search for and install Blue Letter Bible's app.
Then poke around a bit. See if you can figure out how to search for a verse. Do some clicking and see where it gets you. If you get hopelessly lost, close out and start over again. Experiment a little, and don't panic if you can't find your way around yet.
Tomorrow we'll walk step-by-step through two or three brief word studies, looking at key words in verses 2 and 3.
For your children:
Take out your 3 x 5 cards with verses 1 and 2 copied on them (from Day 6), and review your memorization of verse 1.
Then work on memorizing verse 2 in the same way, reading the verse several times, and gradually working to say it without looking at the card.
Talk together about the kinds of trials your children face — disagreements with friends and siblings, being told they can't do some of the things they want to do, sickness, difficult schoolwork, etc.
Then ask your children if they know why they should count it all joy when they have problems and trials. Why should they have joy when things aren't going the way they want them to?
Read verse 3, asking them to listen for the answer to your question.
Discuss how problems can test our faith in God, and how that testing can help us learn to trust God more.
Keep these verses in mind as you go through the day together. Watch for the trials God will bring your way, pray for grace to respond in the right way, and thank God for helping you grow in the middle of those trials.

« «