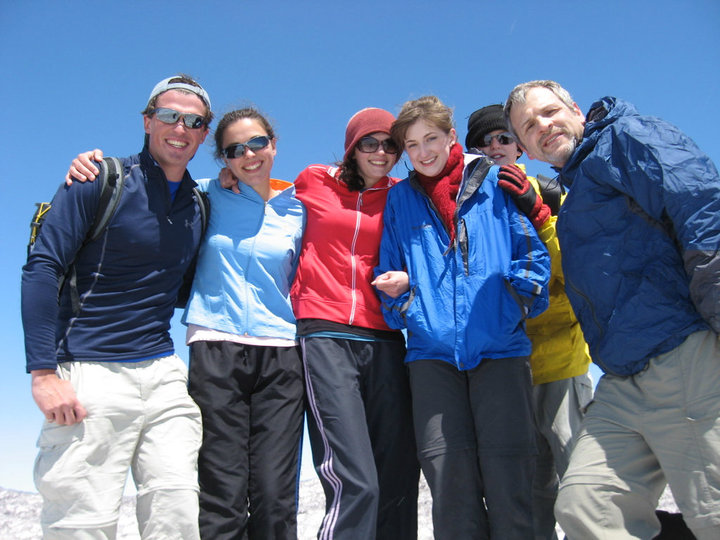 God doesn't just tell us to consider it all joy when we're overcome by trials. He shows us how. 
We can look to Jesus when we face trials, when we want to give up, when we feel like no one cares and no one understands. We can look to Him for our example, and we can look to Him for our comfort. He understands, and He says to rejoice and be glad. Having endured to the end, He now sits at the right hand of the Father, and intercedes on our behalf, as we, too, persevere to the end.
Assignment: Pray for understanding and humility as you approach the Word today. Thank God for the example of His Son, who showed us how to count it all joy in the midst of trials.
Then open Blue Letter Bible and search on James 1.
Read verses 1-4.
What does James command in verse 4?
As I read this verse, I think of a climb up Mt. St. Helens that several of my children made with friends many years ago. They encountered testing on that mountain — ice and wind and steep, slippery slopes after an already-long and challenging climb. If they were going to make it to the top of that mountain, they would have to persevere. If they were going to persevere, they had to act. If they sat down and decided it was too hard, their climb wouldn't be complete. They wouldn't reach their goal. They had to continue climbing, even when it was extremely difficult. (And they did. They reached the top. See photo.)
James tells us to let our patience, our steadfastness, our endurance have its full effect. We can't give up. Perseverance is not passive. We must keep climbing, and "let steadfastness have its full effect, that [we] may be perfect and complete, lacking nothing."
Let's look at that word perfect. Then we're going to consult a commentary to more fully understand this goal of perfection and completeness.
Go to Blue Letter Bible and search on James 1:4.
Select "Interlinear" from the "Tools" drop-down menu, and click on the word perfect. This word appears twice in verse 4. Both are the same Greek word, telios, so you can look at either one.
Note the information given under "KJV Translation Count" and "Outline of Biblical Usage."
Then use your browser back arrow to return to the text for verse 4, hover over the "Tools" button again, but this time select "Commentaries" from the drop-down menu. (App users, click the single back-arrow until you get back to verse 4, then tap the verse and select "Commentaries" from the menu options.) This will open a list of commentaries that address James 1:4.
Scroll down in this list until you see "Matthew Henry" in bold type, and then click the link for "Commentary on James 1."
Finding comments on one specific verse can sometimes be difficult in Henry's dense text. Scroll down until you see the link for "Jam 1:2-12."
Then continue scrolling down until you see "II. The graces and duties…" and continue scrolling in that section until you see Point 3, "There must be patience…"
Read all of this section, stopping when you reach Point 4.
Take notes on what you read. These are encouraging words, especially as we face one trial after another, as trials so often seem to come. Note the contrast between "stoical apathy" and Christian patience, and the encouragement to let patience, not passion, be at work in us.
Summarize what Henry says about being perfect and complete.
Our perseverance (and joy) in trials matures our faith. It matures our character. It moves us to a greater Christ-likeness, which is what God calls us to, and prepares us for our ultimate and complete glorification and perfection at Christ's return.
With every trial, we have the opportunity to become more and more like Jesus. That is something that should bring us joy!
Reflect on these truths today. In what ways have you seen yourself and others mature as a result of the trials God has allowed in your lives? Write down your thoughts.
Give thanks for what God has accomplished. Rejoice! The testing of your faith is producing endurance, and your endurance, by God's grace, is developing maturity.
For your children:
Review your memorization of James 1:1-3.
If you have memorized all three verses, bring out the 3 x 5 cards today (see Day 6) and have the children copy verse 4 before working for awhile on memorizing it.
Recite verse 4 together, and then discuss it. God wants to bring us to full maturity in Christ, and He uses trials to help that happen. But we have to persevere. If we give up or grow angry or afraid or bitter over the difficulties He allows in our lives, we won't grow. Instead, we will sin.
Think of examples of this in your lives. When have you seen trials bring about greater maturity in your children's lives, and in your life? A simple example for young children would be the trial of discipline when they require correction. Discipline isn't pleasant. It hurts, but if they respond to it correctly, and recognize that is for the purpose of helping them grow, it will have "its full effect." They will mature and become more like Jesus.
If you are a bread baker, consider returning to our object lesson with the yeast. We saw how to proof yeast, testing its viability, back on Day 9. Bring that yeast to full maturity today by proofing yeast again and then adding it to flour, water and other bread-making ingredients.
Get the children involved by letting them help knead portions of the dough with you. (We used to have a lot of fun making weird faces and sculptures with bread dough before throwing it all into a big bucket to rise!)
Let them watch the effects of the yeast as the dough rises, and then invite them to help form the loaves for a second rise, if the recipe calls for one.
When the bread goes into the oven, set a timer for about half way through its baking time, so you can all carefully peak into the oven to see the bread's progress. It is moving toward "perfection," or completeness.
When it's finally done, bring out the butter, slice some warm slices of bread, and enjoy the results of the bread's kneading, forming, and enduring the "fires" of baking. The yeast, alive and active, like our faith in the midst of trials, has had its "full effect," with glorious results!

« «