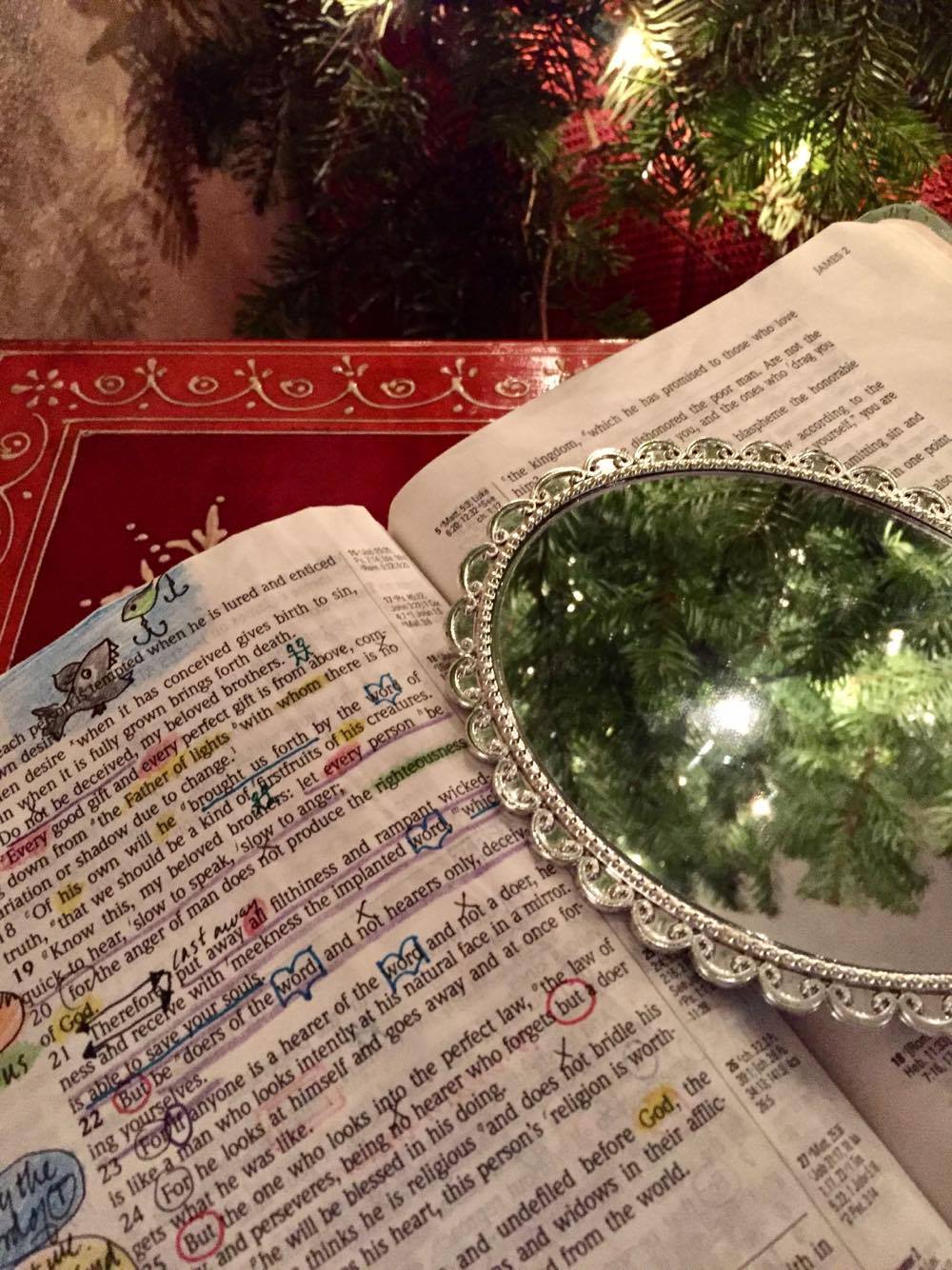 So how did your study go yesterday? If you looked at the original Greek words for some of the verses, you may have noticed some similarities between Luke 8 and James 1. James is definitely recalling many of Jesus' words as he writes — themes from the Sermon on the Mount, the parables, and other teaching Jesus did.
The seed that fell on the rock in Jesus' parable represents those who received the word with joy, without it taking root. Then when trials came (peirasmos, the same word that is used in James 1:2 and 12), they fell away. They didn't persevere.
The seed that fell on good ground represents those who hear the word, keep it, and bear fruit with patience (hypomone, the same patience that the trying of our faith works in James 1:3).
Receiving the implanted word, allowing it to take root in our lives, leads to the "saving our souls." The word initially brings us to faith, but it doesn't stop there. It also continues its daily work of salvation in us as we love, study, and obey it, allowing it to transform every area of our thoughts and actions.
This means not just hearing the word, but doing it. That's what James addresses next.
Assignment: Pray, thanking God for His Word and asking for a heart that is rich soil for that Word to take root in, grow, and bear fruit as you hear and then obey.
Open Blue Letter Bible and go to James 1:16.
Read verses 16-25, thinking once again of the word, its claim on our lives, and how James calls us to respond to it.
Now go to verse 22 and open the interlinear.
Click on the Strong's number for deceiving. 
Take notes on the information in "Outline of Biblical Usage." These definitions describe what we're doing when we think we can hear God's Word without responding to it in obedience. We're miscounting — adding up things in our minds and coming up with the wrong conclusions. The seed of the Word will not take root in that kind of soil.
Verses 23 and 24 both begin with the word for (unless you're studying in the NIV). James is going to explain how the hearer-not-doer is deceiving himself.
In verses 23 and 24, to what does James compare this hearer-who-doesn't-do?
Take a minute or two to meditate on this illustration. (Maybe you could think about it while you stand in front of the mirror, preparing yourself for the day.)
What is the purpose of a mirror?
What are you seeking to accomplish when you look in a mirror?
What do you do if you look into the mirror and find your mascara has smeared, or you have spinach stuck in your teeth, or you only managed to get one earring on before running out the door? Do you just walk away without dealing with the problem? Probably not, unless a crisis outside the bathroom door pulls you away before you have time to make your repairs. We look into a mirror to see if everything is okay, and to take care of what isn't.
When we see our true, sinful selves in the light of God's Word, and then walk away without repenting and submitting to the Holy Spirit's sanctifying work in our lives, we are choosing to leave the spinach between our teeth. Hearing requires doing or it isn't really hearing.
Read verse 25 carefully. Who does God bless?
James speaks of someone looking into the "law of liberty" and continuing in it, not being a forgetful hearer. But he doesn't say this person is a doer of the Word. He says he is a doer of the work.
Open the interlinear for verse 25, and look at the phrase, of the work.
Look at the "Concordance Results Using KJV." The list of verses is long. We won't be able to read them all, but do skim over them all, stopping to take notes on ones that seem especially relevant.
Then end your study time with prayer. Ask the Holy Spirit to help you see where you are not engaged in the hard work of doing what you've heard. Repent and start doing, by the grace of God.
For your children:
Without the children watching you, do something obviously wrong or silly to your appearance. (Use some makeup or chalk to give yourself a black eye, stick weird things into your hair, put on a button-up blouse, but button it the wrong way.) Do something that your children will actually notice.
Then see if the children notice. (You might have to drop some hints, if your "flaw" is not extremely obvious.)
When they do notice, go with them to a mirror to examine yourself in order to fix what is wrong. But don't fix it. 
Instead, say something like, "Oh, I see what's wrong. I need to fix it," but then walk away without it.
When they object, read James 1:22-25 to them. (Read from a translation they can understand.)
Explain the meaning of these verses as you learned in your own lesson.
Then discuss how this applies to their lives. When they know what they should or shouldn't do, but don't act on that knowledge, it is like you looking into the mirror, seeing your problem, and not fixing it.
Memorize James 1:22 today, if you haven't already.
Then be mindful of this passage throughout the day. When you correct a child, ask him if he knows what God says about what he did. Ask him if he knows what God wants him to do instead of what he did do. Look up verses that address what he has done or needs to do. (Doorposts' For Instruction in Righteousness can help you find those verses.)
Then ask him if he is going to truly hear what you have read and obey it, or is he going to look in a mirror, see his sin, and go on his way without repenting and doing what is right.

« «