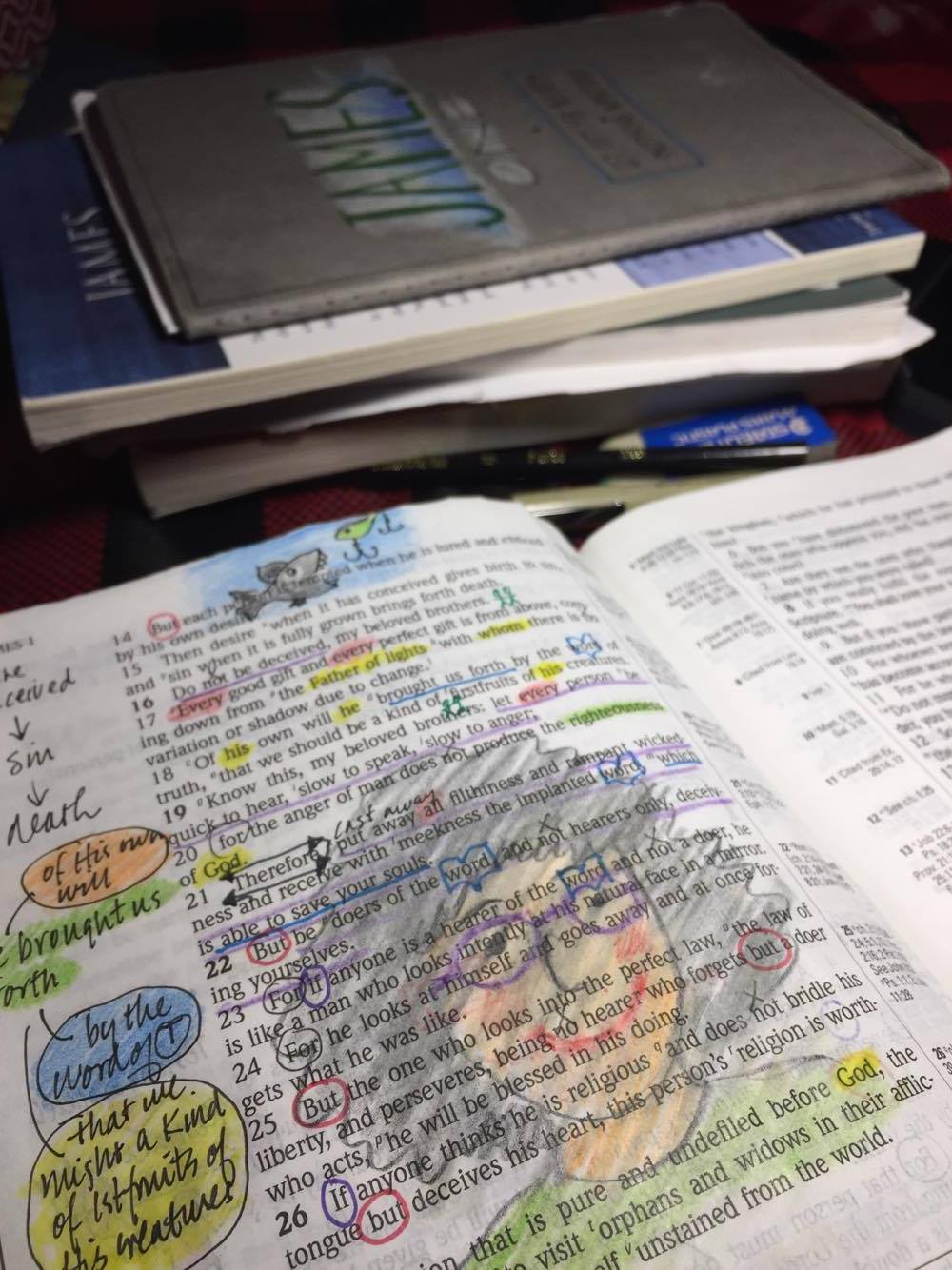 When we hear (or read) God's Word but don't obey it, we're deceiving ourselves. We may know a lot, we may study our Bibles regularly, but we're lying to ourselves if we think we're excused from obeying the words of the Bible. We're not those described in the parable of the sower who "in an honest and good heart, having heard the word, keep it, and bring forth fruit with patience."
Instead we're like someone who looks in the mirror, sees faults that need to be addressed, and then goes on his way, completely forgetting those flaws. The Holy Spirit convicts him, the Word pierces his heart, he is temporarily moved to change, but then quickly forgets.
Assignment: Pray for the grace to persevere and respond to the convicting work of the Holy Spirit as you study. Pray for opportunities to act on what you know.
Then turn to your marking copy of James 1 and have your colored pencils ready. We're going to draw a self-portrait today. 🙂
Read all of James 1. Test your memory of verses you've chosen to memorize. Think about what you have been learning as you've studied. Where do we get the wisdom we need to see trials as blessings? How should we respond to the word God has planted in our souls? What should we do when we've heard the word?
After reading the entire chapter, return to verse 25. Notice the first word, but. James is about to show us the contrast to the person who looks into a mirror and then leaves, forgetting what he looked like.
Let's dig a little deeper into the main words of this verse. We'll move fairly quickly through quite a few words.
Open the interlinear for verse 25 in Blue Letter Bible, and click on whoso looketh. This word means more than just looking.
Take notes on the information in "Outline of Biblical Usage."
Then read the verses in "Concordance Results Using KJV." Imagine how carefully both Peter and Mary must have examined the grave when they could no longer find the dead body of Jesus! Do we look into the Word with that same kind of thoroughness and wonder?
Now look at the perfect. This word should look familiar. James has used it two other times in this first chapter of his letter. You can easily see that by looking at the verses under "Concordance Results Using KJV." James speaks of letting "patience have her perfect work" so that we can be perfect and entire, wanting nothing. He also speaks of God's good and perfect gifts.
Skim the other verses in this section of the lexicon, taking notes on verses you find particularly relevant. How would you summarize the word?
Also reread the definitions of this word under "Outline of Biblical Usage."
Next click on of liberty. Again, read under "Outline of Biblical Usage" and "Concordance Results Using KJV." What kind of liberty is being spoken of in these verses?
Click next on continueth. This is an interesting word when we relate it to another word we have studied in James 1. In verse 12, we found the word hypomeno which means to stay under. James says that the man who stays under or endures temptation will be blessed.
Now in verse 25, we find that the one who remains beside or continues always near the word, not forgetting it, but instead doing what it says, will be blessed.
Next click on a forgetful. The initial information under this word doesn't add a great deal to our understanding, but if we click on its root word, we'll find some interesting insights. We're not talking about someone with a bad memory, but about someone who no longer cares.
Can you take all you have learned during your study today and rewrite verse 25 in your own words? If you get stuck on a particular word, go to the interlinear for help.
Before you finish for the day, draw a very simple, not detailed portrait of yourself on the page over verses 21-25 or more. (Don't panic. 🙂 Simply draw an oval, put the right color of hair on it. Add eyes, a curvy line for the nose and another curved line for the mouth.) Draw lightly so you can still read the text through the drawing.
The word is where we need to look for an accurate picture of ourselves, and where we will find the perfect law that sets us free to love and obey God.
For your children:
Read James 1:22-25 and review what the verses mean.
Then review your memorization of verse 22.
Then play a little game to emphasize the need to listen and then do. Gather your children together.
Choose one child and verbally list three different tasks you want him to complete. They can be silly or serious, useful or ridiculous. List all three all at once.
After you have given your three-fold instructions, see if the child can remember and complete all three tasks without forgetting any of them.
If he succeeds, let him give three tasks to another person of his choice to complete. (If he doesn't succeed, you choose the next person and give them the next three tasks.)
If three tasks are easily remembered, make the list longer and see how everyone does!

« «