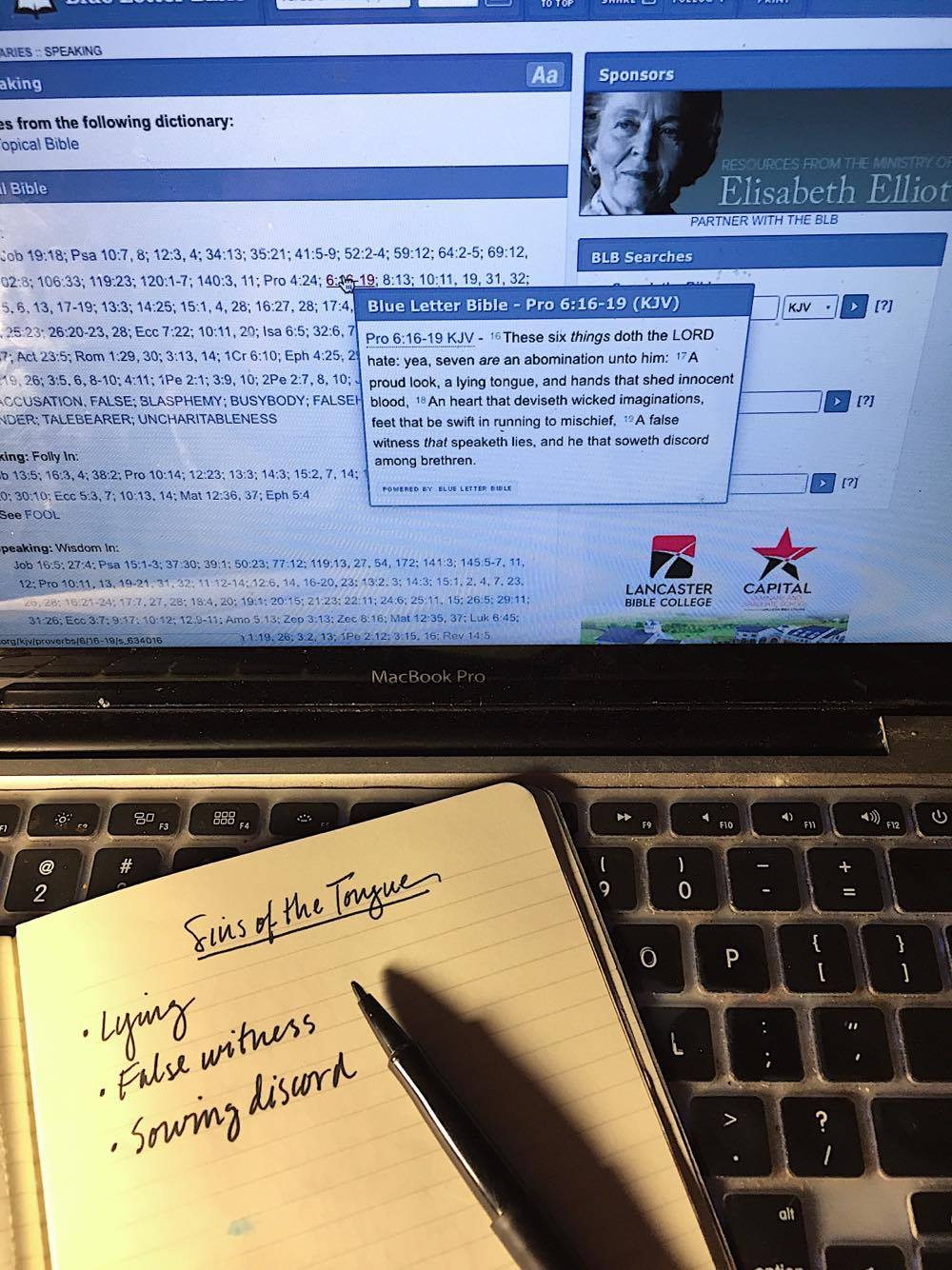 If we're hearers of the Word but not doers, we deceive ourselves. We might be good at gathering information. We might be able to recite passage after passage that we know. But if we're not living what we know, if we're not doing what we hear, if we're not obeying what we read, we're deceiving ourselves. As James will assert later in his letter, faith without works is dead. Our "faith" is not genuine if we don't trust God enough to do what He tells us to do.
James, always practical and to the point, gives us a couple test cases. First up: What do we do with our tongues?
This may hurt.
Assignment: Pray for a humble heart that is willing to look honestly into the mirror of God's Word, ready to hear and obey.
Open Blue Letter Bible and go to James 1:26. We're going to look briefly at three more words.
Let's start with religious. What does James mean when he uses this word? Click on religious in the interlinear for verse 26.
Read and take notes on the "Outline of Biblical Usage."
Then move on to and bridleth. This is a word that only James uses in the New Testament. How does the "Outline of Biblical Usage" define this word?
Lastly, look at is vain. Copy the definitions given in the "Outline of Biblical Usage."
Read through the verses under "Concordance Results Using KJV" for additional insights into the meaning of this word.
1 Corinthians 15:17 shows us how strong this word's meaning is. Our faith is absolutely worthless if Christ is not raised from the dead. This is how worthless our supposed worship and fear of God is, if we don't keep our tongues under control. This is how hopelessly deceived we are when we consider ourselves God-fearing believers, but don't restrain our speech.
James will later conclude that "no human being can tame the tongue. It is a restless evil, full of deadly poison" (James 3:8). We sin in many different ways with our tongues. To help us think about our own use of the tongue, let's do a bit of topical study.
Return to the text of James 1:26.
Click on "Dictionaries" in the "Tools" menu. (App users, tap the verse text,. Then click "Dictionaries" in the options.)
Then scroll down to "Nave's Topical Bible" and click on the link for "Speaking." (You will have to expand the list under Nave's.) (App users, scroll down to the section labeled "Nave's Topical Bible." Then click "Speaking – Evil.")
Go to the section labeled "Speaking: Evil."
If you have time and interest, skim through all the verses listed in this section. However, to limit our study of the many verses that are listed here, we're only going to read the verses from Proverbs. Hover over each Proverbs reference to the verse, and summarize what you find in each. (App users, reading through these verses requires a couple extra steps using the app. You will need to click each link, and then click the "Close" button for that verse before moving on to the next one. Pay attention to the reference you're reading, because when you go back to the list, there is no marker that helps you know what you read last.)
As you read, make a list of the various ways we sin with our tongues.
Then read what James also says about the tongue in James 3:3-12 and continue adding to your list.
When you have finished, review your list. Add to the list any other sins of the tongue that come to mind.
Now pray over your list. Ask God to help you see where you are sinning in your speech — where you are failing to bridle your tongue.
Then move beyond hearing and do something about what the Holy Spirit is saying to you:

Confess your sin to God.
Confess your sinful speech to those who have been wounded, discouraged, provoked, or deceived by your words.
Take steps to make things right, to clear a person's reputation that you have slandered, to build up those you have berated, to make peace with those you have alienated or provoked.
For your children:
Read James 1:26 together. Then read James 3:3.
Then talk about the use of bridles with horses. This article can help those of you who, like me, have no experience with horse bridles.
Watch this video to see what a skilled horseman, using a bridle, can train a horse to do.
Talk about how easy it is to sin with our tongues. Give examples that occur amongst your children.
Then talk about bridling our tongues. Who controls the bridle? What should we train our tongues to do and not do?
Looking at James 3:3-12, choose one verse that you think will be most helpful for you and your children to memorize, and start memorizing it today.
Recite that verse together when sins of speech occur in the family.

« «