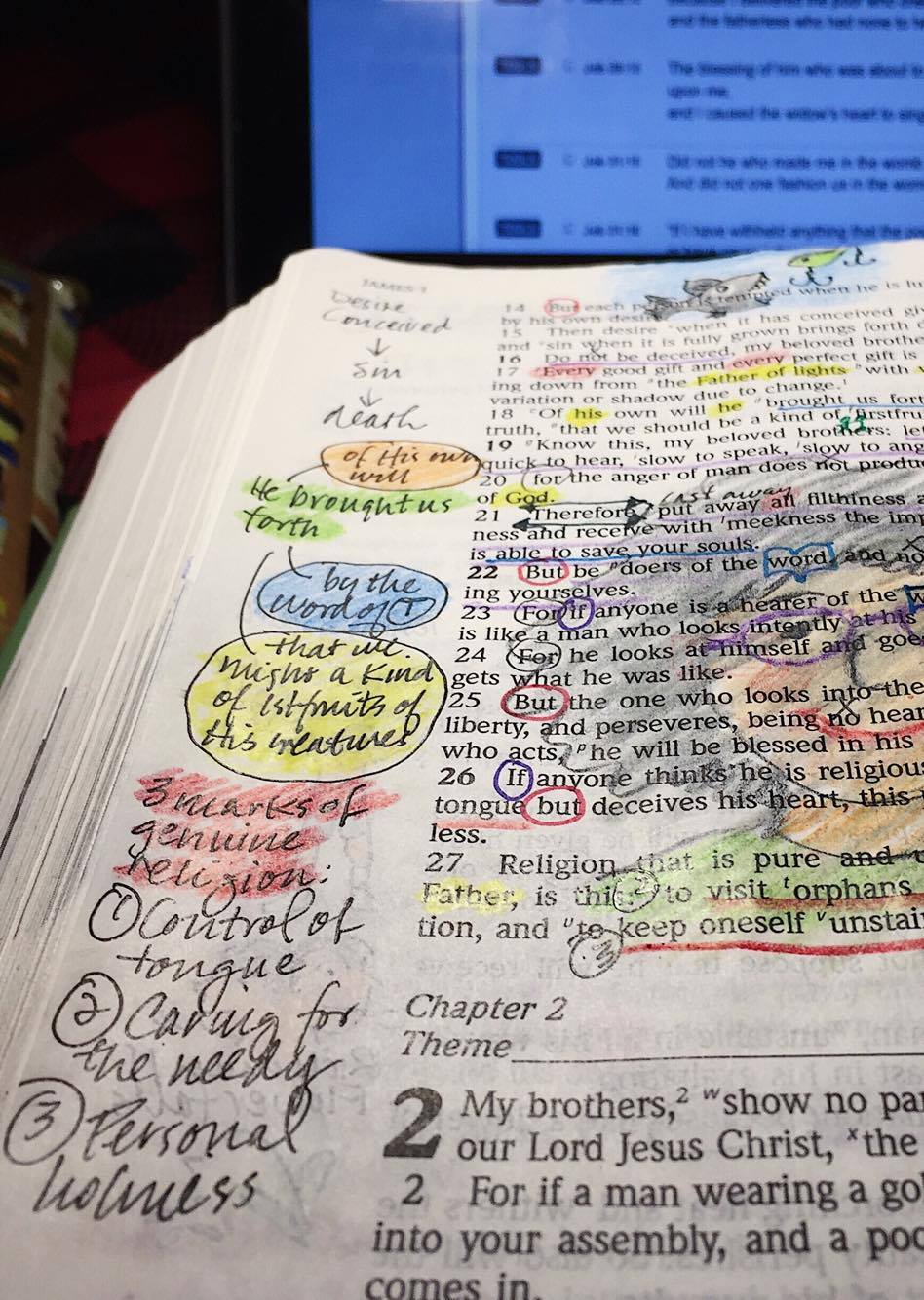 This first chapter of James closes with a listing of three signs of genuine religion or worship of God, three ways to do and not just hear. James will more fully explain all three of those manifestations of our faith in the rest of his letter.
Assignment: Pray for a deeper understanding of what God has done for you. Pray that your response to His love will result in an imitation of Him, as you in turn reach out to others who are need.
Open Blue Letter Bible to James 1:22.
Read verses 22-27, watching for the three signs of true religion that James lists in these verses. Number them and underline them in red in your marking copy of James 1, or write the list in your notebook.
We looked at the first sign — a bridled tongue — on Day 32. Let's look at the other two today.
Go to verse 27 and click on "Cross-References" in the "Tools" menu.
Read all the verses under "to visit" and "to keep."' Take notes, and record new insights.
What do you learn about visiting or ministering to those who are poor and afflicted? Why does God expect us to minister to those who are oppressed and in need? Who are we ultimately serving when we serve them? How does this relate to pure and undefiled religion?
Why should we keep ourselves unstained from the world? Who are we imitating when we do so? How do we stay unstained from the world?
How are both of these actions signs of our genuine worship and fear of God? How do they give evidence of our faith?
When you have finished your reading, note taking, and reviewing your notes, write an expanded version of verse 27 that includes what you learned from reading the cross-references. For example, "Religion that is pure and undefiled before God, the Father, is this: to visit orphans and widows in their affliction because God visited us in our affliction, and because . . ."
(You can also use the interlinear to look at the key words in this verse before writing your version, if you have the time.)
Read and pray over your amplified version of verse 27. How actively are you ministering to the needy around you, to those from whom you can expect nothing in return? Are you seeking to assist single mothers, children in troubled homes, mothers who are considering abortion, families who are suffering economically? Has God put someone in your life that you should be showing His love and mercy to? We have limited time, energy, and resources. We can't serve everyone, but we can all serve someone in need in some way.
Are you keeping yourself "unstained from the world?" This doesn't mean retreating from the world. It involves living in it, but not being corrupted by it, not being drawn away from God by it.
Is the character of Jesus reflected in your actions and attitudes toward the needy and toward the world around you?
What steps can you take to more fully know, and as a result of knowing, worship and imitate God in these areas? Our "religion" starts with what is happening in our hearts, and then naturally flows out into our actions.
For your children:
Read James 1:22-27 together.
Then discuss verse 27 together. Share what you have learned in your own study.
Then discuss practical ways to do what James is talking about. How can you become doers, not just hearers of this word? Think about people in your church, in your neighborhood, in a care center nearby, or in a homeless shelter. Are there elderly people, overworked single mothers, lonely widows, or mentally or physically disabled people to whom you and your children can minister in real and practical ways?
Do some brainstorming. Write down some ideas. Then make a plan to serve someone this week and in the weeks to come.
Discuss, too, possibly during another time together, the separation God has called us to as His children. This is especially relevant to the lives of young people. We aren't called to be separated from the world, but we are called to be separated in the world. We're called to worship God and live as He has commanded, and that will mean a turning away from much of what the world values and promotes. Discuss the need for wisdom and an understanding of God's Word as we decide what is right and what is wrong while living in the world, but not of it.

« «