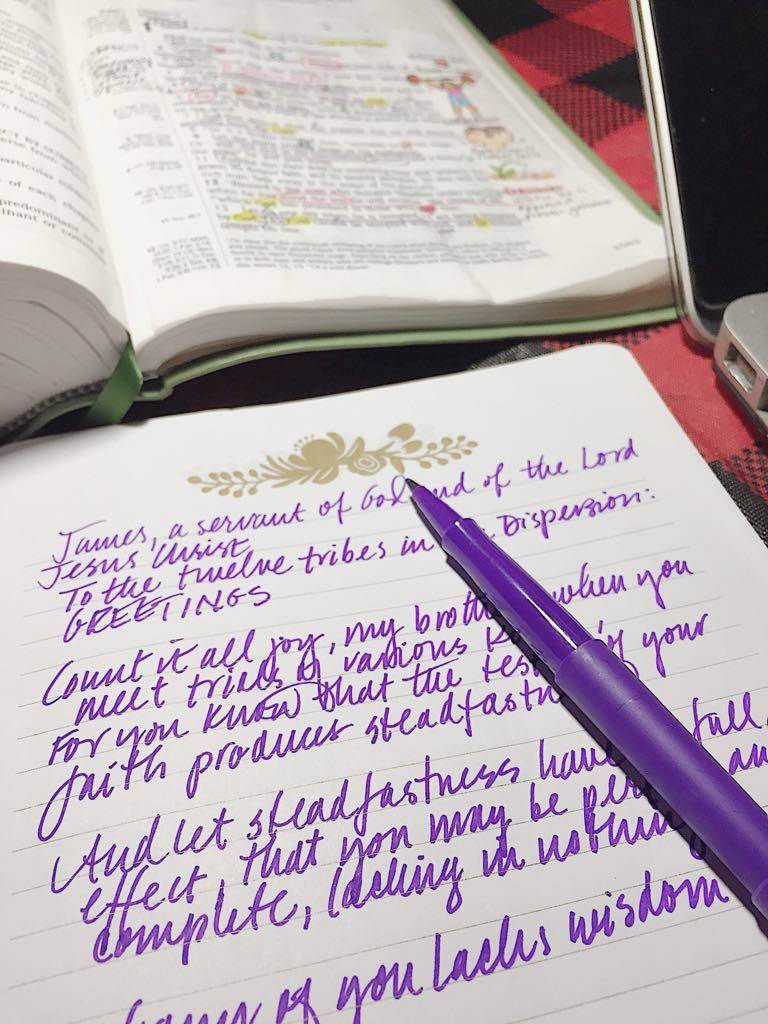 What a rich chapter James 1 is, with so much encouragement for us all as we face the trials and temptations of life. James helps us understand that God is doing something good even when bad things happen to us. He also helps us realize that our response to trials determines whether we will move forward or backward in our spiritual growth. Will we trust God and mature, or will we question God and turn away from Him?
We're going to do something simple today as a means of review before our last lesson. We're going to copy all of James 1.
Assignment: Thank God for the time He has given you to study James 1 and ask Him to help you remember all that you have been learning over the past few weeks.
Then take out your notebook, or a fresh sheet of paper and copy the entire first chapter of James.
Think about what you are writing. Pray about it.
You can simply copy the text, or feel free to add little parenthetical notes, if you want, commenting on what you have learned. Use different colors of pens, if that inspires you, or use different colors for specific words such as trials, temptation, wisdom, and do/doers. 
Test your memory of verses, too, if you have been memorizing any or all of the chapter.
Take your written copy of the chapter out once more before you go to bed tonight, and read it again.
Tomorrow we'll finish up.
For your children:
Spend today reviewing any verses you have memorized together.
For older children, ask them to copy the verses that stood out the most to them in your study of the chapter.

« «