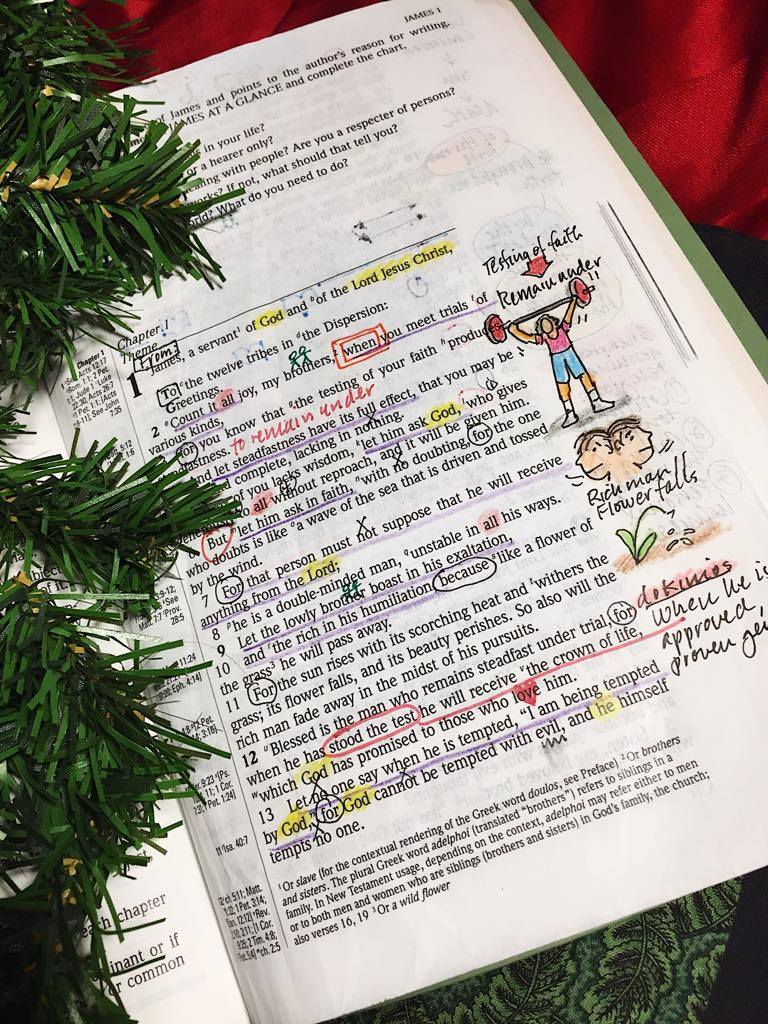 We've reached the end of our study of James 1! There's been much to learn, believe, and do along the way. Just getting a grasp on what James says about trials, temptation, and faith can transform the way we view and live life!
Today we're going to review what we've read and learned all month, and pray about what God wants us to do with that knowledge. This lesson may take more than one day to complete. Take your time. Here is where we demonstrate our genuine faith as we respond in obedience to what God has taught us.
Assignment: Pray for the ability to remember and live what you have been studying all month.
Then take out your marking copy of James 1 and your notebook.
Read the entire chapter today. As you read, notice once again the main themes, the commands we have been given, the truths about God in the chapter. Mark and add notes on anything new that stands out to you.
Then write a summary of the chapter. Summarize its teaching on (1) trials, (2) asking for wisdom in trials, (3) the rich and the poor, (4) temptation, (5) the Word, and (6) the role in our lives as believers of works or doing what we've heard. Leave extra space below each section for additional notes.
Also review the verses you memorized from the chapter. How many can you recite?
Lastly, pray your way through the chapter, For each summary you wrote in your notebook, write down what you will do in response to what He has taught you.

What sort of trials are you facing right now? How should you respond to those specific trials? What specific promises do you need to remember and believe? What specific verses will you memorize to arm you against discouragement and despair? Are you persevering, remembering that those trials are opportunities for you to mature in your faith?
Are you asking God for the wisdom to respond properly to trials, and then trusting His answers? Are you reading the Word, listening to the counsel of trusted fellow believers, and acting on the wisdom God has already given you?
What is your attitude toward money and wealth? Are you in need? Can you thank God for the exaltation that He has promised in Christ? If you have more than what you need, are you remembering that it is only temporary, and that your real wealth is your inheritance as a child of God?
Are you tempted to sin in response to life's trials and successes? Can you pinpoint specific sinful desires you have that lead you to quit or despair in response to trials? What sinful actions and attitudes are the result of sinful desires you have? Are you praying for strength to resist temptation? Are you filling your mind with God's promises and truth instead of deceiving yourself and blaming Him?
How important is God's Word in your life? Are you reading it, studying it, listening to it, obeying it? Are you giving thanks for the new life God has given you through the good news of the gospel? Are you preparing your heart to hear and receive God's Word by praying and by obeying what you do know? Do you need to establish a consistent habit of study?
Are you a doer of the Word? Do you respond in obedience to the revelation and convicting work of the Holy Spirit? Are you intentionally responding to God's commands regarding speech, ministering to those in need, and living a holy life before God? What specific steps can you take to better govern your speech? To actually serve and love the afflicted and helpless? To not be influenced by the godless culture of our day?

Keep these notes where you can review them regularly. We don't just want to study James 1. We need to live it now.
Tomorrow we'll look at a list of ideas for continuing to study on your own, and on Friday, we'll open our new giveaway, where we will be giving away ten free subscriptions to our all-new Mama's Refill membership site! Stay tuned for more news on this exciting new way to follow the Busy Mamas studies!
For your children:
Read all of James 1, pausing before key words, and asking the children to fill in the missing word.
Consider lining children up side-by-side and having them take one step forward for every word they provide as a group, advancing toward a special treat or prize when they have finished. Or simply give a small piece of candy or fruit to each younger child for every missing word that they as a group provide.

« «