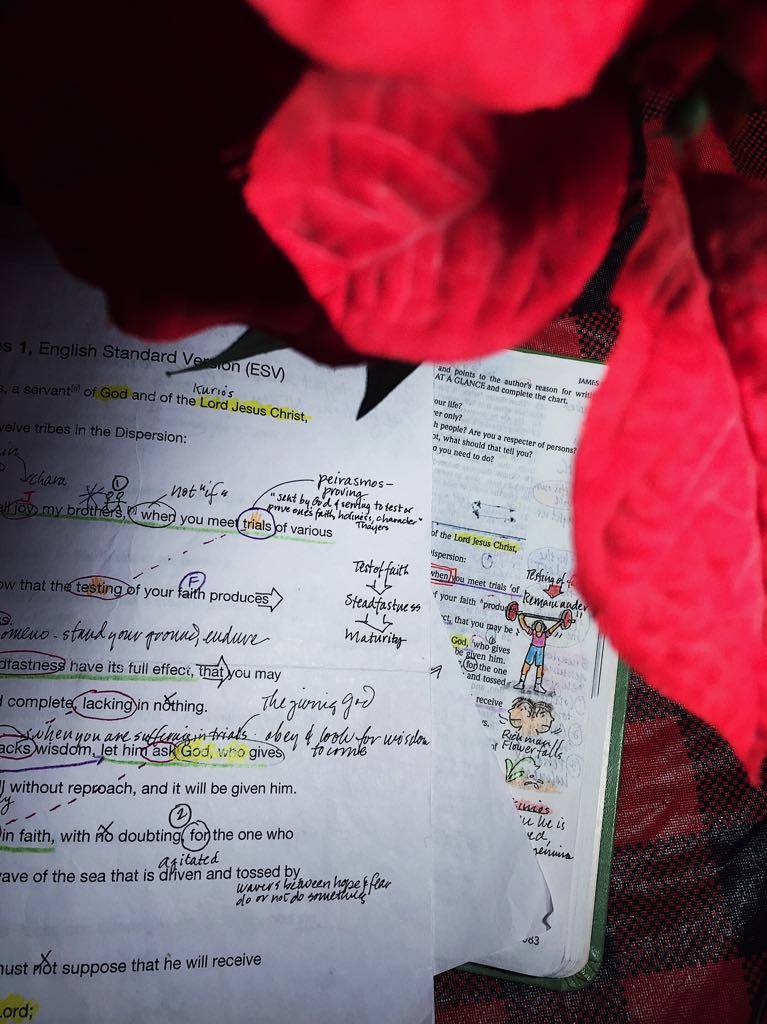 Would you like to keep studying James? We will start studying James 2 in January, with a slower schedule while I plan and prepare for our daughter's wedding (in March) and keep deciding on light fixtures and tile and cabinet handles and paint colors as our house moves toward completion (also "scheduled" for a March completion date). I'll be posting a lesson every other day instead of daily, and those lessons will be posting on our new Mama's Refill membership site. We're scrambling in the midst of everything else, to get that site ready to launch! In the meantime, you can get a year-long subscription at a reduced price. More details tomorrow!
Until them, there's still plenty more to look at in James 1! Or join me on Instagram starting on Monday, December 11, for a short mini-study on just a few verses from Luke 2. This will be a low-key, 2-week study ending on Christmas Day.
Here are just a few ideas for those who would like to spend some more time in James 1:
Study the cross-references for count it all joy in James 1:2. (Go to verse 3, then "Cross-References" in the "Tools" menu.)
Study the cross-references for divers temptations in James 1:2.
Study the word joy as it is used in James 1:2. Take notes on the verses under "Concordance Results Using KJV," and consider how these relate to the attitude you should have toward trials.
Read and take notes on the verses under "Outline of Biblical Usage" for the word patience as it is used in James 1. This is the trait that trials help produce in our lives.
Study the cross-references for verse 10, under the heading "because," and look at the picture of man being like a flower or grass that fades and withers.
Type the word hear into the search box on Blue Letter Bible, and skim all the New Testament verses that are listed, taking notes on significant ones.
Study Matthew 7:26-29 and relate the wise man and foolish man to what you have learned in James 1.
Click on the "Tools" menu for verse 26. Read the verses listed under bridle in Nave's Topical Bible.
Read Matthew Henry's Commentary on all of James 1, taking notes as you read.
Memorize the chapter if you haven't already.
Be sure to come back for tomorrow's giveaway! Even if you aren't interested in entering the giveaway, I would really appreciate your feedback to help me improve these studies and make them as useful as possible for you.

« «