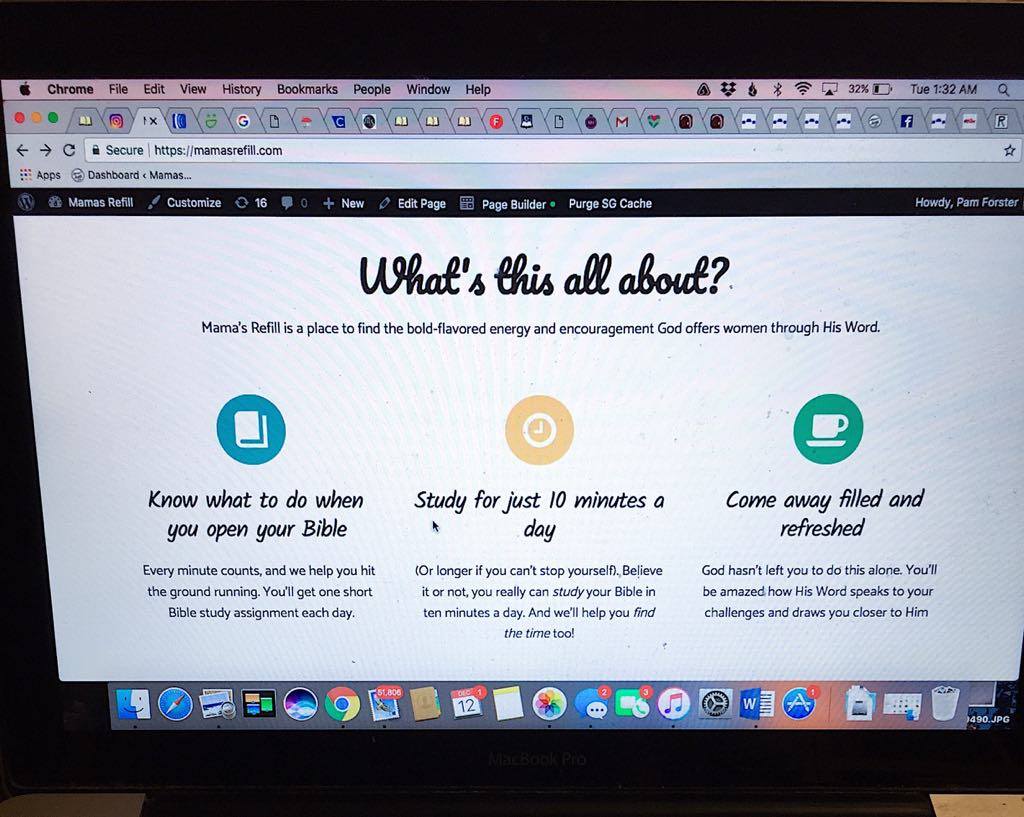 Subscriptions are now available for our new Mama's Refill website! Until January 1, you can save 33% when you buy the Early Bird Special or a Gift Subscription. These specials are available now while the site is still under construction. The site will officially launch on January 1, 2018.
Mama's Refill is Busy Mamas Bible Studies in a new user-friendly format.
Complete each day at your own pace, track your progress).

No Facebook or Instagram required

Start your own (optional) 10-30 day Bible study email challenge any time you like!

New, "live" Bible study with Pam Forster every four months

Drawing-in-your-Bible tutorials

Bible study app tutorials

Gift memberships available before Christmas… Plus extra surprises!
Congratulations to the ten winners of a one-year-subscription to Mama's Refill!
Rebekah said, "I think, that for this season of my life, I would like to have shorter daily studies. Also, links to coloring sheets for the little ones would be great! Great ideas, Rebekah!
Jamie said, "When not studying along with you, I am usually studying another passage exegetically/inductively. Lots of good books to read in Christian living literature, but best for Bible study is still the Bible.
Dini said, "I love your studies, maybe there would be a possibility to make them a little shorter? After a while I find it hard to catch up. I always admire your drawings – I wish I could do that." I'l try to make them shorter!
Charissa said,  "When has God been faithful to preserve and care for you in the midst of trials? We moved to a new area a couple of years ago, leaving behind a beautiful home and a close group of friends. It was an extremely difficult move for me and I really had trouble connecting. But God was faithful to bring just the right group of women and opportunities to serve, which helped connect me to a faith family.
Luona said, "The whole idea that trials help to test our faith – to see if we will stand firm and not move away from what we claim are our beliefs just because things are hard. I loved the word picture of the coins being checked to see if they were genuine. I want to stand before God and see Him check and know that my faith was genuine."
Marcia said, "Loved the James study! I often get behind, but still think the length and pace is good. I felt like it was written for me as I have had a lot of trials this fall, physical problems, family members struggling spiritually, loss of a dear cousin at age 31, etc…but I am learning to count them all joy. I've also been reminded of the depth and power of the Word of God. As a young person I memorized the book of James, but now as a mom of 4 young kids, in some ways I feel like I'm learning from it so much more. It's changing me!!!"
Rebecca Ray said, "I am so excited about this! I love your studies, and I wouldn't really change anything except to maybe have two levels of children's instruction on the children's lessons. I'm still working through James 1, but I've found myself really struck by trials and testing and how it's what God is using to prove that we are growing spiritually. I've often found myself thinking that God is giving me a test and just waiting to see me fail, and I realize now, from this study that he's on my side, and that he wants to prove how much more like him I am becoming."
Bekki said, "I always thought "Count it all joy, my brothers, when you meet trials of various kinds …" sounded good, but was really only possible for "Super Christians". But now I have a different perspective and understanding. After reading it so many times and studying it almost word-by-word, I "get" it. Thank you SO much for all your work, Pam. I can't even imagine how you have a life outside of writing these studies! They are each packed with proof that you spent an enormous amount of time preparing and compiling the information for the rest of us. Thank you and God bless you!
Jennifer said, "I've been reading the Bible in a year, and it's made a huge impact in my life! I'm also going through a Bible Study called Disciplines of a Godly Woman."
Nicole said, "I've been reminded that my heart motives really matter…do I pause in the midst of a trial to take a breath and trust God and experience joy or do I just keep plugging away on my own strength? When I try on my own…it usually leads to anger (which I'm needing to be slower at…esp in the midst of the busy). And most importantly, I need to take time to let the word of God sink into my heart and cultivate the good soil so His word and all good things can take root in my life."

« «