Get the book! Thirty Days in Psalm 37 is now available as a paperback, PDF, or Kindle
book.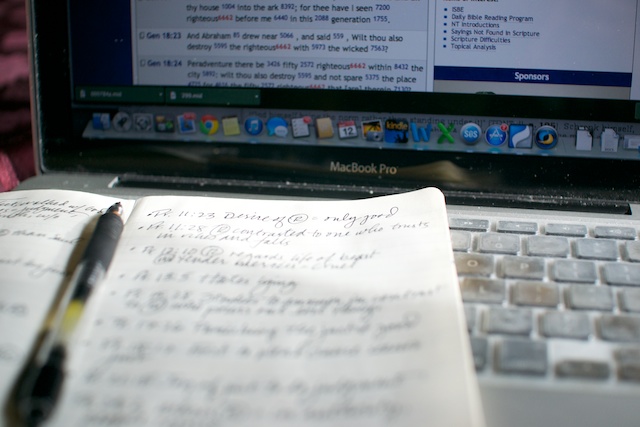 Yesterday we worked on learning our way around on Blue Letter Bible. Today let's check out some of those other verses that speak of the righteous. As we saw yesterday, the word is used throughout the Old Testament — 206 times, to be exact. We aren't going to cover all of those verses in five minutes. To save time, I have selected specific verses to read, rather than asking you to read all of those listed online. The fastest way to read these is on Blue Letter Bible. We'll review how to get back to the Hebrew lexicon.
Assignment: Read Psalm 37. (We're going to read this psalm every day, all month. 🙂 You will know it well by the time we are done!) Pray for the Holy Spirit's guidance as you read. Then go back to blueletterbible.org.
Because we already know the Strong's number (6222) after our study yesterday, we will take a more direct route to the Hebrew lexicon than we did yesterday.
Click on "Search" at the top of the sidebar on the left-hand side of your screen. This will open a box labeled "Search Tools".
Click "Strong's Search", the second search option listed in the box. This will open a new box labeled "Strong's Search Tool". We're going to be working with the three boxes at the bottom of this area.
Type the Strong's number, 6662, in the search box. Then make sure you have selected Hebrew, since we are working in the Old Testament.
Click the "Search Now" button, and you'll be back where we left off yesterday.
Review the definitions under "Outline of Biblical Usage". We will be looking for these different uses as we read.
Also review the four words that are listed in the "Translation Count" box. These are the words we will be looking for.
Scroll down the screen until you see a blue bar labeled "Concordance Results Using KJV". You will see a series of verses that all use the word we are studying.
Skim through each of the verses listed below. You should be able to do this fairly quickly if you use the listing of the verses in the Hebrew lexicon. You will recognize which word we are studying in each verse because it will be labeled with the number 6222. Record in your notebook what you learn about righteousness from each verse. Think about how the righteous are described, what they do, what other adjectives are grouped with righteous, what sort of actions and attitudes are contrasted with righteousness, how the word is used in relationship to God. These observations will continue to give us a better understanding of the word righteous.
Genesis 6:9
Deut. 32:4
1 Sam. 24:17 (You'll recognize this one if you have taken the time to read about David's life in 1 and 2 Samuel.)
2 Sam. 23:3
Neh. 9:33
Ps. 1:5-6
Ps. 112:4
Ps. 116:5
Ps. 119:137
Pr. 10:20-21
Pr. 11:23
Pr. 11:28
Pr. 12:10
Pr. 13:5
Pr. 15:28
Pr. 17:26
Pr. 18:17
Pr. 21:15
Pr. 29:2
Ecc. 7:16
Isa. 26:2
Jer. 23:5
Ezek. 18:5-9
Hab. 2:4
Mal. 3:18
Summarize what you have found. What does it mean to be righteous?
Many of the uses of this Hebrew word for righteous are addressing issues of justice, judgment, and conforming to a standard.
A righteous man seeks to conform to God's standard. He treats others the way God has commanded him to treat them.
Our righteous God conforms to His own standard. Because of that, He must judge those who don't conform to that standard. The wicked are ultimately doomed; Psalm 37 makes that clear, doesn't it? The righteous are blessed because of their faith in Christ's work on the cross.
The word righteous is not a word we can adequately study in a couple 5-minute study sessions. An additional study of the word in the New Testament would uncover several more layers of meaning. The whole message of the gospel revolves around a righteous God who cannot overlook sin, but graciously sent His Son to live the righteous life that we cannot live, and to suffer the punishment that we all deserve.
In our own strength, we cannot conform to God's standard. Through Jesus, and Jesus alone, we are made righteous in God's sight. He gives us the desire to conform to His standard, and by the Holy Spirit's enabling, we are empowered to conform more and more to that standard.
God promises much to the righteous. We can see that in Psalm 37. (Are you growing to love this psalm as much as I am?) We can trust Him to keep His Word. If we are in Christ, if we are trusting Him for our salvation, we don't need to worry about the wicked who seem to be prospering. We know the end of the story. We'll look carefully at his place, and he won't be there; but we will inherit the land (more on that in another lesson 🙂 ).
For your children:
Read the verses listed above with your children. If they can read, sit in a circle or around the table and take turns reading the verses. Using a whiteboard or sheet of paper, note what each verse says about the righteous. When you have finished reading, review your notes and summarize what you have learned. Talk about:
Our inability to conform to God's standard in our own strength
Jesus who did obey God's standard perfectly
Jesus' death on the cross that paid the penalty for our sin, and earned a righteous standing before God for those who put their faith in Him
The Holy Spirit's work that empowers us to conform more and more to God's righteous standard

« «