Get the book! Thirty Days in Psalm 37 is now available as a paperback, PDF, or Kindle
book.
Psalm 37 starts right out by telling us to not fret about evildoers. What does it mean to fret, and who are evildoers? That's our topic today!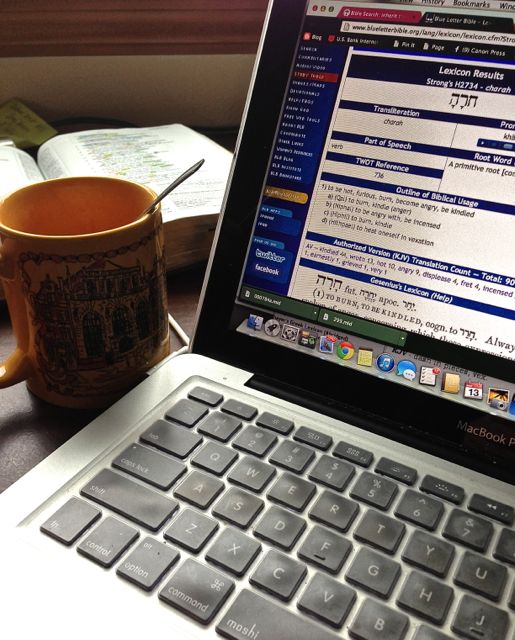 We've spent the last two days studying the word righteous. Word studies can be time-consuming (and addictive, if you find out you like this sort of detective work). If you've found you just don't have time for word study, stick with us. Today we'll take the "word study lite" approach, and take a quick look at some of the words in that first verse, so we can better obey its commands.
Assignment: Pray. Then read Psalm 37, paying special attention to every mention of fretting, evildoers, and wrongdoers. Think about all that you have already learned from your study that will help you understand the message of this psalm. Then let's head back to Blue Letter Bible. I'll walk you step-by-step through an abbreviated approach to word study.
In the light blue box under the header, type in "Psalm 37", enter "KJV" in the "Version" box, and click search. This will bring up the entire text of Psalm 37.
Look directly above the verses on the right. Check the box labeled "Show Strong's" if it is not already checked.
Look at verse 1. Click the blue number that follows the word evildoers. This will take you directly to information about this word in the Hebrew lexicon.
Read the material in the boxes labeled "Outline of Biblical Usage" and "Authorized Version (KJV) Translation Count" to get a better understanding of this word's basic meaning. Take notes in your notebook.
If you want to take the extra time, you can skim through some of the verses lower down on the screen. This will help you see how the word is used in other places in the Bible.
Summarize the meaning of evildoer and record this in your notes.
Repeat this same process to study the word iniquity in verse 1. (Back up to the Psalm 37 text, click on the number that follows iniquity, and read the material in the same two boxes for this word. Take notes and summarize what you have found.)
You now have notes that summarize the meanings of evildoers and workers of iniquity. What do these words have in common? Did you notice that these words relate to justice, just as the word righteous does? Do these words apply to any people in your life? Do we as a nation deal with any "workers of iniquity" that we need to not fret over?
Go back to the text for Psalm 37 again, and click on the number for fret in verse 1. Follow the same procedure of reading, note-taking, and summarizing for this word. Do you ever find yourself responding in this way to those who sinfully wrong you or treat you unjustly?
Read verse 2. What does the verse tell us? Why don't we need to fret? What will happen to the evildoers?
Now read verses 3-9. The key to not fretting is to replace those thoughts and emotions with a focus on God and His faithfulness. We'll look at that subject in more detail tomorrow.
For your children:
Read Psalm 37:1 with your children.
Talk about what it means. What is the difference between an evildoer and a "worker of iniquity"? What is fretting?
Have them take turns acting out the verse. First act out what it would look like to actually fret about an evildoer and a worker of iniquity. (Be sure to have someone acting the part of the bad guys, as well as the "fretter".) Next have them act out not fretting over the bad guys.
Read verses 2-9 together.
Talk about why we don't need to fret over evildoers.
Discuss what these verses say we should do instead of fretting.

« «