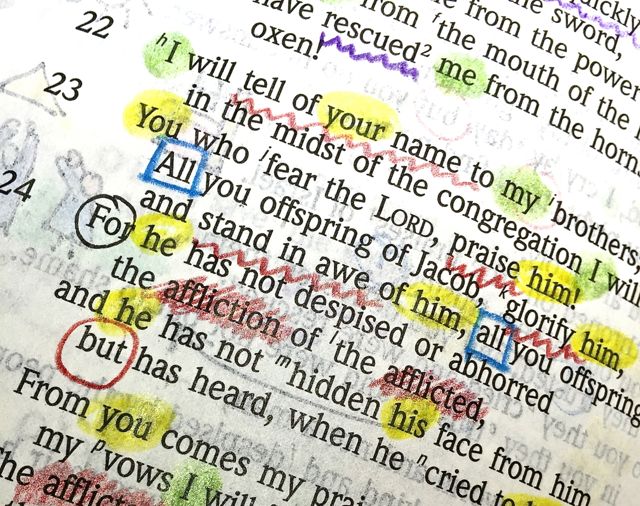 We've looked at who will praise and worship God. Today, before we start our review and application of what we have been studying, we're going to look at why the Jews and the Gentiles, the prosperous and the poor, and those who are yet unborn are going to praise God.
Assignment: Pray, asking the Holy Spirit to help you understand what you read and study.
Then turn to your marked copy of Psalm 22.
Read Psalm 22:21-31, looking for the words for and because. These words generally introduce reasons that are being offered in the text. Circle every appearance of for and because with a black pen.
When you have finished reading and marking, look at what you have marked. The first appearance of the word is in verse 24. Go back to verses 22 and 23 and read them. What are they speaking about?
Next read verse 24. This verse, introduced with the word for, is telling us why Jesus is going to tell God's name to His brothers, why those who fear God should praise Him, and why the Jews should glorify Him. Why should they?
What three things has God not done? What has He done?
Let's use the Interlinear to look at a few more words before our study comes to an end. Open Blue Letter Bible and search on Psalm 22:24. (Remember, you need to select KJV in order to see the correct information in the Interlinear.)
Open the Interlinear and click on the Strong's number for "For he hath not despised."
Read the "Outline of Biblical Usage". Does this word look familiar? We've seen it once before in Psalm 22.
Scroll down to "Concordance Results Using KJV" and scroll through the verses, looking for any other verses in Psalm 22 that use the same Hebrew word. What do you find?
Back on Day 16, we looked at this word. In verse 6, Jesus uses it to describe how the people were treating Him. They were holding Him in contempt.
How did God, in contrast, treat Jesus in His affliction?
Return to the Interlinear and look at nor abhorred. What does the word abhorred mean? God did not respond to Jesus in this way.
What else did God not do, according to this verse? Click the Strong's number for neither hath he hid. Study the information given for this phrase.
God's turning away from Jesus was temporary. He heard Him when He cried to Him. He listened and when the penalty for sin had been paid, He responded.
Click on the Strong's number for from him; but when he cried. What does the word cried mean?
Look at how it is used in other parts of Scripture, and where it is used. Read through the verses under "Concordance Results Using KJV," recording new insights in your notebook as you read.
Notice how many times the word appears in the books of Job and Psalms, in the context of the lives of men who were severely afflicted and slandered.
Notice, too, how often the verses speak of being heard or delivered after crying for help.
Compare verses 1-2 with verse 24. Notice the common words in the two passages. How do these two passages relate to each other? Had God truly forsaken Jesus?
God had temporarily turned His face away from Jesus as He paid the penalty for our sin. He did not despise Jesus or His sacrifice on the cross, but instead was satisfied. The price had been paid. For that reason, Jesus would tell God's name to His brothers, and praise Him in the midst of the congregation. This is the reason for God's people to glorify and worship Him!
For your children:
Review memory verses.
Then read Psalm 22:1-2 again to your children, and review why Jesus cried out this way.
Then read Psalm 22:24. Help your children see how God had not truly forsaken Jesus, but had turned away from Him while He was paying the penalty for our sins. He was there, and He was pleased and satisfied with Christ's sacrifice. The penalty for our sins had been paid.
Because of that, we can be saved from our sins! That a good reason to praise and worship God!

« «