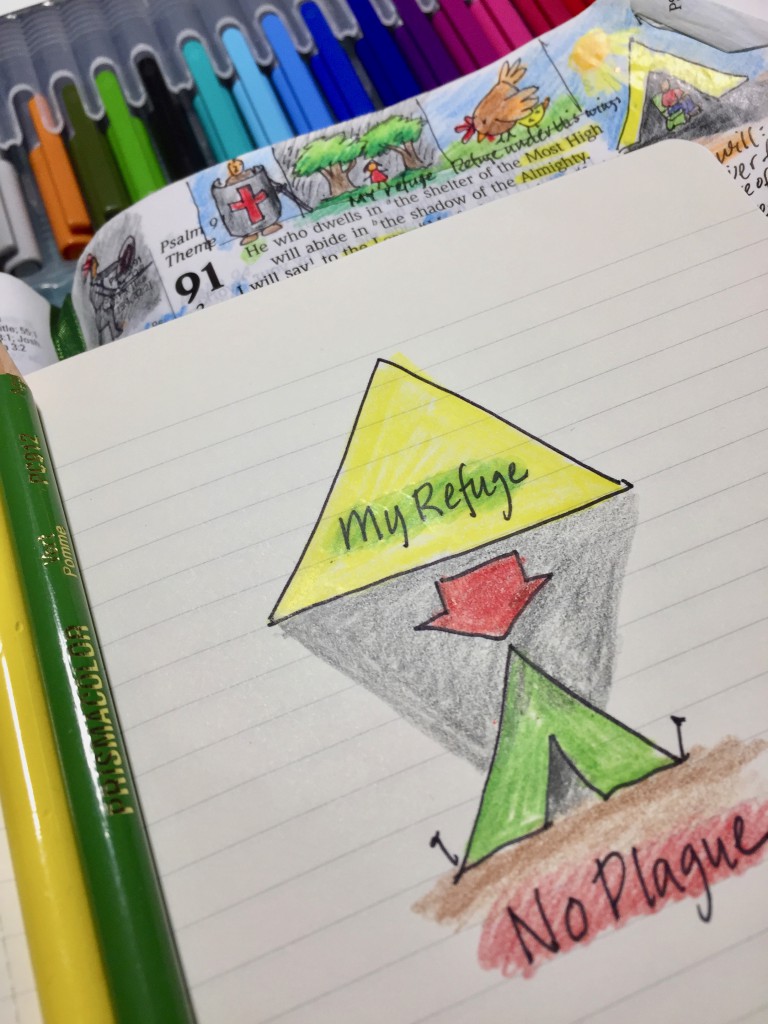 We looked yesterday at the bold statements of Psalm 91:7-8. Thousands may be falling all around us, but it will not come near those who dwell in the shelter of the Most High. Not only will those who trust God be preserved in the midst of calamity, but they are assured that they will indeed witness the judgment of the wicked.
Let's continue with verses 9 and 10 today. What does verse 10 mean when it says no evil will be allowed to befall us?
Assignment: Pray for the Holy Spirit to teach you and help you interpret and apply these verses in the way God intended.
Look at your marked copy of Psalm 91. We've come back to the word because. The word should be obvious in your text because we have already marked it with a red circle. This verse, with its because, gives us the reason for what will be stated in verse 10.
Why will no evil befall us? Why will no plague come near our tent?
We, and thousands of saints before us, are protected when we "make the Lord our dwelling place," when we trust God to do what He says He will do.
Before we consider the possible misinterpretations of these verses, let's stop to read some more in Treasury of David.
Click on Treasury of David in the commentaries menu, and then on Psalm 91:9.
If you have time, go ahead and read Spurgeon's comments. Our main focus, however, will be found in the "Explanatory Notes and Quaint Sayings." (Quaint, in this context, means wise or skilled.)
Scroll down until you see the words, Verses 9-10 in bold type. This is the section, quoted from John Arrowsmith, a 17th-century English theologian, that we're going to read today. It lists three main ways God preserves us: (1) From dangers, (2) In dangers, and (3) by dangers.
Read this section carefully, taking notes and meditating on these thoughts. Pay special attention to the idea of God preserving us by dangers. (Read slowly for understanding, but don't worry if you don't understand some of the historical references.)
How does God use dangers to protect us? Understanding this will change the way we look at these verses about protection and no evil befalling us.
For your children: 
Review and continue memorizing verses.
Read or listen to Numbers 13:17-14:38. (Check the "Continuous Play" box for the audio version to continue into Chapter 14.)
Talk about the two different reports of the spies. Who trusted God? Who trusted in themselves?
Joshua and Caleb "made the Lord their dwelling place," trusting Him and encouraging others to remember that God was on their side. He was their refuge. But ten of the spies insisted that the people of Canaan were too strong for Israel to fight. In fact, many of the people of Canaan were giants. There was no way they would win a battle against them.
Read Numbers 14:37 again. What happened to those ten spies?
What about Joshua and Caleb? Read Numbers 14:38. Because they made God their refuge, trusting Him to give them the victory, no plague came near their tent, just as the psalmist describes in Psalm 91:10.
Not only did the ten spies that gave a bad report die of a plague, but all that generation of Israel died before the next generation entered the Promised Land forty years later. Joshua and Caleb were the only two Israelites of that generation to enter! Thousands died all around them, but death did not come near them, just as Psalm 91:7 describes.
Encourage acting out this story. Turn your phone over to one of the children, and let them video their drama!

« «