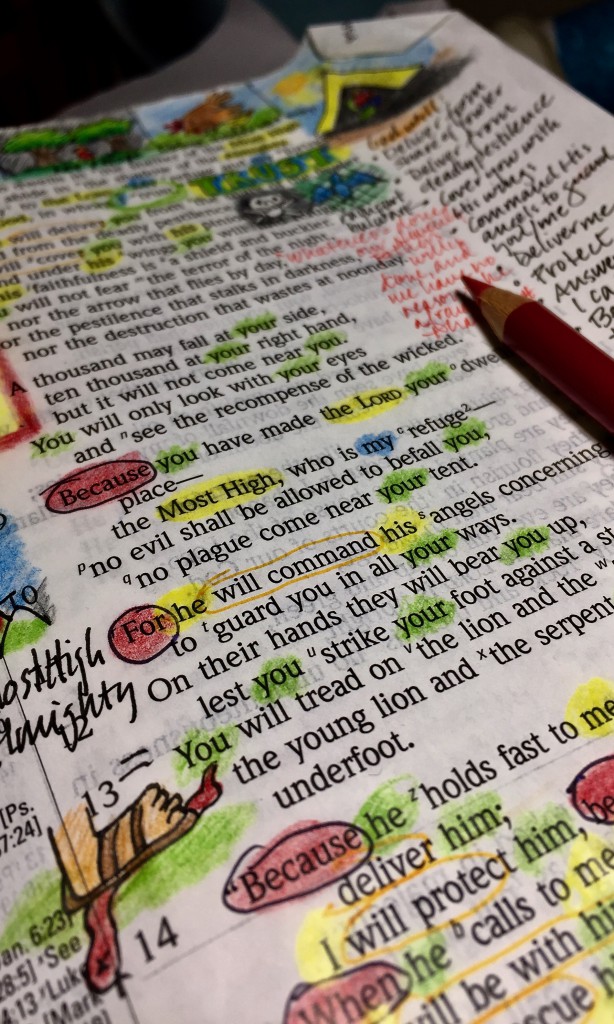 The devil wants us to think God isn't keeping His promises when He allows us to suffer. But God called His own Son to suffer — for us — and His Son trusted Him all the way to the cross. He knew that the Father's plan was good.
Thinking of Psalm 91:11-12 and of Satan's misuse of it when Jesus was tempted in the wilderness, the old gospel song, He Could Have Called Ten Thousand Angels, came to mind. Jesus didn't jump from the temple heights and call on the angels to save Him, and He didn't call on angels to take Him off of the cross, because He knew that only His sinless life and sacrificial suffering could win our salvation.
Assignment: Pray, asking God to help you learn from Psalm 91 today. Thank Him for what He has taught you thus far.
Read all of Psalm 91 today, testing your memorization as you read.
Then open

 Bible Study Tools (not Blue Letter Bible!). Let's consult some commentaries before leaving verse 13.
Scroll down and select Treasury of David in the commentaries list.
Read and take notes on Spurgeon's comments. (You don't need to read the additional comments below Spurgeon's exposition.) In what ways does he distinguish between the two types of enemies?
When you have finished, click your browser's back arrow, and return to the list of available commentaries below the verse text.
Click Geneva Study Bible.
Scroll down to the notes on verse 13 and record these comments in your notebook or Bible margin. What is our relationship to evil according to this verse?
Use your back arrow to return once more to the commentaries list. This time click John Gill's Exposition of the Bible, and then Psalm 91:13.
Read Gill's comments on the verse. Notice the examples Gill offers of those who, through God's strength and protection, were delivered from or overcame very real eat-you-alive lions and poisonous snakes. Who do both the lion and the serpent represent in Scripture? What did Christ do to this enemy when He died on the cross?
Read back over your notes from these three study helps. What do they say about us treading on lions and serpents? Who trampled the serpent Satan underfoot? Does He also give us power to do the same? If He is victorious over our enemy Satan, does evil really hold any power over us?
We not only survive evil and the suffering it brings; we are victorious over it! Jesus won that victory for us on the cross! No real evil can befall us! Even death will be a victory in Christ!
For your children:
Read Psalm 91:7-13 with your children, having them recite as much as they can from memory.
Then explain that you are going to pantomime (act without words) the stories of several men in the Bible who were protected from real lions and snakes. Don't tell them who you are going to depict.
Ask them to guess who you are picturing. Give clues, if needed. Or, if they are young or too unfamiliar with the stories to guess on their own, read the different accounts and then act out each story, while they guess which one you are depicting.
Stop after each pantomime to briefly discuss that person's story, paying special attention to the verses noted below. 
Daniel (Daniel 6, and especially verse 22, where Daniel gives witness to God's sovereign protection)
David (1 Samuel 17:31, and especially verse 37, where David assures Saul that God will deliver him from Goliath just as he did from the lion and the bear)
Paul (Acts 28:1-6, especially verse 5 where he suffers no harm from the venomous snake bite)
Discuss how God provides His special protection when we are doing what He has called us to, dwelling in the shelter of the Most High. He is able to protect us, just as He did these men!

« «