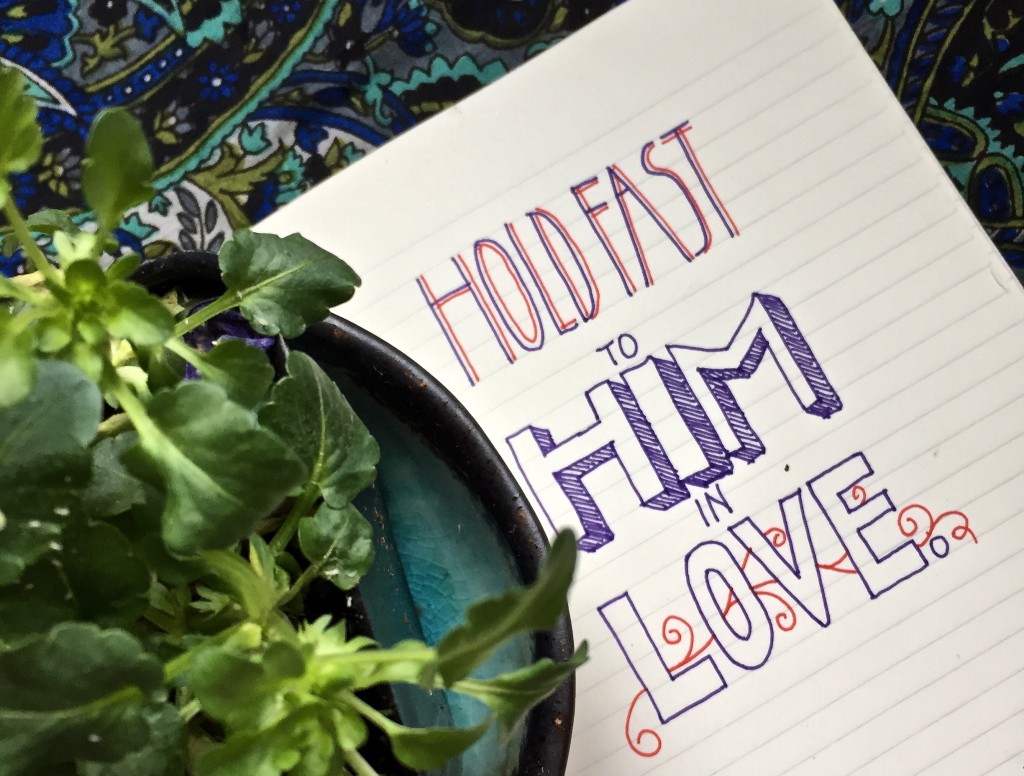 There is so much more we could study, but our time is coming to a close! We'll just have to leave some ideas and verses for you to study on your own. (I'll post some ideas at the end of the study.)
In the last three verses of Psalm 91, God Himself becomes the speaker, confirming all that has already been said in the psalm. What an outpouring of God's love we find as the psalm comes to a close!
Assignment: Pray, thanking God for the gift of His Word that allows us to know and love Him more. Pray for continued understanding as you study these last verses of Psalm 91.
Look at verse 14 in your marked text. We see the words because or for marked twice in this verse. That means we need to look for reasons given in the text.
What two things does God say He will do in this verse? Why will He do them? Note this in the margin of your Bible or in your notebook.
Let's spend the rest of today's lesson studying those reasons.
Open Blue Letter Bible and search for Psalm 91:14.
Open the interlinear tool and click on the Strong's number for the phrase, because he hath set his love.
Skim all the information given in the lexicon. (The term fillet is an architectural term for 

the

narrow

flat

raised

strip

between

two

flutes

of a column.) Take notes on the definitions, the ways the Hebrew word has been translated, Gesenius's lexicon, and the other verses in Scripture that use the same word. 
This word for love involves a deep longing or desire, in the case of verse 14, for the Lord.
God says He will deliver or rescue us because we cling to Him in love.
Why does He protect us?
Use your browser's back arrow to return to the interlinear

(app users, click the middle arrow in the upper right hand corner)

and click on the phrase because he hath known.
Note the definitions under I.A.(Qal) in the 'Outline of Biblical Usage" section.
Then skim the verses under "Concordance Results Using KJV." Note how the word is used. This word implies more than a casual knowledge.
God protects the one who knows Him, who is acquainted with who He is and what He is like.
I know this lesson is getting long, but if you have the time, read Spurgeon's notes on verse 14. (Biblestudytools.com > Psalm 91:14 > Treasury of David > Psalm 91:14 > Exposition). Record new insights in your notebook.
Then, if you can manage just a little bit more time, read and take notes on John Gill's comments on verse 14 (Biblestudytools.com > Psalm 91:14 > John Gill's Exposition of the Bible > Psalm 91:14 ).
Paraphrase, or rewrite in your own words, verse 14 based on what you have learned about the verse. Does this verse describe you? If not, what can you do that will help your love and knowledge of God to grow?
For your children:
Read and recite all of Psalm 91.
Ask your children to tell you who in your family they go to when they are afraid or in danger.
Then discuss why they turn to those people.
They love those people.
They know what those people are like and that they are loved by them.
Those people are with them much of the time.
Those people take care of them and loves them.
They trust those people because of how they have responded to them in the past.
They know those people will protect them and comfort them.
They know those people will listen to them and talk to them.
After discussing their relationship to these people (mostly likely their parents), compare it to the relationship we can have with God. Parents and others will fail or disappoint us at times because we're all imperfect sinners, but God will never fail us. The more we learn about God, the more we'll understand how much He loves us. The more we understand His love for us, the more our love for Him will grow. The more we love Him, the more we'll trust Him and see that He never fails us!

« «