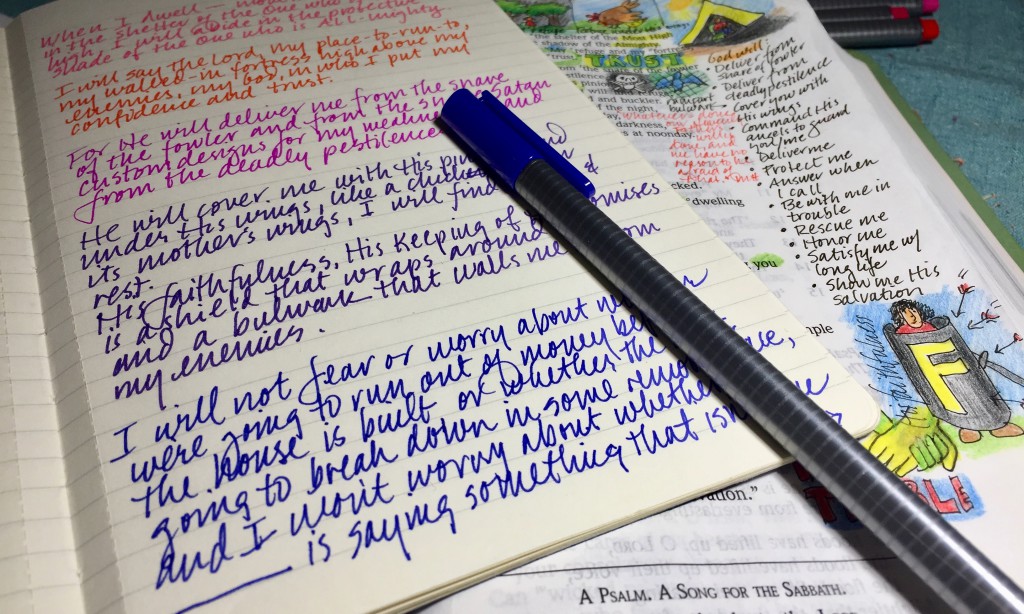 We've done a bunch of observing, and quite a bit of looking at word meanings and at commentaries and cross-references. Does Psalm 91 mean more to you now than it did four weeks ago (or however long you decide to take finishing up the study 🙂 )?
We're ready to do some reviewing, some praying, and some applying what we've learned to our lives.
Assignment: Pray. Ask the Lord to help you remember what you have been learning and to help you see how it applies personally to your life right now.
Then pull out your notes, your marked copy of Psalm 91, and a blank sheet of paper. We're going to write a paraphrase of Psalm 91. (A paraphrase is a rewording of something written or spoken by someone else.)
We're going to write our own rewordings of Psalm 91, incorporating two specific things. (Read all the directions below before you start your paraphrase):
First, reword each verse so that you are the one speaking. Change the he's to I's, the him's to me's, etc. For example, you would change verse 1 to read, "When I dwell in the shelter of the Most High, I will abide in the shadow of the Almighty."
When you get to verses 14-16, you'll have to to a bit more changing, since in these verses God is the speaker. He is referring to Himself as I; you'll need to refer to Him as He, and so forth. So verse 14, for example, will read, "Because I hold fast to Him in love, He will deliver me; He will protect me because I know His name." 
Secondly, while you are personalizing the psalm, also expand on the text, incorporating what you have learned from your study of the psalm.
For example, in my paraphrase, I would make these additional changes, "When I move-in-to-stay in the shelter of the one who is Most High, I will abide in the protective shade of the one who has All Might and power." I am adding some words that help me remember what a particular verb or image means.
So our goal is simply to reword the psalm so that it applies directly to us and to incorporate the insights we have gained from our study. 
Rewrite the entire psalm in this way. (This may take more than one study session.)
Be sure to check back tomorrow. We're not done yet (even though we've used up our thirty days)! 
For your children:
Review your memorization of Psalm 91 one more time. Tomorrow we're going to have a treasure hunt, and they will need to know the verses in order to follow the clues.
Plan today for what you want to hide at the end of your treasure hunt. If you're feeling extravagant, buy a Lego castle as a reminder of God being our fortress. Or gather materials to make some simple cardboard shields. If you're in a position to do such a thing, buy some chicks to raise, and remember how God wants us to find refuge under His wings. Or keep it really simple, and just hide a picnic lunch or some special sweets at the end of the hunt. (Maybe you can eat them inside the tent you made in the living room, remembering that God says no plague will come near the tent of those who dwell in Him!)

« «