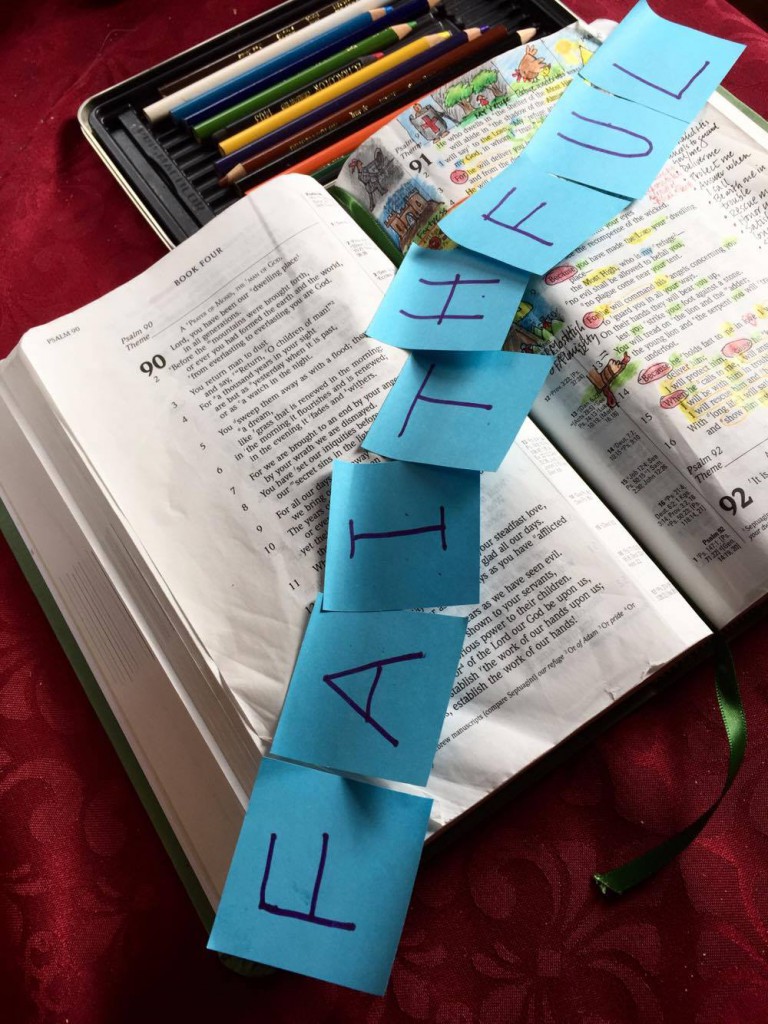 I'm always a bit sad when we reach the last day of our study. It's such a blessing to study with you all (but it will be nice to sleep at night again :-)). Today we're going to ask the Lord to sink this psalm deep into our hearts where it will change the way we think, the way we respond to troubles, the way we turn away from our worries and toward our God for refuge.
Assignment: Pray for the time to focus and pray as you reflect on this psalm once again.
Then take out your paraphrase from yesterday's lesson. Find a quiet place where you can pray. (You might want to save this lesson until your husband is home, or until you can get out of the house by yourself for a little while.)
Read your paraphrase, stopping after each verse to address it to God in prayer, praying it back to Him. For example, my paraphrase of verse 1 would turn into, "Lord, please give me the grace to really move in and stay in Your shelter. You are the Most High. No one is higher You. Help me to abide in Your cool, protective shade, the shade of the one who possesses All might. Help me to trust You and rest in Your shadow.
Read and pray the entire psalm in this way. If you want, write out this prayer in your notebook where you can come back to it and pray it again.
Then pray and consider how you will continue to grow in your knowledge of Him, so that your trust in Him will continue to grow. What will you do that will help you more instinctively turn to Him for refuge when facing danger and troubles?
Here are some ideas:
Keep a record of God's faithfulness to you — His provision, His protection, His answers to prayer. Look back on this when you face a new challenge or trial.
Commit to a regular time of studying the Bible. Do whatever it takes to make this happen. Ask your husband for help. Get up earlier. Initiate a daily quiet time when all the children are on their beds while you study your Bible, or when they are all in the room with you, looking at or reading their own Bibles or Bible storybooks. Have a basket of special, Bible-study-time-only toys that the children can play with while you study.
Memorize portions of Scripture that will equip and strengthen you.
Meditate on the Word throughout the day. "Chew" on the verses you've memorized. Pray them. Ask the Lord to help you understand and live them.
Pray your way through the Psalms. Take a portion each day. It doesn't have to be an entire psalm. Pray a verse or two, and pick up where you left off the next day.
Pray your way through Psalm 91 at least once a week, keeping its incredible promises fresh in your mind and heart.
Find recordings of worship music, and especially psalms that have been put to music. Play these, sing along, learn their words.
Keep watching here! Monday I'll post a list of suggestions for further study on your own. On Tuesday, we'll post our traditional end-of-study giveaway!
For your children:
Have a treasure hunt today while you review your memorization of Psalm 91 and recall once more the message of the psalm.
We want to help our children remember that we can trust God because He is faithful. So we're going to use all the letters of the word faithful as part of our hunt.
Using eight post-it notes or small cards, write an "F" on one, an "A" on another, and so forth until you have written all the letters in the word faithful.
The word faithful has eight letters in it. At the bottom of this lesson I have listed 12 possible words from Psalm 91 to use for clues. Choose eight of these items that you have in your home or that you are willing to draw pictures of to hide around the house. We're going to hide one of the letters from the word faithful in each of those places. (If you want to use all the clues, you can use the word faithfulness as your word and use twelve clues.)
Choose your clue spots, and leave one of the letter cards in each of those spots.
Then gather the children together. Using the translation you memorized, read verse 1 (or whatever verse contains your first clue). Stop when you reach your clue word and let the children tell you the missing word. (Your words may be slightly different, depending on which translation you used for memorizing.)
When they have successfully identified the word, they should look for the letter card in places related to that word. You may need to give a few hints, if they have trouble finding it.
Have them bring the card to you when they find it.
Set the card aside and read the next verse, having them again supply the missing word.
Do this until you have read all the verses, and they have found all the letter cards.
Then explain that all the letters that they have collected spell a word. This word tells us why we can trust God. If they are old enough, have them try to unscramble the letters and figure out the word. For young children, help them put the cards in order and read the word — FAITHFUL — for them.
God is faithful. We can trust Him. He will do all that He has said He will do. He will protect us, answer us, and be with us in trouble.
Now give them their prize!
Places to Hide Clues:
Verse 1. Shadow. (Hide your clue outside in the shadow of your house, or inside in a shadow cast from the light coming in a window.)
Verse 2. Fortress. (Do you have a picture of a castle [on the wall, in a calendar, etc.], a book about castles, Legos for building castles, etc. where you could hide a clue? If not, you could always draw a simple castle shape and post it somewhere in the house, or pull up a picture from Google Images to have on your computer screen.)
Verse 4. Wings. (Look for wings in your house — a stuffed toy bird, a toy airplane, a drawing you make, if necessary)
Verse 4. Shield. (Any toy shields in the house? if not, another simple drawing posted somewhere in the house will work.)
Verse 6. Noonday. (Place your clue on the number 12 on a clock.)
Verse 7. Right hand. (Write one letter from the word faithful on the palm of the hand of someone who is not participating in the treasure hunt.)
Verse 10. Tent. (Hide your clue in the closet with the family camping tent, or set up a make-shift tent with a blanket and chairs in a room.) 
Verse 12. Stone. (You may have to send them outside for this clue. Use a big stone, if possible. Consider writing the letter on it with chalk or a crayon.)
Verse 13. Lion. (Use a stuffed lion, a book about lions, a picture of a lion open on the computer screen, etc.)
Verse 13. Underfoot. (The bottom of someone's foot is the place to hide this clue.)
Verse 14. Adder or serpent. (Do you have a stuffed snake lurking in the house somewhere? Or a pet snake in a tank? A snake is something that even the most stubbornly "unartistic" among us should be able to draw and post in the house somewhere.)
Verse 15. Calls. (Hide the clue on a phone.)

« «