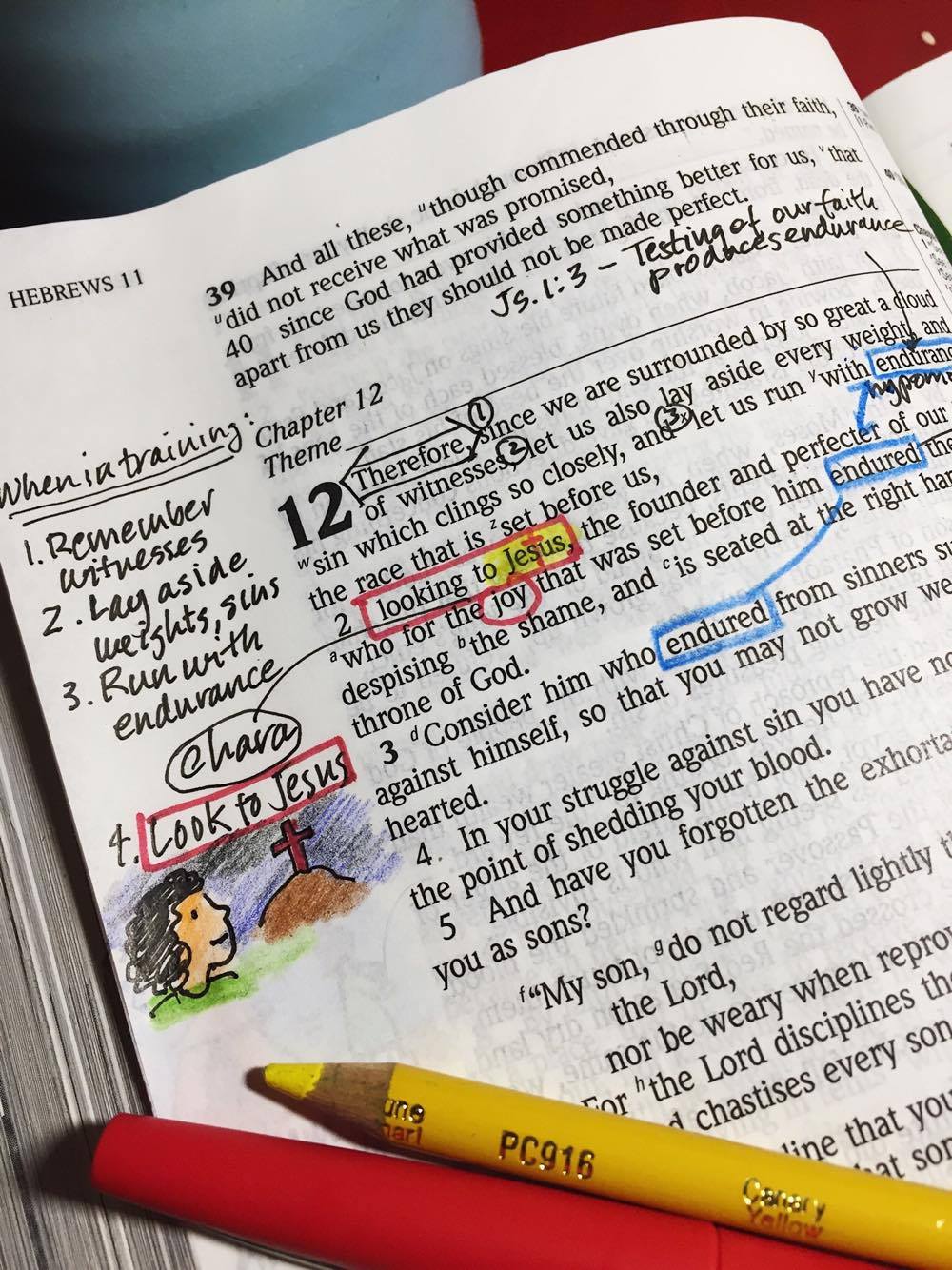 We're told to have joy in our trials, but what does that word joy entail? Let's find out.
Assignment: Pray, thanking God for these words from James that encourage us in the midst of trials. Pray, too, for a heart that is ready to hear what God wants to say to you so you can obey Him.
Then read all of James 1, thinking about what you have been learning as you read. (You can also start to test your memory of these verses.)
Now open Blue Letter Bible (website or app) and search on "James 1:2." We're going to look at the word joy before we move on to the rest of the chapter.
Do you remember what we need to do next, if we want to study a word in verse 2? We use the Interlinear tool. Hover over the blue "Tools" button, and chose "Interlinear." (App users, tap the verse and then choose "Interlinear/Concordance.")
Click on the Strong's number for the word joy, and then take notes on what you find. Note the Greek word, chara, under "Transliteration," and then the information under "Outline of Biblical Usage."
When we apply these meanings to the way we respond to trials, we're talking about more than simply tolerating trials without complaint, aren't we? We're supposed to view trials as a cause for joy and delight.
Looking at how this Greek word chara is used in other verses throughout the Bible will help us understand it even better. Blue Letter Bible makes this easy. Scroll further down the screen until you see the heading "Concordance Results Using KJV." (App users, look for "Concordance Results (KJV Strong's)".)
What we find below this heading is every other verse in the Bible that contains the Greek word chara. Skim these verses, slowing down to take notes on ones that stand out to you as they apply to our lesson.
To read a verse in its context, click on its reference to open the entire chapter. Then click your browser back arrow to return to the listing of verses. (App users, tap the verse, which will open a new text box. Tap the "See All of ___" to open the chapter. Then click "Close" in the upper right hand corner of the box to return to the verse listing.)
Make a list of the different occasions and situations that are a cause for joy in these verses. The list is pretty impressive. This is the joy that the women had when they discovered Jesus' empty tomb. This is the tidings of joy that the angels brought the shepherds when Jesus was born, and the joy of the disciples when they returned to Jerusalem after watching Jesus ascend into heaven. It's the kind of joy we experience at the end of a long and painful labor, when our precious babe is laid in our arms.
Wow! God isn't telling us to go out and look for troubles. But He is telling us to have deep and genuine joy when we fall into trials, when we're overtake by them, when we get up in the morning and find our lives forever altered by the unexpected before the day ends. How can we possibly respond with a real, active — not passive or resigned — joy in the midst of pain and suffering?
When you get to Hebrews 12:2 in this list of verses, slow down and take a good hard look at what it says.
Click on the verse's reference to open the entire chapter of Hebrews 12 and start reading at verse 1. Do you see that word patience that describes how we are supposed to run?
Open the interlinear tool for Hebrews 12:1 and click the Strong's number for patience. Does this word look familiar? It's hypomone!  Read James 1:3 again. This is the patience that grows as our faith is tested by trials!
The author of Hebrews, in Chapter 11 has just reviewed an impressive list of faithful heroes — people like Abraham, Noah, Joseph, and Moses, people who were valiant warriors, who stood in the midst of fiery furnaces, and slept untouched in lions' dens, and people who were tortured, stoned, and "sawn asunder."
These are the men and women we're encouraged to remember at the beginning of Chapter 12. These are the "cloud of witnesses" who give testimony to God's faithfulness.
List each of the imperatives (commands) given in Hebrews 12:1-2. What do these verses tell us to do as we "run with patience (steadfastness, perseverance, hypomone) the race that is set before us?"
This is why I love digging deeper into a passage, and why I get excited when I open the interlinear and start exploring trails that inevitably lead to new discoveries! These verses tell us how to persevere, how to have joy in the midst of pain and suffering. 
We are told to consider the "great cloud of witnesses" that surround us, those whose lives are testimonies of perseverance and testimonies of God's faithfulness.
We are told to lay aside every weight and the sin that so easily entangles us.
We're told to "look to Jesus, the author and finisher of our faith, who for the joy that was set before Him endured the cross … "
We're told to "consider him that endured such contradiction of sinners against himself, lest [we] be wearied and faint in [our] minds."
We need to stop and look at a couple words.
Go to the interlinear tool for Hebrews 12:2.
Click on joy. Look at the Greek word. Does it look familiar? It's chara, the same kind of joy we are to have in the face of trials.
Go back to the interlinear and click on endured. Do you remember this word from our last lesson? Hypomeno is the combination of two smaller Greek words that join to mean remain under. It is the verb form of patience, the steadfastness that trials produce in our lives.
Jesus remained under the weight of the cross, the weight of our sin, the weight of separation from His Father as He took our punishment upon Himself.
What can we do when we fall into trials of various kinds? How can we possibly consider them all joy?
I love this! We remember those who persevered before us. We lay aside the sins that hold us back. And we look to Jesus! He is the author of our faith and the perfecter of our faith. The testing of His faith revealed perfect obedience and steadfastness. He endured the cross because of the joy that was set before Him. He knew what His suffering was going to accomplish and He persevered to the end — for us!
Now, because of Jesus, we are given the grace to consider it all joy when we fall into trials, knowing that these testings of our faith will produce steadfastness. As we look unto Jesus, we can, for the joy that is set before us, remain steadfast.
For your children:
You may not want to explain all the Greek words, but reviewing with your children what you have learned in today's lesson will help you learn and remember it better.
Read (or recite together) James 1:2-3, and ask the children how we are supposed to think about trials? Do they think it will be easy to to consider their trials with joy?
Then read Hebrews 12:1-2 and explain how Jesus took joy in what was ahead of Him (our salvation, and His sitting down at the right hand of His Father), and because of that joy, He endured. He didn't give up when He was beaten, when He was nailed to the cross, when He was separated from His Father as He took our sins on Himself.
Jesus is who we should follow when we face trials and temptations. We should take joy in trials, looking forward to the perseverance and character that trials will build in our lives.
if you have lots of time, or if you want to stimulate some creative playtime, read Hebrews 11 during a mealtime today, stopping to talk about the stories of the people who are mentioned in the chapter. Discuss the steadfastness of these people in the midst of trials, and the outcomes for their faithfulness. Then encourage the acting out of some of these stories.

« «