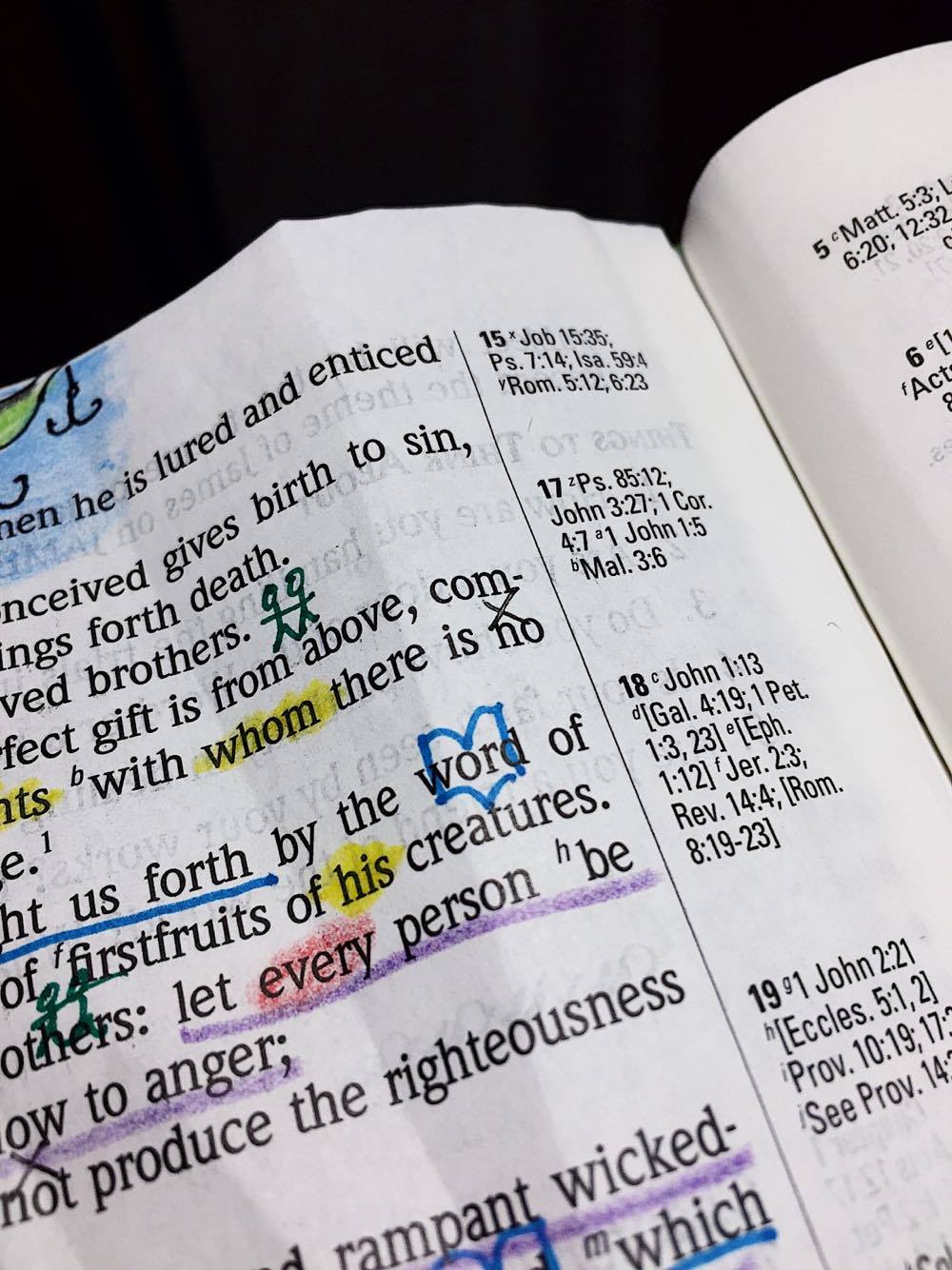 God chose to bring us forth as new creatures, born as a result of the word of truth penetrating our sinful hearts and granting us faith in Christ's work on the cross. Now James urges us to listen to that Word in order to live the life God has called us to.
Assignment: Pray, thanking God for the good and perfect gift of His Son, whose death and resurrection have brought us new life and empowered us to live in obedience to His Word. Pray for His enlightening work in your heart as you study today.
Then take out your marking copy of James 1. Read the entire chapter, watching for the word, word. Use a blue pencil (not too dark) to draw an open Bible drawn over it every time you see it. (See photo.) Only mark word, no synonyms this time. You should find four occurrences of the word.
When you have finished reading, use a page of your notebook to record what is said about the word in this passage. List each verse reference and a summary of what is said.
Look at your notes. According to these verses, what are we supposed to do with the word? What has God done with the word?
Take a moment to think about these observations. How do these verses about the word all relate to each other?
Now look at verse 19 in the context of the rest of the passage. Also note the opening words of verse 19. (These vary according to translations, but all seem to refer back to what has already been said.) What is James telling us to be quick to hear?
God has given us new life through the word of truth, the gospel. He gives us, His children, trials to help us grow, and He wants to give us wisdom that will enable us to faithfully persevere in the midst of life's trials. That wisdom is found in His Word. So we need to eagerly hear and obey it.
Let's look at a commentary on this verse. I often consult John Gill's Exposition of the Bible because I trust it and because it is a clearly organized verse-by-verse commentary. (John Gill preached in the same church as Charles Spurgeon, one hundred years earlier.) Because Gill is not in Blue Letter Bible, I use another free Bible study site, Bible Study Tools, to read his commentary. (Those of you who did the optional portion of the lesson on Day 22 have already looked at Gill.)
Go to www.biblestudytools.com. (Bible Study Tools has an app, but I have found the most recent version frustrating, and would recommend simply using their website.)
Type "James 1:19" in the search box and then click the orange "Find it!" button.
Scroll down below the verse text and click on "John Gill's Exposition of the Bible."
Then click the link for James 1:19 and read Gill's commentary on the verse. Take notes.
Then go to Blue Letter Bible and search on James 1:19. Let's compare these two commentaries.
Click on "Commentaries" in the "Tools" menu, then on Matthew Henry "Commentary on James 1."
Scroll down through the text until you find the heading "Jam 1:19-27."
Read all of section I. List the three different applications Henry offers for James' command to hear swiftly? What and/or who does he say we should hear? Why?
When you have finished reading, summarize what you have learned today. How does verse 19 apply personally to your life?
For your children:
Review your memorization of verses from James 1, and work memorizing at least one new verse.
Then read James 1:19 and discuss the verse.
First help your children see how this principle of hearing can apply to listening to their parents. They need to listen carefully and do what they've been told, rather than talking, questioning, arguing, or growing angry with what has been asked of them.
Then help them see that James is asking us to have the same attitude toward listening to God. God speaks to us through His Word, and through those who seek to instruct and lead us in actively applying the Word to our lives. We need to listen to what God says through His Word. We need to not resist or argue or grow angry at His convicting Word, but listen and obey.

« «