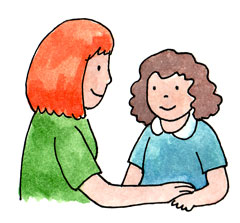 I love watching our adult children do a better job of training their children than we did! I have watched and learned as they train our grandchildren.
For instance, I really wish we had trained our children to always respond when we instructed or directed them. I have watched little minds struggling with their own wills and not wanting to obey their daddy or mama. Then, when they respond with a simple "Yes, Mama" or "Yes, Papa", they humbly submit their wills to the will of their parents. Obedience is simple after that!
Having our children respond to our words also lets us know that they've heard us.
A verbal response helps them make a commitment

to follow through on what we have said to them.
Saying "Yes, Daddy" or "Yes, sir" or whatever other response you decide to ask from them, helps them humble themselves and acknowledge that they are under authority.
It's helpful to look at responses to authority in the Bible. The references below offer a few examples of humble, verbal response to instruction. (Even Jesus, God made man, submitted to His Father with the humble words, "Not my will, but Thine by done.")
Prayerfully consider asking your children to verbally respond to you, if you don't already do so. Then, if you decide to ask for a response, teach them how you would like them to answer you, and show them these examples from God's Word. (Looking up the word "answer" in a concordance will also yield an interesting study on this subject.)
Ex. 19:8, 24:3 and 7 –

Israelites to Moses

Num. 32:31 – Children of Gad and Reuben to Moses

Joshua 1:16 – Israelites committing to following Joshua

Nehemiah 5:12 – People in response to Nehemiah's rebuke

Luke 1:38 –

Mary

Ruth 3:5 –

Ruth

1 Samuel 3:10 –

Samuel

Luke 22:42 –

Jesus
In a future post, we'll talk about teaching our children to respectfully appeal, when appropriate.

« «