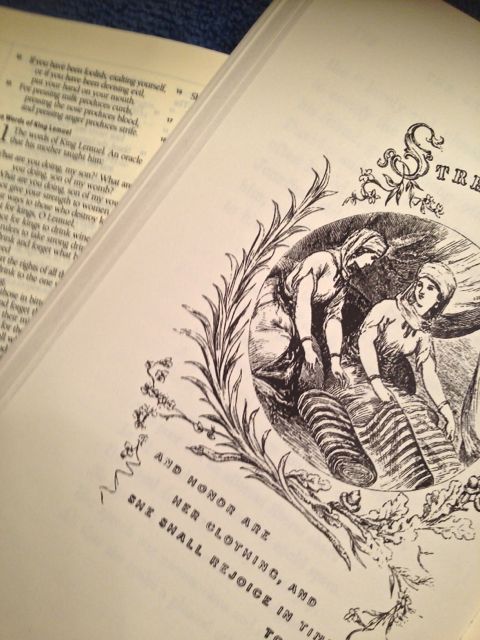 Today we look at the quality of the valiant wife's work and at her attitude about the future. A lifetime of diligence and an abiding fear of God prepare her for a future without worry.
Assignment: Pray for God's blessing on your time of study. Then read all of Proverbs 31:10-31. As you read, think about the cumulative effect the valiant wife's cheerful industry and fear of God would have on her household and on her future. Then reread verses 24 and 25. They will be our focus today.
Open Blueletterbible and search on the words fine linen. Let's find out more about this commodity that the virtuous wife makes and sells.
Read the verses under "Concordance Results Using KJV". Where and with whom do we see this fabric in Scripture? What does that say about its quality?
Now let's look specifically at the Hebrew word for fine linen as it appears in verse 24. Search on Proverbs 31:24.
Open the "Interlinear" tool and click on the Strong's number for fine linen. What new information do you gain by looking at this lexicon entry?
The valiant wife has not only sought out flax and prepared it for spinning; she has also spun it into fine thread, woven it into a high-quality cloth, and created a marketable garment from it. We can see, as we continue to read the verse, that her work is of a quality that others are willing to pay money for.
What else do the merchants buy from her?
If you would like to learn more about this piece of clothing, click on the "Dictionaries" tab in the tools menu for this verse, and then on the word girdles under Torrey's New Topical Textbook.
This woman of valor does good work. Others value it. As a woman who delights in her work, she delights in doing it well.
Let's look at verse 25 next and the meaning of its words.
Click on strength and note this word's definition.
Read the entry from Gesenius' Hebrew-Chaldee Lexicon, noting the different ways the word is used.
Then skim the verses under "Concordance Results Using KJV". With whom is this word most often associated?
Did you notice that we have looked at this word in an earlier verse of Proverbs 31? The valiant wife girds her loins with strength — this same kind of strength, and figuratively with a girdle like the ones she sells to the merchants.
Look at the word honor next. Note its definitions and the other English words that are used to translate this Hebrew word. Skim the verses under "Concordance Results Using KJV". Who is the word often associated with? Record in your notebook any new insights you gain from your reading.
Read the lexicon entry for are her clothing. Do you recognize this word from verse 22? Under the heading "Root Word (Etymology)", click on the Strong's number. After looking at the definitions, skim the verses under "Concordance Results Using KJV", looking specifically for any verses in Proverbs 31 that use this word. You should be able to find one.
If you look back at the structure of Proverbs 31 from yesterday's lesson, you'll see that this verse corresponds with verse 25 in the chiasm. The valiant wife's household is clothed in scarlet, and her own clothing is strength and honor. She has put on strength and honor — God's strength that gives her enduring energy, and the honor that sets her apart from so many other women around her.
Look at one last phrase in verse 25, and she shall rejoice. The word rejoice carries a different attitude than we would generally associate with rejoicing. Note its definitions and the way it is used in Scripture. It's like this valiant woman is looking out toward the future and saying, "Hah, it's nothing — just child's play. Go ahead, future. See what you can do to me. My God is with me and He has already won."
As women of valor, we can laugh in the face of the future. It is an enemy that has already been conquered. We don't need to worry. We don't need to fret. We don't need to imagine.
We do need to believe.
We will face challenges, some of them extremely difficult — deaths, losses, deep hurts, and financial crises — and some of them long, chronic, wear-us-down sorts of trials that tempt us to think that God is just not listening — loneliness, poor health, financial struggles, marriage difficulties — but we cannot be defeated if we are in Christ. He has already endured to the point of victory, and He will give us grace to endure with Him.

Not only is our enemy defeated, but we will spend eternity with the Victor, our Lord Jesus Christ. All wrongs will be righted. All trials will be over. All tears will cease. He's promised. We have good reason to be mighty women of valor.
Meditate on these verses. Have you chosen to put on strength and dignity? Can you laugh at the future, or do you need to let go of some worries? Do you need to rest in God's sovereign control of your life, and His never-ending love for you?
Write down the fears you have about the future. Be specific.
Then pray over that list. Spend some time finding verses that deal with your fears. Memorize them. Turn your fears over to God, who has all things under His control, and then step out onto the battlefield.

For your children:
Read and discuss Proverbs 31:24-25.
Then read all of Proverbs 31:10-31, but only read the last half of each verse, asking the children to provide the first half for each.
See how far you can get reciting the entire passage.