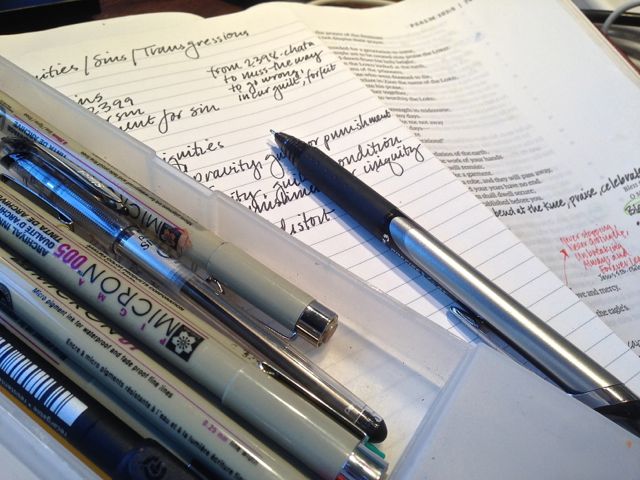 It's Catch-Up Day! Go for it! I can't believe we already only have a week left in our study!
Here's an optional assignment for those who would like one:
Use the Interlinear tools to study all the words related to sin in this Psalm. First go through the psalm and underline with a black zigzag line every reference to sin, iniquity, transgression and any other synonym for sin that you see.
Then, using the skills you have been learning, look up each verse that includes the words, and use the Interlinear tool to help you study their meanings.
Look at the root of each word, when it is available. It will be shown in the lexicon section labeled "Root Word (Etymology)". These root words will help you make greater distinctions between the different words.
Looking at the verses listed under "Concordance Results Using KJV" in the lexicon listings, read other verses in Scripture that contain each of these words for sin.
Use Bible dictionaries and other study tools to help you.
Organize your notes when you are all done with your marking and research. What have you learned? Does each word mean something different? How does that affect your understanding of the verses? How does it affect the way you think about sin and the way you live?
For your children:
We've looked at the Israelites before while studying Psalm 103. Over and over God revealed to His people that He is "merciful and gracious, slow to anger and abounding in steadfast love".
For something special on this day of rest, watch this short 5-minute clip from the old movie, The Ten Commandments. (The special effects — for 1956 — are actually pretty impressive!

)
Watch the movie clip. Read the story (Exodus 14). Then pull out a couple blankets to use for parting the Red Sea and have a good time acting out this amazing account of God's love and power. (This was one of our favorite act-outs when our kids were little!)